(This is a transcription of a letter written in 1858 is about Alabama Indians by Gen. Woodward to historian Albert J. Pickett)
Wheeling, Winn Parish, LA.
April 25th, 1858.
Dear Sir: — Your letter of the 23d February last, addressed to me through The Montgomery Mail, reached me some weeks since, and I have been too much engaged to write, had I been able to write anything worth reading, or to answer your inquiry about the Uchees and their language. All I can say about them is, that they occupied portions of Alabama, Georgia, and perhaps South Carolina.
When the Creeks first settled the country, they were the neighbors of the Sowanoka or Shawnees, the Yemacraws, Yemasees and Hitchetas; though they in habits, customs and language were more like the Shawnees than either of the other three tribes I have mentioned. As to that guttural sound or indescribable pronunciation of words, you are as able to account for it as I am. That guttural pronunciation was not alone confined to the Uchees; it seems to have been peculiar to those tribes that inhabited Alabama, Georgia and the Carolinas.
Before the Muscogees settled Alabama and Georgia, from what I recollect of the Catawbas, Apilashs, Cherokees and Shawnees, they all more or less have that singular articulation, though not to so great an extent as the Uchees. It is yet noticeable among the common Cherokees and Shawnees; in fact the Uchees and Shawnees once could understand each other's language about as the Choctaws and Chickasaws do theirs. The Uchees were, like many other little tribes, broken up by the Creeks and those western bands that were connected with them. The Cherokees and Sowanokas were about all the tribes that the Creeks did not subdue. These two tribes were always able to stand their hands with the Muscogees, particularly the Sowanokas, until the whites began to encroach an them from the east. The tribe was then strong, and emigrated to the north-west.
Many Uchess went northwest with the Shawnees
Many of the Uchees went northwest with the Shawnees. Those Uchees that remained in the country were allowed their own town Chiefs and a head Chief of their tribe, but were all under the general government of the Muscogees. The Uchees contended as long as they lived in the country that they could, man to man, whip the Creeks. And in Gen. Floyd's night fight, their leader, Timpoochy Barnard, fought much better than the friendly Creeks. With equal numbers they could beat the Creeks at a ball play, for I have seen them do it often.
If the Uchees and Shawnees were not originally the same people, they had lived so long and so near each other as to become pretty well acquainted with each other's language. Many years ago I became acquainted with a Shawnee Chief in Texas, who headed a little band of his people that emigrated to that country very shortly after Gen. Harrison defeated them at Tippecanoe.
Battle of Tippecanoe – 19th-century depiction by Alonzo Chappel of the final charge that dispersed the Natives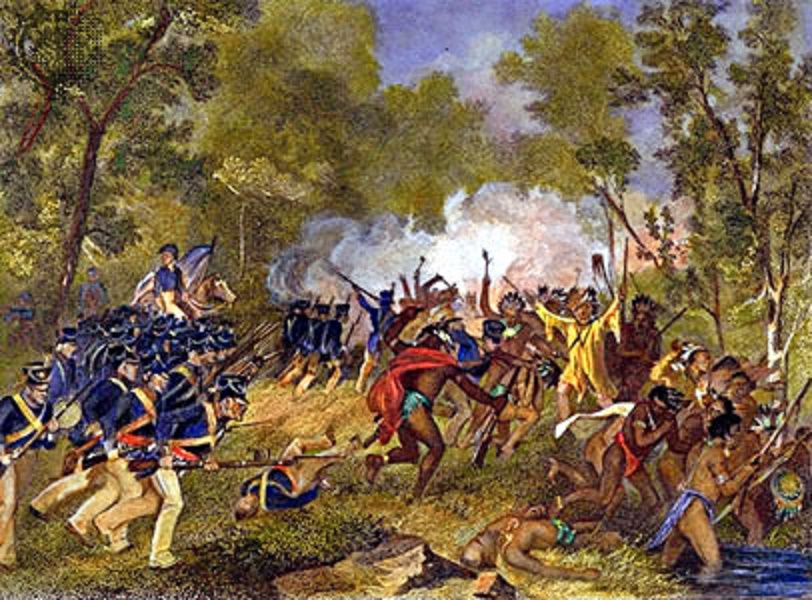 This Chief spoke pretty good English — was very intelligent for an Indian — and was in the Tippecanoe fight, and has often related to me the particulars of that affair, or at least as he understood them. This man has, perhaps, been better known than almost any other Chief of any tribe in the early settlements of Texas, and Arkansas. He remained in Texas until the American population commenced putting aside Spanish and Mexican customs. He then moved his people into a thinly settled portion of Arkansas.
In 1841, a Mr. James Woodland and myself were traveling in Arkansas, and met with the Chief Spy Buck, (for that was his name.) I recollected to have seen or known him in Texas. He made many inquiries about me, and where I lived. I informed him I was living in the Old Musqua Country, and that I intended settling on the Washita river, at a point that he seemed to know; and in January, 1842, I settled at the place spoken of.
A week after my arrival at the place, Spy Buck and his party, a few Cherokees, some Choctaws, one or two Chickasaws, and a Delaware, all made their appearance. The Shawnees with Spy Buck, remained some two years near me, and then left for the Kansas river, except his youngest brother; he remained with me four years, or two years after the others left. From these people I learned much of their history. They gave the same account of being forced back from the Savannah and the settlements of the Musqua, in Alabama and Georgia, as the Creeks themselves had given.
I had some Uchee negroes that spoke the Uchee, Creek, and Hitcheta; they and the Shawnees, could understand much of each other in Uchee; and that is one reason for believing that the Sowanokas and Uchees were once pretty much the same people. Among the many things I learned from Spy Buck, was that he had hunted with Savannah Jack or Sowanokka Jack above the Cross Timbers on Red River, after Jack had gone West. I see you speak of Jack in your history of Alabama[2]. And as I was acquainted with Jack himself, and have had his history from many that knew him well, and its being connected with the history of Alabama as well as the Uchee Indians, it may not be uninteresting to give a sketch of it here.
A white boy, John Hague was captured frontier Pennsylvania
As I have before stated, a number of the Uchees went North-West with the Shawnees, many years ago. And not long after they reached their new homes on the waters of the Ohio, they commenced their depredations on the frontier settlers of Virginia and Pennsylvania. In one of their scouts they captured a white boy on the frontier of Pennsylvania, by the name of John Hague.
This boy Hague was raised to manhood among them, and proved to be as great a savage as any of them. He took an Uchee woman for a wife and raised a number of children; it was also said that Hague raised an illegitimate son by a white woman named Girthy or Girty and called his named Simon Girty, after his mother. This boy was brought up about Detroit. It was said that he and a man by the name of Wells contributed much to the defeat of Gen. St Clair. This I have learned from several white men who knew Girty and were with Gen. St. Clair. I will give you the names of four of them, as they were known to many in Alabama and Georgia: Nimrod Doyle, Absalom Hall, John Cone, and Bob Walton Doyle and Walton were both wounded at the defeat.
Hague who had grown old, remained in the country until Gen. Wayne put an end to the troubles in that quarter. So soon as this was done, Hague came South with his Indian family bringing with him some Uchees and Sowanokas, and settled them on Fawn Creek, or what is now known as Line Creek, near its mouth and on the Montgomery side of the Creek. Hague died and was buried on a mound near where there was once a little village, settled by the whites, called Augusta. This I have learned from Doyle, Walton, Sam, Moniac, Billy Weatherford and many others. And Savannah Jack was his youngest son by the Uchee woman.
Jack was the Marshal Ney of the old hostile Indians
I do not know that it would be slandering the illustrious dead to say that Jack was the Marshal Ney of the old hostile Indians: Jack fought through the War, and after their defeat at Horse Shoe, and Gen. Jackson moved his troops to the place where he built Fort Jackson. The Indians then became very much discouraged and commenced coming in. The chiefs who had controlled these towns during the War would get in striking distance, to hear what was to be done.
Jack sent his women and children out of the head waters of Catoma, and secreted his warriors between a Cypress brake and the river, not far above the present city of Montgomery. Weatherford, who was not a Chief, (but had more influence than many that were,) placed his people on a little island in the Alabama river, near the mouth of Noland creek, that makes into the river on the North or Autauga side, known as Moniac's Island. Weatherford's people were Tuskegees. Peter McQueen and his Talassees quartered themselves upon the head waters of Line Creek. John and Sandy Durant, the brothers of McQueen's wife, and also the brothers of Lochlin Durant, that you know, remained with McQueen Josiah Francis, the Prophet, Nehe MarthalaMicco, the Otisee chief, (both of them hanged, 1818, by Gen. Jackson,) placed their people not far above the Federal crossing on the Catoma.
Hossa Yoholo a very white half-breed chief, and the son of a man by the name of Powell, I think, took shelter in the dense cane forest in the bend opposite Montgomery. This man, from what I have learned, was one of the most reckless fighters in the nation. Ogillis Ineha, or Menauway who was the principal leader at Horse Shoe, and at the time was supposed to be killed, carried his people near the falls of Cahawba, where he remained for more than a year after peace was made.
Paddy Carr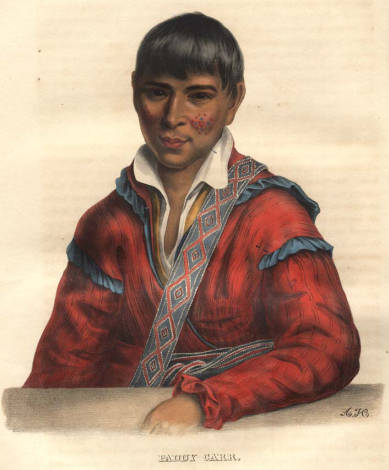 This was the situation of those chiefs and their people about the time and shortly after General Jackson reached Franca Choka Chula, or the old French trading-house, as it was called by the Indians. Weatherford sent up old Tom Carr, or Tuskegee Emarthla, and he soon learned through Sam Moniac, his brother-in-law, (who was always friendly,) that he was in no danger, and so he came to camp, (but not in the way that it has been represented.) General Jackson, as if by intuition, seemed to know that Weatherford was no savage and much more than an ordinary man by nature, and treated him very kindly indeed.
Savannah Jack frequented the camp unnoticed
Savannah Jack, or, as he has been called by some, Sowanoka Jack, was not then as well known to the whites as many others. He frequented the camp pretty much unnoticed, (no doubt as he wished to be.) It was not long before it was understood that Jacksu Chula Harjo (as the Indians used to call Gen. Jackson ) wanted land to pay for the trouble he had been at, and that the Big Warrior and others were in favor of giving Old Mad Jackson, as they called him, as much land as he wanted. Jack, poor fellow — his little field happened to be on the Montgomery side of Line Creek, and of course would have to go with the ceded territory.
This Jack could not stand; he threatened to kill the Big Warrior and go to fighting the whites again. It was soon understood that a hostile chief was in camp, making threats, and the General wished to see him; but Jack disappeared. He took his warriors from the cypress brake near Montgomery, went out to Catoma, where his women and children were, and there joined Francis and the Otisee chief. Hoosa Yoholo left the bend of the river at Montgomery and joined Jack and his crowd, as also did McQueen and the Durants.
Billy Powell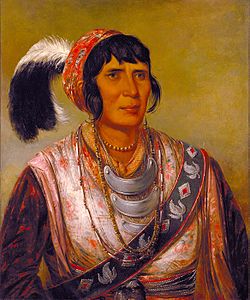 The boy, Billy Powell, who was the grandson of one of Peter McQueen's sisters, was then a little boy, and was with this party. They all put out for Florida, and on their route they split among themselves. Jack and his people being Uchees and Sowanokas, called a halt on the Sepulga, about there and on the line of West Florida, where he remained until he went West. As to the history of his stay in that region, and what he did before he left, you have already had it. I knew Capt. Butler and the others he killed, and those who made their escape. I knew Ogley— poor fellow, I staid one night at his house in company with a Col. Turner Bynum, of North Carolina, and his son, J. A. Bynum, who has since represented the Halifax District, N. C., in Congress.
McQueen and the others went to East Florida. Sandy Durant died at Tampa Bay, not long after they reached the country. John Durant went to Nassau, on the Island of New Providence. Peter McQueen remained in Florida until after Gen. Jackson's campaign of 1818, shortly after which he died on a little barren island on the Atlantic side of Cape Florida. Hossa Yoholo, the white half-breed chief, died on Indian river, in East Florida, with a disease in his feet caused from an insect there known as the jigger. This I learned from a hostile negro who was raised with a family by the name of Powell, but in after times was known as Holmes' NedHe accompanied Hossa Yoholo or the Singing Sun to Florida. I knew Ned many years: I purchased him from our friend, Horse Shoe Ned, and he died mine.
Billy Powell went with his uncle, McQueen to Florida
I will here try and account to you for an error that many have fallen into, about Billy Powell or Oceola. As I remarked before, this boy went with his uncle, McQueen to Florida. I knew him well after that, and have seen him frequently. Capt. Isaac Brown and myself, with a party of friendly Creeks and Uchees, made a prisoner, in 1818, and he was then but a lad. Capt. Brown is now living in Bozier Parish, this State, (Lousiana) and well recollects the circumstance; for at the same time we captured Billy, we re-captured a white woman that was made a prisoner by the Indians at the massacre of Lieut. Scott and his party, below the mouth of Flint river.
She was then a Mrs. Stuart, since a Mrs. Dill of Fort Gaines, Ga. This was at Osilla, and known as the Mcintosh fight. This boy having gone to Florida at the same time that Hossa Yoholo went, then growing to be a man, and then being called Ussa Yoholo, or Black Drink, after the killing of Gen. Thompson, those that had heard of the fighter Hossa Yoholo, of the old war, took Ussa Yoholo to be the same man. You will see that the names, from the way they are spelled, would sound pretty much alike, and they both being Powells but of different families — you can see how the mistake could have easily originated. Besides, I know that Oceola, as he is called, was not a chief, nor ever was known to the Tallassees as such, until after the killing of Gen. Thompson.
You see that it is generally the half-breeds and mixed-bloods that speak our language, that the whites get acquainted with; and if, in case of a little war or anything of the sort, one of those that the whites know, go off among the hostiles, he is by the whites dubbed a chief. The Indians soon learn whom the whites look upon as being their leaders, and not being as ambitious of distinction as the whites generally are, when any talking or compromising is to be done, those persons are put forward.
Jim Henry was never a chief
Such was the case with Jim Henry and others, in 1836. Jim Henry was never a chief in his life. His mother was a Chehaw woman, and his father a Cuban Spaniard, and one of those deserters from St. Augustine, Fla., long before I knew anything about Indians. The father of Jim was Antonio Rea. He once lived in Saundersville, Washington county, Ga., but that was before I knew him. A Capt.. McDougald took him to Fort Hawkins, from whence he went to Chehaw, and thence to a place called Pinder Town.
One of the others was Emanuel, though sometimes called Toney. He was the father of our Toney that killed George Bonner, in 1836. The other was Tom Peechin, known as Tom Pigeon. I saw an account, not long since, of Joe Pigeon, a half-breed Choctaw, being hanged in Mobile, for killing a cab-man. His mother was no Choctaw; she was a Creek. Whenever you come to know the truth, you will find that it was our Joe Old Tom, his father stopped at Pass Christian, and never went with the Indians to Arkansas, as I have heard; besides killing a man for a few dollars was just suited to Joe's morals. Although Joe;s father was a Catholic, and Joe a pupil of Mr. Compeer, his religious teachings did him but little good. I knew him well, and he was certainly one of the worst half-breeds I ever knew.
When I commenced this, I had no idea of putting Joe Pigeon in it; but he has passed up among other old acquaintances, and so I have to let him in. I will write something else, next time.
Yours,
T. S. W.
Alabama Deaths from World War I
New Historical Series on Colonial Americ
ALABAMA DEATHS FROM WW I Download this essential book for research in Alabama around the turn of the century. This KINDLE book includes all the deaths from World War I, listed by the county where they last resided, over 60 pages of names.