Thomas Simpson Woodward – Brig. Gen. of the Alabama Militia – died in 1861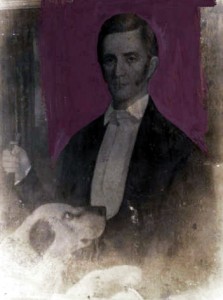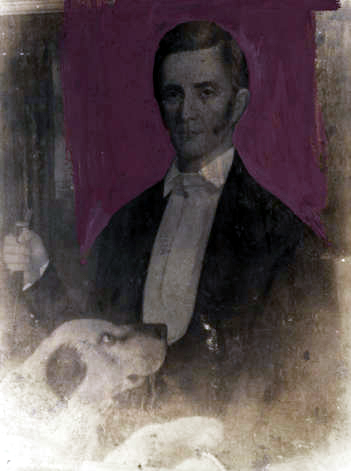 Letter from General Thomas Simpson Woodard to Col. Albert J. Picket
Correcting Mistakes in History
General Woodward was a brigadier general of the Alabama militia. He died in 1861.
WHEELING, WINN PARISH, LA.,
August 12th, 1858.
COL. ALBERT J. PICKETT.
Dear Sir: — In my letter to you of the 21st June last, which was published in The Montgomery Mail of the 23d July, I see a mistake that I will here correct. In speaking of Davy Tate it is said he was not an educated man. Mr. Tate was an educated man; and, if I am not mistaken, he informed me that he was educated near Abernethy, in Scotland, and was about ten years younger than Alexander McGilivray As I may at some time after this, speak more of Mr Tate and his brother, Weatherford, I will leave them here, and give you some of my reasons for having said to Mr. Hooper in a letter some time back, that I was more inclined to credit the Indian tradition of DeSoto's expedition through the country, than those Spanish and Portuguese authors.
Errors in DeSoto's travels
Before I commence with the Indian account of DeSoto's travels through Georgia, Alabama, Mississippi, Arkansas, and Louisiana, I will point out a few things, among the many, that those Spanish and Portuguese gentry have grossly erred in. They may appear to you and others as very trivial objections. But they are errors; and if a man willfully misrepresents one thing, he will another; and if he does it ignorantly once, he is liable to do it again. And as I alluded to the killing of a panther, the raising of hogs on the road, the building of brigantines, I will here speak more of these things.
Story of Jean Ortez, improbable
The history says that the Spanish captive, Jean Ortez, one night, while guarding the Indian tombs or the dead Indians, killed a panther trying to carry off a dead child. This story does not only prove that they wrote falsely, but that they were poor zoologists; for the panther is an animal that never preys upon putrid flesh. This is a fact known to every hunter, from the days of the grandson of Ham, down to the Englishman, Bonne, the early hunter of Kentucky; Mike Shuck, of Missouri; Albert Pike and Kit Carson, of the plains of New Mexico; Winthrop Colbreath, of the Caddo Mountains of Arkansas: to John L. Winton of Texas. Besides, the Indians that I have been acquainted with, all inhabited countries that were infested with wolves and other animals which prey upon their dead, if left exposed, and always guarded against such. And putting their dead in boxes, leaving them above the earth, is a thing I never heard of before.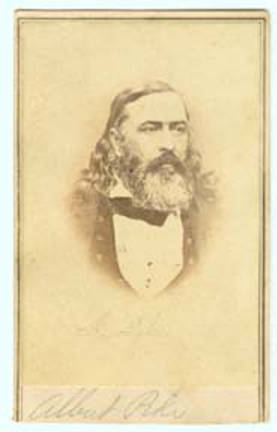 Refute the hog story
All that is necessary to refute the hog story, for sensible men — who know anything of hog-raising, the time they go with their young, the time it requires for them to be fit for use, and this to be done on a farm where every necessary preparation is made for raising them — is to read the narrative, notice the country they traveled through, the many rivers they had to cross — and the Mississippi among them — then the quantity of those animals left behind for the successor of DeSoto, and his men to kill and pack away, (and if packed at all, must have been without salt;) all I ask is, to examine the account given by those men, and then say if there is the slightest probability of its being true.
Seven brigantines, improbable story
Now, the building of seven brigantines, in the short space of seven months, fitting them out, rigging them up with sails made of Indian mantles, with the means they had for carrying on such work — this, if not a palpable fiction, is a very improbable story, particularly when we take into consideration that these vessels were made sea-worthy, and had to descend the Mississippi river from some point in Arkansas to the Gulf, and then across to some point on the coast of Mexico.
It is a tale that will do to tell to marines, but old sailors, old seamen and ship carpenters, will never believe it to be true.
The story of pearls and martin skins not true
The stories of the fine specimens of pearls and martin skins being found in the country, are equally fabulous with the others. Pearls are not to be found at the present day, nor ever have been since I knew or heard of the country; and the martin is an animal that never inhabited the country. And there is very little probability of there being any trade at that day so advantageous, among the Southern Indians, as would induce the Northern Indians (in whose country a few martins might have been found) to trade at such a great distance from home, on martin skins alone — for almost all the other animals that Indians hunted for their flesh and skins, were in as great, if not greater, abundance in the south and southwest, than in any other portion of what is now the United States.
No time of DeSoto's death
If you will notice in many of the minor occurrences of the expedition, they give the day and date, month and year; but no date is given when the hero of the expedition dies. Now if those that have made mention of DeSoto's dying at some point in Arkansas had known the time he did die, they would in all probability have given us the precise time, as well as the place of his decease.
From the Indian tradition and from what those men wrote who returned to Europe, I think it more than probable they never knew what became of DeSoto and the few men that were with him when he did die. Fable is fable, and history is history and those men thought it best to mix them as they were writing for a people not unlike many of the present day — who never look into books unless it is for pictures and the marvelous yarns it contains. I will now give you the Indian account of the expedition.
Indian Account of DeSoto trip disputes Spanish and Portuguese
DeSoto commenced his march from Tampa Bay; and the first winter camped on the Apalachicola river, near Ocheese. Which place has been known in my time as Spanny-Wakee — that is the Spanish camp, or the Spaniards lay there. Their object was gold. They there divided their force into several commands under various individuals, marching in a northerly direction, through portions of Georgia and Alabama.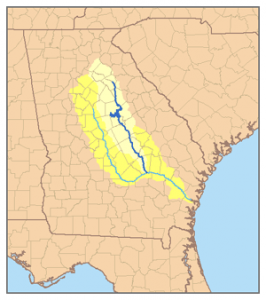 Indians say that none of DeSoto's men ever crossed to the east of the Oconee river, unless it was some of its head branches. A portion of the Spaniards made their way up the Chattahoochee to Owe-Cowka, or the shoals of Columbus; there they called a halt, until they could correspond with the others that had gone farther east and north. Tallapoosa was then known as the river of towns; Tuckabatchee being the most important town in the nation, except Cusseta, was the point for the different commands to meet at.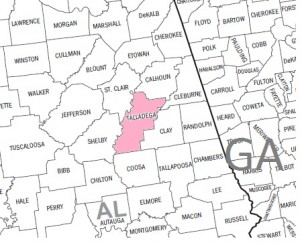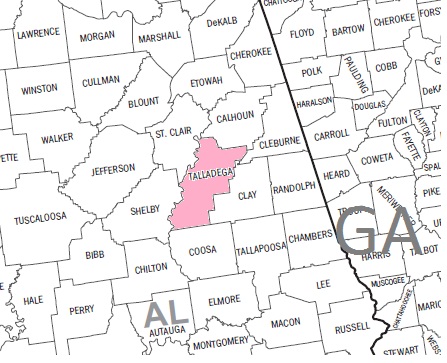 A portion of them had traveled the route through northern Georgia, as you describe, and then a south-westerly course, through a portion of Alabama, reaching the Tallassees who then occupied a portion of what is now Talladega. Their principal town was on a creek that bears their name to this day, by the Indians.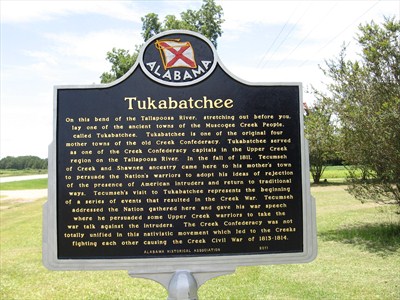 In this time, the Spaniards had become obnoxious to the Indians; particularly those that had been quartered about where Columbus now is. This party left the Chattahoochee for Tuckabatchee and traveled pretty much the route that now leads from Columbus to Pole Cat Springs; their trail or trace passed through Tuskegee, and has been known as DeSoto's trace ever since.
DeSoto's Trace
I knew the country long before, and many that are now living knew it, as DeSoto's trace. The party that took this route missed their way, and instead of going to Tuckabatchee they reached the Tallapoosa lower down, where the Indians disputed their passage, and a fight ensued. The place they fought at took its name from the fight, Thlea Walla or Rolling Bullet; it is sometimes called Cuwally, and at others Hothleawally, by many, but Thlea Walla is the proper name. And it was at this place, no doubt, that that greatly exaggerated Maubile fight took place; and I will give you many good reasons for believing it.
In the first place, the Indians never gave an account of any other fight with Tustanuggahatke or White Warrior, as they called DeSoto. Another reason is that the Tallassees or Tallaces, at that time evidently occupied a portion of Talladega; and from Talladega down to Thleawalla about suits the distance that they would have had to travel.
It was in Talladega that the Tallassees lived; and it must have been at that point where the invitation from Tuscaloosa was received by DeSoto. I have remarked somewhere long before this that the Tuckabatchy town, on Tallapoosa, was settled at least two centuries before the Tallasees settled the town that they left in 1836.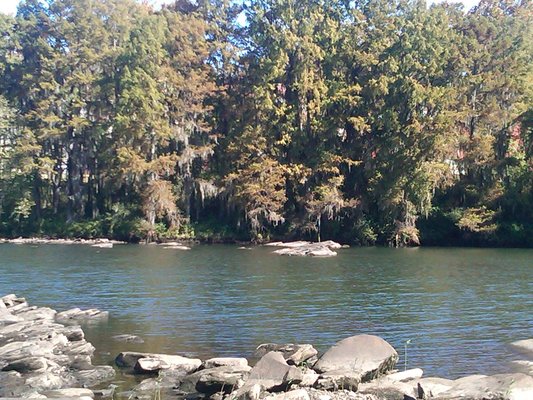 Tallasses never settled on the Tallapoosa river before 1756
I now say to you, without the fear of being contradicted by any one that knows, that the Tallasses never settled on the Tallapoosa river before 1756; they were moved to that place by James McQueen — McQueen settling himself at the same time near where Walter Lucas once had a stand, at the crossing of Line Creek; and it was at that place on Line Creek where the celebrated negro interpreter, John McQueen, was born.
The Tallasses quit their old settlements in the Talladega country, and it was immediately occupied by a band of Netches, under the control of a chief called Chenubby and a Hollander by the name of Moniac. This man was the father of Sam Moniac, whom you in your History call McNae, thinking him to be of Scotch race.
The hog-skin story is a hoax
The chief Chenubby lived to be a very old man. I knew him as well as I did any Indian in the Nation. He was with Gen. Jackson in the Creek War; he was with me in Florida in 1818. I have often by a camp fire sat and listened to him tell over his troubles among the French, on the Mississippi, and how the French had drove them from their old homes; and how he had helped to drive the French from their trading house at the forks of Coosa and Tallapoosa. It was his son, young Chenubby or Sarlotta Fixico, who left Fort Leslie and went to Gen. Jackson's camp. The story of the hog-skin over the Indian, is all a hoax.
But to return to the Spaniards. You see they speak of Coosa and Tallase; those names are easy to pronounce; and they no doubt visited those towns; but you never hear Tuckabatchy named, for they were not at the place. It was at Thlea Walla that the Indians picked up those copper and brass plates that you have heard spoken of.
DeSoto failed to find gold in Georgia and Alabama and went to Mexico
The Indians say that after DeSoto failed to find gold in the mountain countries of Georgia and Alabama, he steered his course a little north of west for the Mississippi; that his people divided; some turned to the seaboard and were picked up by the coasting vessels; some starved, and many died with disease; that DeSoto himself, with a small portion of his men, some Creeks, some Maubile or Movilla Indians, some Choctaws and others, tried to reach Mexico.
He promised the Indians that accompanied him that he could make a peace with them and Cortez or those Spaniards that had driven them from their old homes. And not far from a small lake and west of Red River, he built a fort to protect himself from the Netches, Natchitoches and Nacogdaches Indians; that he there died.
This is the account given by all the Indians, and those that were acquainted with their traditions relative to the march of DeSoto through the country. The fort is yet very visible, and is known as the Azadyze; it is in Natchitoches Parish, in this State. This was Col. Silas Dinsmore's account, obtained from the Choctaws and Chicasaws, who was their agent at an early day, and a man of great intelligence. It was also the account that old Mr. Peechland gave, who lived among them many years.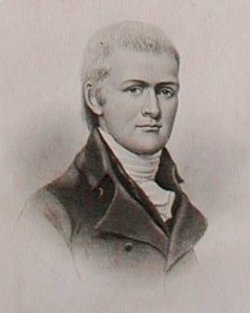 The Creek Indians say they once had a giant chief called Tustanugga Lusta or Black Warrior. But Tuscaloosa is a mixed word of Creek and Choctaw. Tusca is Creek, and signifies a warrior — Loosa is Choctaw, and-signifies black. But whether it was this man that fought DeSoto, I never heard; but have always understood that at Thlea Walla (now in Blount County, Georgia) was the place they fought.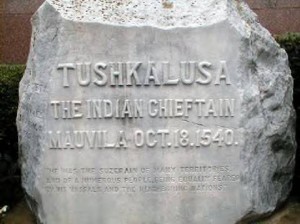 Descendants of DeSoto's men were among natives who settled Louisiana
The old French and Spanish settlers on Red River said that the descendants of DeSoto's men were among the natives when those nations (that is France and Spain) first commenced settling Louisiana. All this has satisfied me that the Indians were more reliable in their traditions of that expedition than men that have written so much, and in so few instances have given the true Indian character as well as their modes of living.
And why I am better satisfied that the Maubile fight took its origin from the Thlea Walla fight, is that there were but few remains of Indian settlements on the Alabama River below the mouth of Cahawba, and they were very small.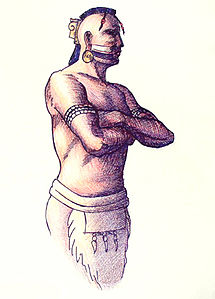 The Coosa, Tallapoosa, and Chattahoochee and their waters were very thickly settled with Indians at an early day. The Maubile or Movillas were once a western people, but visited and settled Alabama before the Creeks did. There is yet a language the Texas Indians call the Mobilian tongue, that has been the trading language of almost all the tribes that have inhabited the country. I know white men that now speak it. There is a man now living near me that is fifty years of age, raised in Texas, that speaks the language well. It is a mixture of Creek, Choctaw, Chickasay, Netches and Apelash.
Survivors built brigantines
From the time Columbus discovered the country, until DeSoto's expedition, was near a half century; and almost all the European nations that had shipping had become acquainted with the New World, and no doubt but the most of DeSoto's men that survived and reached the coast were picked up by coasting vessels, as the Indians have said. This is much more probable than that they (the Spaniards) built brigantines for that purpose. And no doubt there were occasional settlements on the coast at that time by Europeans — for Dr. Turnbull on settling a colony of Minorcans or Greeks in East Florida, southwest of St. Augustine, found the remains of a civilization that the oldest natives then could give no account of.
Dr. Andrew Turnbull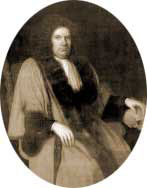 Turnbull made his settlement while the English claimed Florida. And when LaSalle settled a small colony in Texas, many years before Turnbull settled his, he (LaSalle) found the remains of a civilization that he never could learn from the natives at what time or by whom they were executed. I read these accounts in a little book I picked up at the house of one Fashaw, in East Florida, forty-six years back. I kept the book for many years; it contained much useful information and treated much of the early settlements in the SouthWest by Europeans — and much of what it contained I have heard corroborated by others.
Yours,
T. S. W.
ALABAMA FOOTPRINTS Pioneers includes the following stories
The Yazoo land fraud
Daily life as an Alabama pioneer
The capture and arrest of Vice-president Aaron Burr
The early life of William Barrett Travis, hero of the Alamo
Description of Native Americans of early Alabama including the visit by Tecumseh
Treaties and building the first roads in Alabama.