I never know what I'm going to run across when I do research.  Sometimes I've found old photographs in strange places and wonder why and how it got there. Then I discover a truly remarkable story about an Alabamian as in the case below.
This first photograph was simply captioned.
Junius Hill, Attalla, Alabama, the boy who made 212.5 bushels of corn on one acre of land at a cost of eight and six-tenths cents per bushel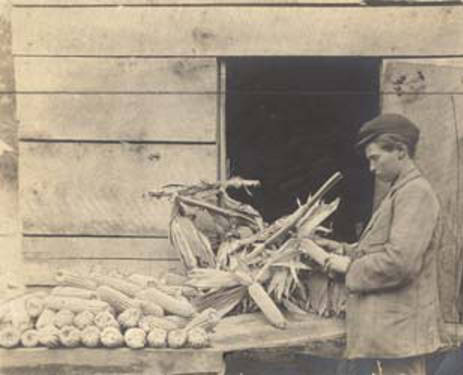 Further research revealed Junius Hill was a member of the Corn Club, the forerunner of our present day 4-H Clubs. In 1911, Corn Clubs had extended into every southern state and many other states of the Union. Frequently, contests were held to encourage club members and Junius participated in one of these contests.
Every county throughout the South where clubs were organized, merchants, farmers, manufacturers, and school teachers offered prizes to the boys, sometimes in money and sometimes in improved stock.
Fifteen-year old, Jerry Moore from South Carolina set a world record in 1910 by growing 228 3/4 bushels on one acre.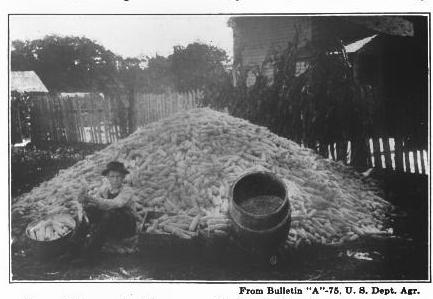 In 1911, sixty thousand boys of the South entered the contest conducted by the corn clubs. Although the weather conditions were not favorable, as in the past years the records made by the boys were none the less remarkable.
Diplomas signed by the governor
Here is an example of some of the winners:  Fifty-two boys in Georgia received diplomas, signed by the governor and other officials, for producing more than 100 bushels per acre apiece at an average cost of less than 30 cents per bushel; 21 Georgia club members from the seventh congressional district alone grew 2,641 bushels at an average cost of 23 cents per bushel; 19 boys in Gordon County, Georgia, averaged 90 bushels, 10 of them making 1,058 bushels. The 10 boys who stood highest in Georgia averaged 169.9 bushels and made a net profit of over $100 each, besides prizes won. In Alabama 100 boys averaged 97 bushels at an average cost of 27 cents. In Monroe County, Alabama, 25 boys averaged 78 bushels. In Yazoo County, Mississippi, 21 boys averaged 116 bushels at an average cost of 19.7 cents.
Winners from the states won a trip to Washington, D. C.
The prize for winners from the states from the National Corn Club was a trip to Washington, D. C.
In 1911,  Ben Leith of Georgia raised two hundred and fourteen bushels, and Bennie Beeson of Mississippi, two hundred and twenty-seven bushels of corn on one acre of ground. Junius Hill of Alabama grew more than two hundred bushels on an acre at a cost of less than nine cents per bushel, and his corn crop sold for more than one dollar per bushel.
Prize Winners from the Southern States in Washington, D. C.
They spent a week at the capital
The visit to Washington was worth much to the boys and to the corn-club movement. The boys spent a whole week at the capital. They were shown Mount Vernon, the government buildings, and other points of interest. They were received at the White House by President Taft, who talked with them about their work in the clubs. Before leaving for home they were entertained by Mr. Wilson, Secretary of Agriculture, who awarded to each a diploma bearing the seal of the Department and the signature of the Secretary.
Earned prizes worth more than forty thousand dollars
In nearly all the Southern States diplomas signed by the governor and the state superintendent of public instruction are given to the boys who make as much as seventy-five bushels per acre at a reasonable cost of production. Prizes worth more than forty thousand dollars were offered in the six hundred counties organized, but those most valued were the diplomas issued by the Secretary of Agriculture and by the governors of the different states.
The national Department of Agriculture added, "Perhaps there have never been three better records than those of Junius Hill, Bennie Beeson, and Ben Leath." Junius Hill's success was written up in many books and one even stated that he probably set a world record.
The following was written about him in a book entitled The Square Deal, Volume 14 by Square Deal Press, 1914.
This Country's One Best Club.
On a farm near Attalla, Alabama, lives Junius Hill, a boy in his teens. Prior to the spring of 1911 his only distinction rested in the combination of a name very classic with one quite commonplace. Then he planted one acre of red, sandy loam in corn.
He had plowed the soil nine inches deep, and he put the seed in hills from four to six inches apart, with three and a half feet between each row of hills. During the growing period he cultivated his acre six times.
Junius Hill was famous
The crop yielded by this little patch of ground was measured most carefully, for the possibility of a visit to the President of the United States was dependent upon the number of bushels.
That measurement won the trip— and made Junius Hill famous.
On his one acre of red, sandy loam he had produced 212 bushels of corn, at a total cost of $27.95, an average of eight and six-tenths cents per bushel.
Nothing to equal that ever before had been done in this country. In 1899 a North Carolina farmer named Drake set the world's corn record by growing 255 bushels on a single acre, but it cost him nearly $300 in fertilizers and labor. So his crop was a failure financially.
Young Hill's crop was a huge success from the money standpoint. Based on the present price of corn, it represented a profit of more than $125. That is about five times the market value of the land he used. Including the land at this price, it represented a net profit of more than 300 per cent on the investment.
Special session of both houses of Congress called
So it was entirely fitting that when Junius reached Washington he should be warmly greeted by the President and given a special card of admission to the private galleries of both houses of Congress and asked to appear before the house committee on agriculture —called in special session just to hear him tell how he had done it.
For while the head of this nation and its lawmakers constantly are occupying themselves with tariffs, trusts, foreign relations and like matters of moment, they know well enough—or could, by stopping to think—that our place, power and prosperity depend finally upon the average yield per acre of corn and other crops grown on our hundreds of thousands of farms.
They know—or could, by doing a little figuring—that a nation-wide yield of corn averaging one-half that obtained by Junius Hill would make such a radical change in the economic relation of this to other nations that much of the time, temper and trouble they spend on taxes and finance might be saved.
His yield would settle many social problems
More than that, such a yield automatically would, settle many of the social problems we now face—especially those which concern the family on the farm.
So Junius Hill and the nineteen other boys who came to the capital with him were not treated one bit too well. They constituted one of the most important delegations that ever visited the city on the Potomac. They and the two delegations that since have come on a like mission represented the fruitage of the department of agriculture's systematic effort, started five years ago, to organize Boys' Corn Clubs in every state in the South…….
Boy in knee britches set world record
And in a article about the growth of Etowah County, Alabama since Civil War days entitled  Thirty years of southern upbuilding -Manufacturers' record, Baltimore Manufacturers record publishing company, 1912 we find the following with Junius Hill's photograph.

….What can be done in corn-growing is shown by the work of Junius Hill, a boy in knee breeches, belonging to the Boys' Corn Club of Etowah county.
In 1911, on one acre of land, he raised 212.5 bushels of corn at a cost of 8.58 cents per bushel. From the economic standpoint of cost of production in connection with the yield, this is probably the world's record. More than two bales of cotton per acre were raised by a number of farmers in the county last year.
To quote Paul Harvey's tag line, That's the rest of the story. But there is one question that lingers, What happened to Junius Hill as an adult? I have been unable to follow him further. Reply below if you have additional information on Junius Hill.
SOURCES
Alabama State Archives
The Story of Corn and the Westward Migration By Eugene Clyde Brooks  Rand, McNally, 1916
"See the biographical data of the lives and backgrounds of all the Grand Masters of Freemasonry in Alabama from 1811 to 2011. Many early photographs of the Grand Masters are included in this work by Donna R. Causey"