Sam Dale, Pioneer, Trail Blazer, Indian Scout, Soldier and Statesman (Part II Continued)
By George H. Ethridge, 1
Jackson, Miss.2
(Written in 1945)
In 1796 Dale's (Sam Dale) company was disbanded. He procured a four horse wagon and engaged in wagoning. Thriving in this line of business, Dale in the year 1799 began trading with the Indians. About this time a brisk emigration from Georgia and the Carolinas to the Mississippi territory, through the Creek country, began and Dale became active in moving such emigrants. In 1803, commissioners were appointed by the President to mark a highway through the Cherokee territory and Ellick Saunders and Sam Dale were appointed as guides. When this highway was laid out, Dale with one Buffington, a half-breed, set up a trading post on Hightower River. They traded goods for pelts which they sold in Charleston. While engaged in this trading, Dale witnessed the death of Double-Head, a noted Cherokee chief, who was killed because he had sold to speculators a tract of the Cherokee country near Muscle Shoals. The sale was deeply resented by his tribe and his death was resolved upon. This tragedy is vividly described by Dale to his biographer.
In 1811 the grand council of the Creeks was held at Tookabatcha and at this council the great Shawnee Chief Tecumseh appeared with a group of warriors and made his famous appeal to the Creeks for assistance in his scheme for driving the white race out of the country. Dale was present when this speech was made and gives a graphic account of it. Tecumseh was a remarkable man and a very great orator. This sketch is a most interesting one. He is reported to have said: "In defiance of the white, warriors of Ohio and Kentucky, I have traveled through their settlements, once our favorite hunting grounds. No war whoop was sounded, but there is blood on our knives. The Palefaces felt the blow, but knew not whence it came.
TECUMSEH SPEAKS TO MUSCOGEES
"Accursed be the race that has seized on our country and made women of our warriors. Our fathers from their tombs reproach us as slaves and cowards. I hear them now in the wailing winds. The Muscokee (Creeks) was once a mighty people. The Georgians trembled at their war whoops, and the maidens of my tribe on the distant lakes sung the prowess of your warriors and sighed for their embraces. Now your blood is white; your tomahawks have no edge; your bows and arrows were buried with your fathers. Oh, Muscogees, brethren of my mother, brush from your eyelids the sleep of slavery; once more strike for vengeance—once more for your country. The spirits of the mighty dead complain. Their tears drop from the skies. Let the white race perish. They seize your land; they trample on the ashes of your dead. Back whence they came, upon a trail of blood, they must be driven. Back, back, aye, into the great water whose accursed waves brought them to our shores. Burn their dwellings. Destroy their stock. Slay their wives and children. The red man owns this country, and the Palefaces must never enjoy it. War now. War forever. War upon the living. War upon the dead. Dig their very corpses from the grave. Our country must give no rest to the white men's bones. This is the will of the Great Spirit, revealed to my brother, his familiar, the Prophet of the Lakes. He sends me to you. All the tribes of the North are dancing the war dance. Two mighty warriors across the Great Waters will send us arms. Tecumseh will soon return to his country. My prophets will tarry with you. They will stand between you and the bullets of your enemies. When the white men approach you the yawning earth shall swallow them up. Soon you shall see my arm of fire stretched athwart the sky. I will stamp my foot at Tippecanoe and the very earth shall shake."
Tecumseh (March 1768 – October 5, 1813)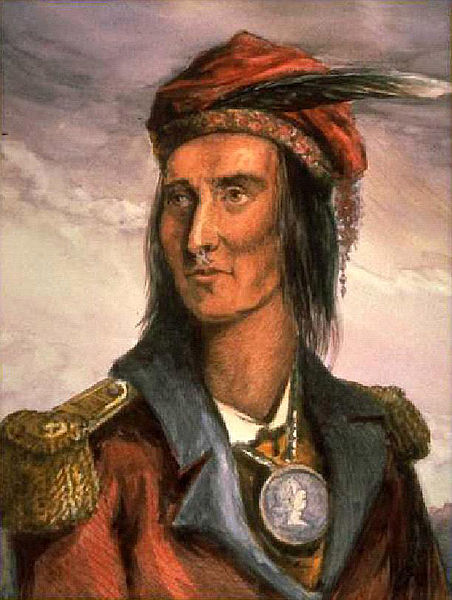 MUSCOGEES TO WAR
This fiery speech had a profound effect upon the Creeks, or Muscogees, as they were called among the Indians, and they afterwards went upon the warpath as a part of this Indian conspiracy. In that war Dale had a most conspicuous part. In 1813 the war broke out and the first battle was fought on the eastern side of Escambia River, near Burnt Corn Creek, and the whites were defeated. At this battle Sam Dale was wounded and the bullet remained in his body for a long time. The battle at Burnt Corn Creek and the hostile demonstration throughout the Creek nation at last aroused the Federal government. General Dale was severely critical of the inattention of the Federal authorities to the activities of Tecumseh. He blamed the Federal authorities for the war and much of the trouble in other parts of the South. It does seem that wisdom would have dictated a more severe course with Tecumseh than the Federal authorities took.
On the 2nd of August, 1813, General Claiborne wrote General Flournoy that the inhabitants of the settlements had taken shelter in the stockades, but that few of them were capable of defense; that they were crowded with women and children who were daily threatened with the scalping knife; that he had but 80 men then at headquarters and that the presence of reinforcements were highly desirable; that should he be reinforced and authorized to enter the Creek territory that he would within ten days do so and give th0x frontiers peace and give the government as much of the Creek country as it desired. He advised that strong forces should enter the Indian country before they were in arms everywhere. That with permission of his superior and a thousand men he would burn their principal towns; that three months hence it would be difficult to effect with three thousand men. He was not given the necessary authority or the proper reinforcements. It was rumored that the Choctaws might enter this war with the Creeks and General Gaines sent Major Ballenger to visit the Choctaws. He had an interview with Pushmataha. This distinguished Chief was induced to visit General Claiborne and was given the rank, uniform, and accoutrements of a Brigadier General. This greatly pleased the Chief who had but little love for the Creeks or their cause and he enlisted the Choctaw nation with the whites against the Creeks within thirty days.
Engraving of a painting depicting the massacre at Fort Mims on August 30, 1813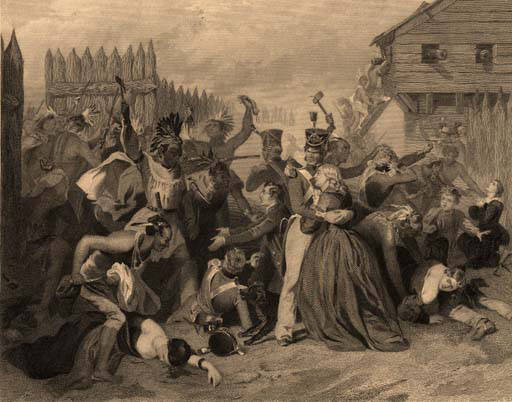 On the 30th day of August the Indians attacked Ft. Mims and massacred the occupants of that place. The massacre at Ft. Mims alarmed the whole country. Dale took charge of Ft. Glass. Colonel Carson was ordered to abandon Ft. Madison, some fifteen miles from Ft. Glass. He obeyed orders reluctantly and as his drums beat for his men to march, Dale beat his drums for volunteers, being determined to remain if he could get ten men to stand by him. Fifty men volunteered and as Carson's men marched out, Dale's men marched in. At night Dale illuminated the approaches for a distance of one hundred yards, using a device of his own for that purpose. The illumination was so efficient that no covert attack could be made. It will be impossible to give the details of Dale's activities during this war. His most famous exploit is perhaps the battle in the canoes where he won over great handicaps.
After the war was over, Weatherford, the Chief of the Creeks, stated to Dale that he was unable to arrest the carnage. Weatherford fought like a hero and with great military tact until his towns were burned, his country ravaged, his warriors slain, and, when moved by starving women around him he surrendered to General Jackson. His speech on the occasion of his surrender is said to be a masterpiece of eloquence. Sometime after peace was restored, Weatherford moved into the white settlements near Montgomery and married there, and Sam Dale was best man at his wedding. In accounting for his moving among the whites, he said his old comrades were hostile, ate his cattle from starvation; that the peace party ate them from revenge; the squatters because he was a d–d Redskin, so he had, he said, come to live among gentlemen. Weatherford died in 1830.
During the period when General Jackson was at New Orleans, Dale was sent with an important dispatch to that General. He made the trip with incredible speed and delivered the dispatch. He saw the Battle of New Orleans fought at this time General Jackson replied to the important dispatch and desired Dale to return with his reply. He did so, passing through the great wilderness of Indian country alone and with true courage and tireless energy made that dangerous trip without harm. He was a wonderful woodsman and he knew the Indian country better than most men.
Samuel Dale (born May 24, 1772 – died May 21, 1841) Lauderdale County, Mississippi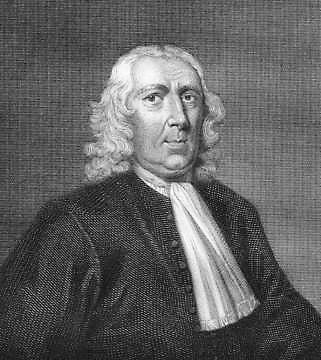 DALE RETURNS TO CIVIL LIFE
After the war, Dale settled into peaceful pursuits. He was not an educated man in books, yet had acquired some learning and knew some of the better literature. In those days, there were few schools and opportunity for acquiring an education on the frontier was exceedingly difficult. Yet, many men learned to read and write and with this equipment read and studied alone, whiling their few idle hours away in the pursuit of knowledge from books. Dale was one of these men. He had a profound knowledge of men and of their natures. He occupied important positions in both military and civil life. He served in the legislature of both Alabama and Mississippi. He was, as you, perhaps, know, the first representative from Lauderdale County. There he met the most brilliant men of the times. Men like Sergeant S. Prentiss, J. F. H. Claiborne, Adam L. Bingaman, Wm. Vannison, Benj. Stockton, Thomas H. Williams, Tighlman Tucker, D. M. Fulton, John Bell, Win. Vick, and others who then adorned the public life in Mississippi. He had during the Creek war furnished the Federal army supplies for which he was never paid. During the administration of Andrew Jackson, whom Dale greatly admired, and who in turn greatly admired Dale, he went to Washington to try to get a settlement of this just claim, which was never paid. He there met the most prominent men of the nation, such men as John C. Calhoun, Thomas H. Benton, Henry Clay, Daniel Webster, and many others. He gave his impressions of these men which is very interesting reading and shows a discerning and discriminating mind. He also gave a pen picture of the conditions among governmental employees and social conditions at that time. He was every inch a gentleman and was greatly honored and admired by "Old Hickory" and others. 'He gave information, obtained on that trip to Washington, that every person should enjoy reading and which is set forth at length in Claiborne's Life of Dale. This book is now out of print and difficult to obtain, and it should be reprinted for the use of those who are interested in men of that type which have passed permanently from our national life. We could all profit by its publication and I hope that a movement will be inaugurated to have it reprinted for general sale. It will, of course, take a considerable outlay and no single person should be expected to do this work. Its sale would not, perhaps, be extensive, yet it is so wonderful in its recitals of much that we should hold dear and was written by such a graceful writer, J. F. H. Claiborne, that no person would regret buying a copy for his personal library.
General Dale's ashes lie within the soil of this community (Lauderdale County, Mississippi) and we today do him honor. May there be some way devised to perpetuate his memory and his achievements for the future generation in a more complete way than can be done by mere marble. His life furnishes a shining light in the annals of our country. It links the frontier days, with their deficiencies of learning, with this day of our great flood of literature and history and educational systems. Few men reach that height of achievement under the handicaps that environs men like Dale. His memory should be a sacred treasure to us who have inherited the fruits of his time.
1George H. Ethridge was born in Kemper County, Mississippi. He grew up in Rio, Mississippi and attended public schools in Kemper County, Mississippi and the Iron Springs Institute in Neshoba County, Mississippi and Linden Academy in Linden, Tennessee. He taught school for two years in Kemper and Lauderdale counties and then took up the study of law in the office of his cousin, W.N. Ethridge at Meridian, Mississippi. (Another cousin, J.M. McBeath, was also associated with the office.) He was admitted to the bar in 1896 and began the practice of law in Meridian, Mississippi. In 1898, Ethridge, in partnership with James Hector Currie, opened a law office in De Kalb, Mississippi. Two years later, Currie was elected district attorney and the partnership was dissolved. Ethridge continued his law practice in De Kalb until 1911, serving one term, 1904-1906 in the state legislature. Ethridge moved his law practice to Meridian and was appointed assistant attorney general in 1913 and held this position until 1917. He was elected as an Associate Justice of the Mississippi Supreme Court in 1916 and served on the Court until 1941.
Ethridge was a member of the Masonic Order, and served as master of De Kalb Lodge, No. 64, having worked through the degrees in the Scottish Rite and holding membership in the Jackson Consistory.
2The Alabama Historical Quarterly, Vol. O7, No. 04, Winter Issue 1945
Do you want to know Thomas Jefferson's recipe for Vinegar of the Four Thieves or how to make Ox Tail Soup? Have you ever had 'blueberry pickles', 'batallia pie' or 'snow birds'? You will learn all this and more in 

VINEGAR OF THE FOUR THIEVES: Recipes & curious tips from the past
READ THIS BOOK FOR FREE ON YOUR COMPUTER!
THEN SIGN-UP FOR THE 30-DAY FREE TRIAL BELOW: