Did you know that we have stories from this website plus additional previously unknown stories now in soft cover and Ebook form?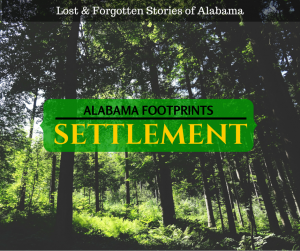 Thanks to your support, the first book,  ALABAMA FOOTPRINTS – Exploration – A collection of lost & forgotten stories of Alabama, was in the top five on Amazon books for a week when it was launched.
The next book in the series,  ALABAMA FOOTPRINTS: Settlement: Lost & Forgotten Stories  was published the first of August, 2015 and became a best seller.  Below is the Table of Contents for this book.
Table of Contents
England, France & Spain Claimed Alabama
Priest, Fur Trader And Explorer Search For The Mouth Of The Mississippi River
Whole Territory Of Alabama Was An Immense Wilderness
A Russian Princess In Early Alabama
Alliances Create Division Among Native Americans
Traders
Traders From Scotland Marry Native Americans
Native American Government Trading Houses Established
Traders Used Pack-horses To Transport Their Merchandise
A Ruse Saved Immigrants Lives While Traveling Through Indian Territory
Postal Routes
Isaac Briggs Risks His Life To Map A Road
Benjamin Hawkins Established A Mail Route
Travel To Alabama
Before The Federal Road
Women Steered The Boats While The Men Fought
Neither Indian Or White Man Was Seen
Early Loyalists To The King Followed Native American Trails To Alabama
Early Settlements
Mobile And Louisiana Territory Almost Became An Independent Republic
Huntsville Was Built Around A Great Spring
Burnt Corn, Alabama Older than the United States
Native Americans Owned Farms And Raised Cotton
Land Fraud In Tennessee Led Many To Alabama
We now have seven books in the series. This is the order of their release for publication.
Some Alabama history teachers have even informed me that the Footprints series is being utilized as supplemental reading in classrooms around the State of Alabama. What an honor!
Thank you for your continued support of this series.  If you like the series and are so inclined, I'd greatly appreciate a comment about any of my books on Amazon.com. I am currently writing the next in the series and hopefully, it will be available this fall.
I am currently writing the next in the series and hopefully, it will be available this fall.
Read Amazon Ebooks for FREE for 30 days!