YES, I Remember Those Perms
by
Dorothy Graham Gast
An aunt who was a beautician was prevailed upon during a visit to my grandmother's at Romulus gave me a Toni. After she combed it out I looked it in the mirror and bawled.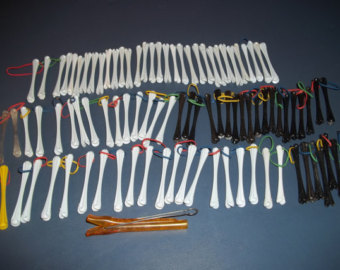 All around the whole family was telling me to give it few days and I'd love it. Instead I washed my hair in a Tide/Halo solution every day for a week and swore not to get messed up again like that.
Later when weekly hair-styling was expected part of the professional look of a teacher, I prayed, "Lord with 4 young children at home I don't need to waste the money and time for a weekly trip to a salon." The results of the past trips were over-baked hair and thinning tresses.
"Lord, show me a better way."
My hair was cut short, and brushed back.
So it remains simple:
Shampoo in the shower,
Brush it away from my face and let it dry as I go on my way.
Hey, I never claimed to aspire to Beauty Queen.
Would you like to know Thomas Jefferson's recipe for Vinegar of the Four Thieves or how to make Ox Tail Soup? Discover this recipe as well as many household tips from the past in  VINEGAR OF THE FOUR THIEVES: Recipes & curious tips from the past    Now in paperback, makes a great gift!
Dorothy Gast lives in Romulus, Alabama on the Graham family farm. She taught in Tuscaloosa County Schools for nearly 30 years. She has a "Mine, yours, and Ours" family. She has volunteered in numerous organizations after her husband's eight year struggle with Alzheimers' ended. She helped organize a volunteer fire department after she was 60 and served as board secretary and nationally certified firefighter after extensive training. Her attempts to get the community reading failed, but she contributed books to the new Sipsey Valley high school from the library in her home friends helped her establish. She is known locally by the silhouettes she cuts free hand of children. She began to write nostalgia stories after a grandson asked her to write down the stories often told at family events.