SINGING SCHOOLS
(Transcribed and unedited story from a WPA
(Works Projects Administration) author from Pike County, Alabama)
Written by Lois Lynn
11/12/1936
Singing schools are still held in some remote sections of Pike and Coffee Counties. These schools are usually held by one singing teacher in community churches.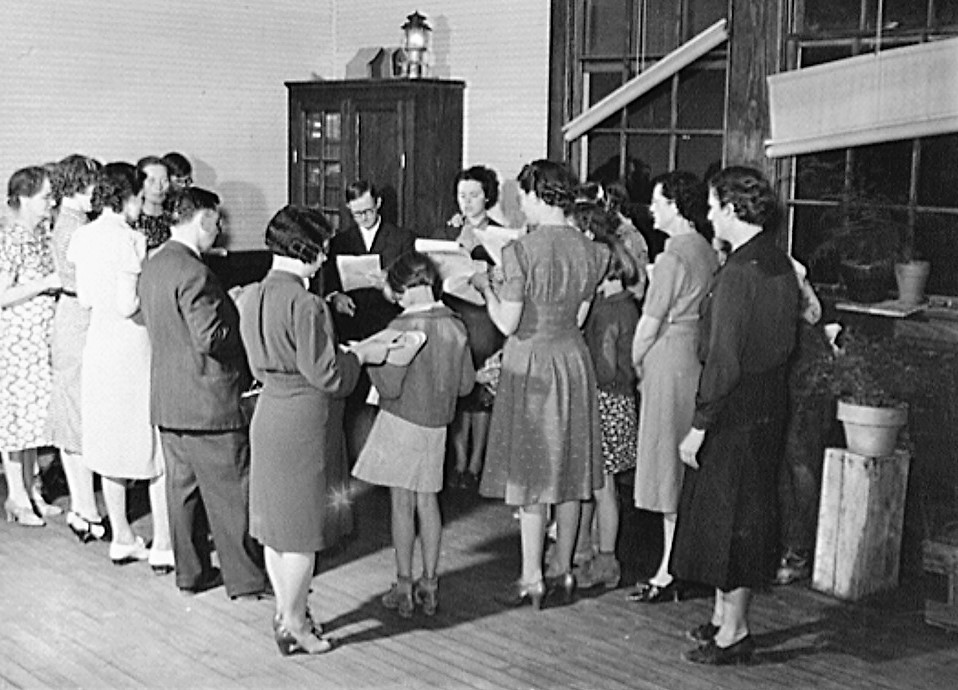 Singing during recreation evening at a community school, under direction of WPA (Work Projects Administration) recreation supervisor. Coffee County, Alabama Apr. 1939 by Marion Post Wolcott (Library of Congress)
Held five days a week
The teacher solicits pupils, and when 10 or more are secured, comprised of both adults and children, the school opens. They are held 5 days a week over a period of from four to six weeks. These schools are usually conducted without an instrument. The pupils are divided into classes, soprano, tenor, (1st & 2nd), alto and bass, (1st & 2nd). The notes are thoroughly taught by sight, then by tune. When each pupil has familiarized himself with the notes, they are then coached in singing, each class holding to their respective parts. Harmonizing is a popular addition to the recent singing schools.
Prior to statehood, Alabama was a vast wilderness with a large Native American population. It is only natural that when new immigrants from other states arrived, conflicts over the land would arise. Soon, these small conflicts exploded into war.
Alabama Footprints Confrontation is a collection of lost and forgotten stories that reveals why and how the confrontation between the Native American population and settlers developed into the Creek-Indian War as well as stories of the bravery and heroism of participants from both sides.
Some stores include:
Tecumseh Causes Earthquake
Terrified Settlers Abandon Farms
Survivor Stories From Fort Mims Massacre
Hillabee Massacre
Threat of Starvation Men Turn To Mutiny
Red Eagle After The War