September 8, 1881 – The Tin Man of Birmingham – I wonder how much of his work is still on buildings in Birmingham?
(Transcribed from Birmingham Iron Age, Birmingham, Alabama September 8, 1881)
BIRMINGHAM INDUSTRIES
Alonzo S. Elliott's Tin Manufacturing Establishment
On the 2nd avenue, near the Postoffice is the flourishing hardware and stove establishment of one of the most enterprising and progressive young merchants, Mr. Alonzo D. Elliott: and just over the store is his tin-shop, which is one of the busiest, life-like places in Birmingham. He employs a number of men, as tinners. These are under the personal supervision of Mr. L. B. Culley, who stands among the first cornice and roof workmen in the South—being an expert in all branches of the tinner's trade.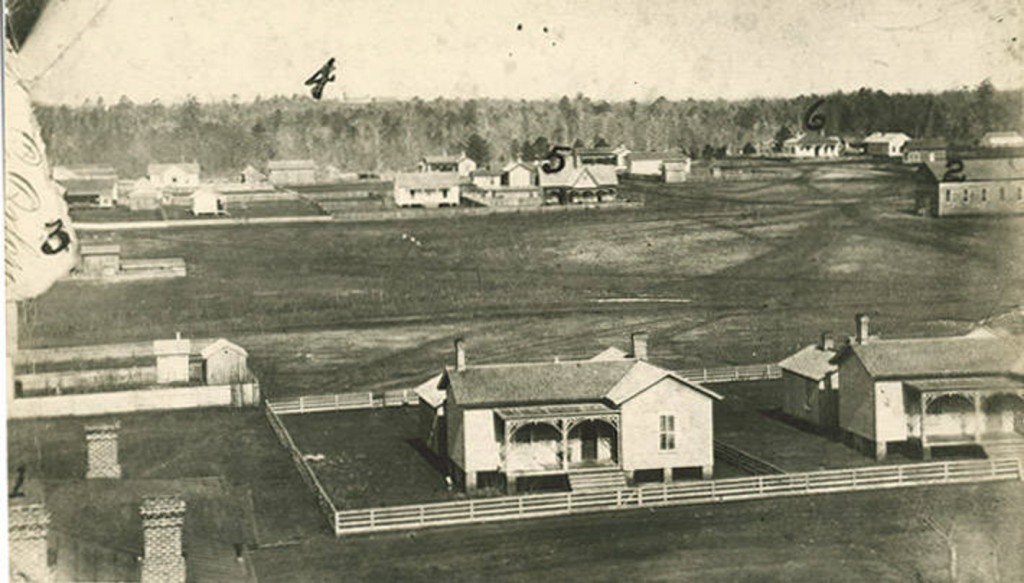 Earliest known picture of Birmingham (ca. 1874) includes  (5) T. L. Hudgins home and (6) Col. Terry's home 
Hudgins building cornice and window caps
Mr. Elliott makes tin and sheet-metal work a specialty: and points with pride to work done by his force on the new buildings of Col. T. J. Terry, and the Hudgins building. The cornice work and window caps of those houses stand as a living advertisement of his industry. He does an immense amount of tin, slate and metal roofing, and oftimes is compelled to double his force of workmen. His repair shop is complete in every particular, ready to serve customers in any work that belongs to the trade. In addition to his large wholesale and retail stock of cooking and heating stoves and ranges, he keeps on hand a splendid assortment of tinware and house-furnishing goods, tin, slate, and metal roofing, galvanized iron, etc.
Mr. Elliott came to Birmingham just eighteen months ago, and in that time has built up a splendid business—both city and country. He believes in a free use of printers' ink and we take pleasure in referring to his new advertisement in this issue of the Age.
Note: Alonzo S. Elliott, formerly of Huntsville, Alabama, served as an alderman in 1882 and 1884 in the administration of Mayor A. O. Lane. He is buried in Oak Hill Cemetery in Jefferson County, Alabama. (Find A Grave Memorial# 108448816)
Faith and Courage: A Novel of Colonial America 

Inspired by real people and actual events, the family saga of colonial America continues with Ambrose Dixon's family. Faith and Courage presents the religious persecution of Quakers in Pre-Revolutionary War days of America intertwined with a love story.