Happy Birthday!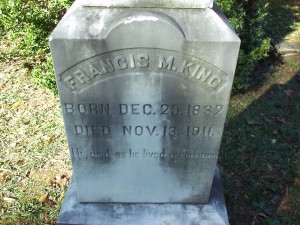 FRANCIS MARION KING
BIOGRAPHY and GENEALOGY
(Dec.25, 1832-Nov. 13, 1911)
Talladega and Coosa county, Alabama
Francis Marion King was one of the best farmers in Talladega county and accumulated a comfortable fortune. He was a native of Georgia, born on Christmas day of 1832, the son of Hiram King and Sarah (Wade) King, whose family consisted of thirteen children. His father before him was a farmer and a reputable citizen, though not more than ordinarily successful. Hiram King was born in South Carolina and passed most of his life in Georgia, a Democrat in politics and a Baptist in religious faith. His wife was the daughter of John W. Wade, who also passed his life in Georgia.
At twenty years of age, Francis M. King left Georgia and removed to Talladega county with nothing save "a will to do, and two strong arms to carry his will into effect." After six years he moved up into Coosa county for a like period, but in 1870 relocated to Talladega. Up to this time, he had not made great headway on the road to fortune, but he began to forge gradually to the front.
He belonged to a family of patriots, though at this time the only one living. When the war between the States began, it found seven sons of this family ready to do and die for the principles involved.  Six of these heroes paid the full price of their patriotism, and now fill soldiers' graves.
Francis M. became a member of Company A  Hilliard's Legion, in 1862, serving three years and three months with honor. He bore on his person the scars of honorable battle. Mr. King favored the Populist party, while both he and his wife were workers in the Methodist Episcopal Church South. He was a Freemason.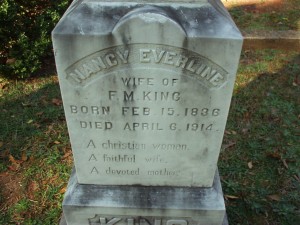 He married, in March 1854, Nancy Evaline Porter. She was a native of Georgia.
The children born to them are named as follows:
Sarah Eugenia King
Charles LaFayette King,
Mattie Atena King
Francis Marion King
Exer Sovanal King
Never Ardella King
an infant deceased.
Francis Marion King passed away Nov. 13, 1911, and is buried Marble City Cemetery, Sylacauga, Alabama along with his wife, Nancy Everline King who died April 6, 1914.
SOURCES
Notable Men of Alabama: Personal and Genealogical, Volume 1 edited by Joel Campbell DuBose
Start researching your family genealogy research in minutes! This Ebook has simple instructions on where to start. Download WHERE DO I START? Hints and Tips for Beginning Genealogists with On-line resources to your computer immediately with the FREE APP below and begin your research today!