A tragedy took place on December 4, 1888, in East Lake in Birmingham, Alabama
THE HAWES RIOT
by
Chas. D. Franklin
Editorial Department
(WPA Alabama Federal Writer's Project)
Written in 1930s
The Hawes murders furnished early Birmingham its most sensational crime and also the most bloody deterrent to mob action that ever occurred in this section.
Discover, Share and help us Preserve our lost and forgotten stories.
On the morning of December 4, 1888, two boys rowing in a small boat across East Lake, a large artificial lake on the eastern outskirts of the city, found the floating body of a young girl. Taken by police to a downtown morgue, the body was finally identified as May Hawes, after being viewed by hundreds of persons.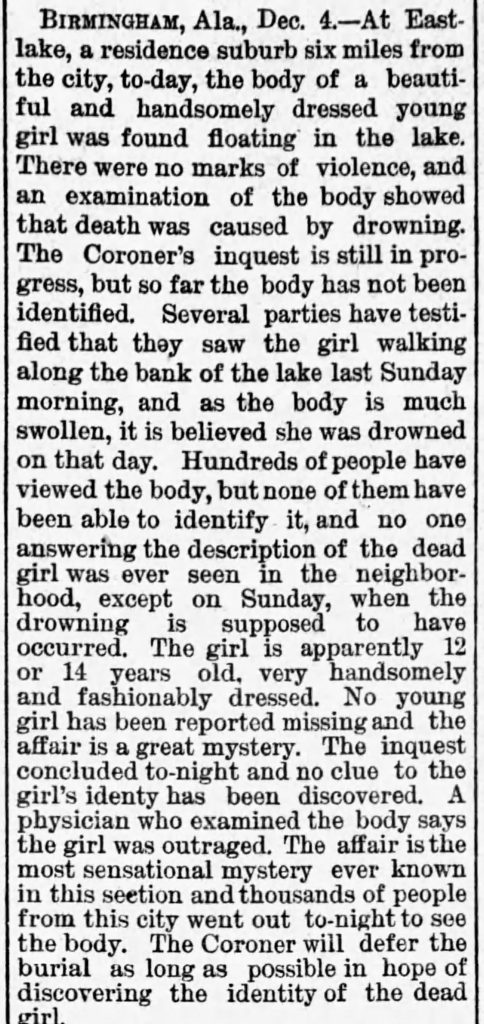 A check-up at the Hawes home on Chestnut Hill, near the present site of the Highland Park golf course, where Richard R. Hawes, his wife and two children lived, failed to establish the whereabouts of its occupants, although there were signs of struggle and blood spots.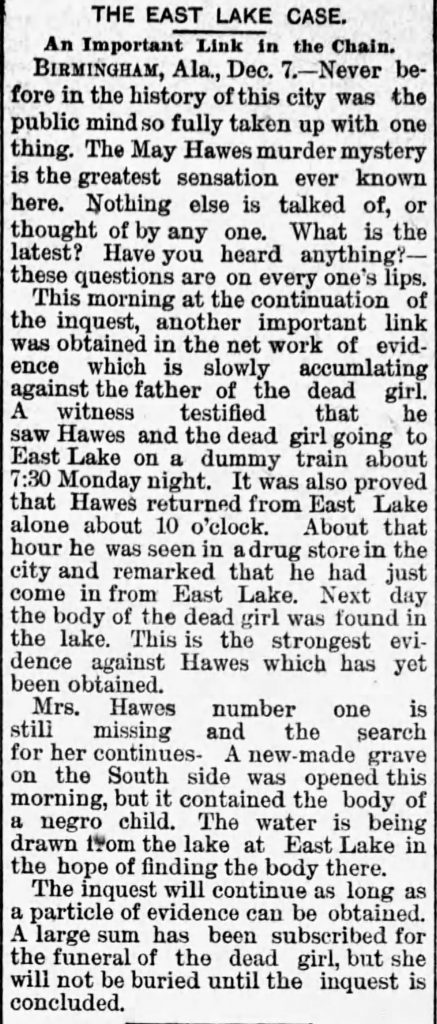 Police then began a feverish investigation and learned that Hawes, a railroad engineer, also known as "Handsome Dick," was in Columbus, Miss., where he had taken a new wife, and was starting on a wedding trip to Georgia by way of Birmingham. At Birmingham he was arrested and placed in the Jefferson County jail, but denied any guilt of the murder of his daughter. He offered the story that he and his wife had been secretly divorced and she was to have placed the children in a convent in Mobile. Police interpreted this explanation as an attempt to throw suspicion on his wife. Miss Mayes Story, whom Hawes married in Columbus, was entirely innocent of connection in the unfortunate events into which she was thrown.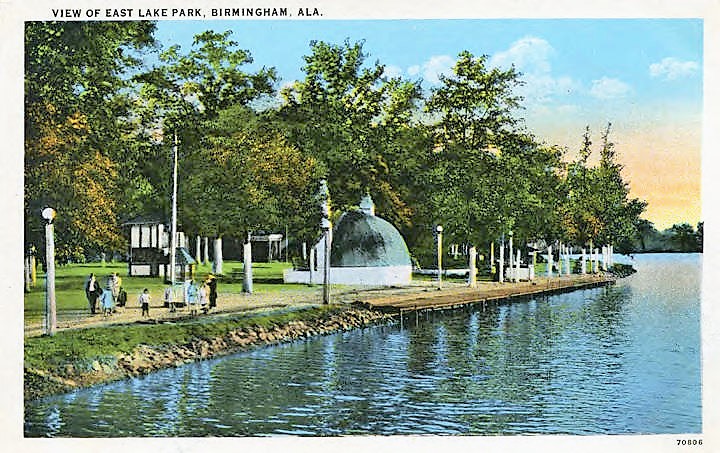 Feeling against Hawes at the time of his arrest was strong, but it reached a volcanic stage three days later when the body of his wife, weighted with heavy railroad irons, was found in Lakeview Lake, a small but deep pond a stone's throw from the Hawe's residence. The body of his other daughter, Irene, was later to be discovered in the same place, also weighted under with irons.
Scattered groups of grim-faced men began forming that Saturday afternoon, December 8, across the street from the jail. As the sun sank lower, these groups grew larger and by dusk they had all solidified into a phalan of snarling, vengeant (sic) men intent on taking the law into their own hands.
Unlock all Alabama Pioneers stories
Alabama Pioneers members see thousands of stories like this one everyday.
It did not take Sheriff Joe Smith long to sense the situation and he had all his deputies, special deputies and police placed at strategic places about the jail and armed with Winchester rifles. After repeated warnings by the sheriff, shortly after midnight the mob charged on the jail. The officers leveled their rifles and fired. Apparently believing this was a sham, the enraged men continued their surge toward the prison doors, but when they saw many of their numbers being mowed down by the fire, they changed suddenly into terrified retreat. When the smoke cleared and the streets had been vacated ten men lay dead, eleven seriously wounded and many others suffering lesser wounds. Among those killed was Maurice B. Throckmorton, postmaster of Birmingham, who had been merely a spectator.
Meanwhile, Hawes, locked in the basement stronghold of the prison, had been viewing his own predicament with little concern. It is said he even dressed meticulously in preparation for his would-be lynchers.
The aftermath of this tragic riot brought a feeling of high resentment against Sheriff Smith, who was forced to keep his public appearances at a minimum for some time. However, the passing of time has erased most of this feeling and at present general opinion appears to favor the doughty sheriff's actions.
Hawes was hanged by due process of law in the yard of the jail the following year, after losing appeals to the higher courts. The composure he retained during the riot left him as he stepped to the gallows. It was a sad spectacle as the man, pale and trembling, was plunged to his death. But Richard Hawes never confessed the crimes which were indirectly responsible for the deaths of ten other citizens.
ADDITIONAL NOTE BY TRANSCRIBER – Names of men killed and wounded according to The Montgomery Advertiser, Montgomery, Alabama Dec. 8th, 9th and 10th, 1888.
Postmaster Maurice B. Throckmorton was shot in the lower part of his stomach and is dying now. He was near the front of the mob. He was about 28 years old, born in Louisville, Ky and came to Birmingham in 1880. Married two years to his wife, Miss Martin and one child. The Priest was with him the next morning. He and several others were urging the crowd to disperse and go home at the time the volley was fired. They had not in any way encouraged the advance, but did all in their power to prevent it. After shot, he fell in arms of Mr. Phil Given

C. C. Tate, a painter, is shot through hip, thigh and loin. He was dying. He was a painter and lived at East Lake. He worked in the Georgia Pacific Shops. He was about 45 years old and had a family.

A. J. Brannan/Branden ?, of Gadsden, Ala., Branden, wounded in thigh and abdomen and died a few days later. Boarded at the house of the sheriff of Etowah county at Gadsden and was in Birmingham on business before the United States Court.

A. B. Tarrant, machinist at the Louisville and Nashville Shops, He laid on the ground to avoid being shot but was shot in the back. He died a few minutes afterward. Twenty-one years of age, and was at school at Bellview academy. He lived in the family of Rev. Dr. McCoy. He was a nephew of Mr. A. J. Tarrant, county tax assessor, and had an older brother who lived in the city.

Charles Jenkins, a carpenter, of Smithfield, shot in the back of his head , the ball coming out in the centre of forehead. Lingered and died a few days later. Twenty years old and lived with his parents.

J. R. McCoy, from Duke Station, Alas., shot in the head. His brains oozed out, and he died instantly. He was a married man, about 30 years of age and was employed at the Birmingham Fire Brick Works. Mr. McCoy lived near the city with his family and was a sober, industrious hard-working man.

Colbert Smith (col.) shot through the right lung. He was from Portland, Alabama. He died a few days later.

Lawrence Fitzhugh, civil engineer on the Birmingham Mineral Railroad, badly wounded. He was shot through the shoulder. He was about 30 years old. He was a single man.

Wm. H. Alexander, badly wounded but nothing could be learned as to the character of his injuries.

W. S. Cooper, shot in the thigh. His wounds were considered serious. He was married.

Chas. Bailey, shot through the head, and was thought fatally. He lived formerly at No. 24 Church street, Boston.

J. W. Owen, shot in the right thigh, painfully. He has a wife and children and lived on Avenue C and Twentieth Street.

M. Q. Smith, of Avondale; John H. Merritt, of Rocket Station: A. R. Waters and John Ross, two young mechanics; slightly wounded.

J. W. Montgomery, city, is shot in the jaw, slight wound.

Adolph E. Schide, a machinist, city, mechanic, shot in the left side, just under the shoulder. It is thought that he will die. He came recently from Kalamazoo, Mich. He was wounded by a Winchester rifle ball.

Wm. Youngblood is reported among the fatally wounded.

A. D. Bryant, shot through the heart from the rear, killed instantly. He was dressed nicely. He was a handsome man. He kept books for Amelung and Phelan; came recently from Bryant Station, Tennessee. He had been in the city about six weeks. He is understood to have a family at the Lake. He was thirty years of age. He was standing near the front trying to restrain the crowd from going nearer.

Unknown – A substantial looking man, about 28 years old. He was shot in the head and his brains were running out. He died instantly. He is thought to have been a bricklayer and to have worked for Tom Williams on the Morris building.

Unknown Negro shot through lungs and died a few days later

A. J. Schide, a merchant, shot in the left side, just under the shoulder. It was thought that he would die. He came recently from Kalamzco, Michigan. Several of his companions were wounded but less seriously.

—- Branden, wounded in thigh and abdomen and died a few days later. Boarded at the house of the sheriff of Etowah county at Gadsden and was in Birmingham on business before the United States Court.
A number of the wounded were taken to their homes.. Probably fifty men received slight flesh wounds
Other Known Wounded
Mr. Berkely shot through both legs below the knee while sitting on the rear porch of the residence of Mr. W. M. Siddons on the corner of Twenty-first street and Third Avenue. The wounded man was a contractor and had recently moved to the city. His wounds were both in the flesh and quite painful.

Charles Baily, at hospital, a brakeman, on the Louisville and Nashville Railroad, shot in the right side just below the nipple. Bailey came to Birmingham three months prior from Cincinnati Southern where he was a fireman. His home was Boston, 24 Church street. Bailey was 20 years of age and unmarried.

John H. Merritt, shot through the calf of the left leg. He lived at Jonesville, beyond the North Highlands and had a wife and four children. He was 33 years old and a carpenter by trade. He was in the center of the street, just opposite the jail alley when he was wounded.

Matt Kennedy shot in both legs below the knee, the right leg was badly shattered, the left a flest wound. He was also shot in the left arm, just below the elbow, and a bone was broken. He was about 50 years of age and had a wife and seven children. He was well-known in the city.

J. W. Owen was shot entirely through right thigh. He was a carpenter about 50 years of age. His wife and four children lived on Avenue O and Twentieth street. Mr. Owens came to the city of Birmingham from Lagrange, GA.

J. W. Gilmore, was thought to be fatally wounded through the bowels. Past four months he worked at Alice furnace, but formerly kept a little store on Brown's Hill. He was 46 years old and had a wife and five children and lived at Green Springs.

Frank Childs was wounded and died.

Albert Smith (colored), was shot in the back and seriously wounded. He worked for the Lousiville & Nashville railroad, and had a family in the city.

A negro boy, who lived on the corner of Third avenue and Twenty-seventh street, was shot in the right leg. Dr. J. D. Davidson dressed his wounds.

Mr. William Youngblood, Mr. —– Alexander, and W. S. Cooper, reported as killed or wounded, are not hurt.

W. A. Bird, roomed on the third floor of the building north of Lunsford house, was shot in right shoulder, the ball passed entirely through him and came out near the spinal cord. Mr. Bird was 30 yeas old and unmarried. He was a carpenter and builder. He formerly lived in York county, S. C. He said he was standing near the entrance to the jail alley and was hit by the second volley.

K. Reichwein, roomed in building north of Lunsford house. He is a German and unmarried. His right ankle is shattered and he had a flesh wound in the same leg just below the knee.
Inspired by actual people and historical events of colonial America, "The Kingdom of Accawmacke" is revealed and secrets about America's history are discovered in this well-researched series. The story begins in 17th century England during the reign of Charles I and continues a family's journey to the eastern shore of Virginia and Maryland.
REVIEWS 
The exhilarating action & subplots keep the reader in constant anticipation. It is almost impossible to put the book down until completion, Dr. Don P. Brandon, Retired Professor, Anderson University, Anderson, Indiana
This is the first book I have read that puts a personal touch to some seemingly real people in factual events. Ladyhawk
Love books with strong women…this has one. Love early American history about ordinary people…even though they were not 'ordinary'…it took courage to populate our country. This book is well researched and well written. Julia Smith
A picture of love and history rolled into one. A step back in time that pulls you in and makes you a part of the family and their world. Ken Flessas
Each book's writing gets stronger, characters become real, the struggles and sorrows that laid the foundation for this country. Addictedtobooks
Not only is the story entertaining, it opens the eastern shore of the early Virginia Colony to the reader as a picture book….I know this story will touch many peoples' hearts. B. Thomas