[This is quite a story that reveals what travel was like in 1830]
THE TRIP by BUD and TERRY ANDERSON
Excerpted and paraphrased by Pamela Anderson Thompson
(posted on Ancestry.com)
They carried all their possessions with them
Sometime between 1832 and 1834 a small caravan crossed the Sabine River out of northwestern Louisiana and rolled slowly into Texas. It had been a long and wearing trip for the adults, the horde of children and probably a handful of slaves led by Benjamin W. Anderson, the patriarch in his mid 80's who was making his last great pilgrimage. The people with him were his sons, daughters and their families. They carried all the possessions and necessities for the trip that they could load onto the wagons.
There were approximately 33 members of the family who made the trip from Greene County, Alabama to Texas. There were about eight adults, four teenagers and at least 18 children under 10 years old As many as five children were babies under a year old. Many of the women were pregnant. It is one thing for a large body of adults to make such a trek, but more than half of this party were children. This was a children's crusade lead by a handful of adults.
Greene County, Alabama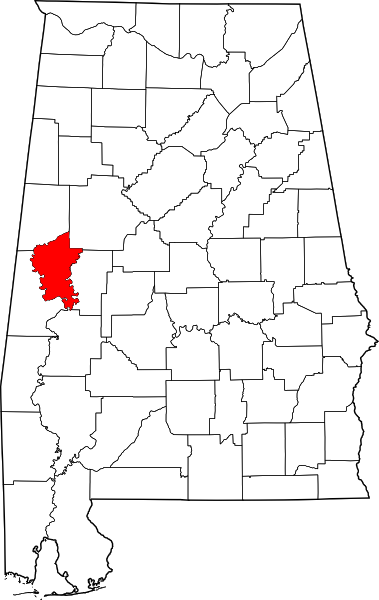 They all survived
If Benjamin and his tribe brought slaves, they were sorely needed, not only for the heavy work of driving livestock, driving the wagon and getting the wagons across fords, out of mud holes and up hills. Also, someone had to set up camp, prepare meals and keep the multitude of children out of trouble and accounted for. The journey had begun months earlier in Greene County on the western edge of Alabama. The party followed a track through land that was primeval: dense forest, untamed rivers and streams. After heavy rains the rivers were largely not fordable. There were swamps to cross and hills that tested the strength of both man and beast. Although hunger should not have been a problem for a resourceful party, illness, injury and even death was a specter that walked with them every mile. As far as we know, they all survived. …
The trek was 450-500 miles walking into the unknown
In "The Texas Republic" William Ramsom Hogan pointed out that many immigrant families were practically self-sufficient en-route, for their carefully hoarded stocks of food were supplemented by game. Travelers were also advised to bring furniture, cooking utensils, wagons, farming implements, tools, and provisions of food and clothing with them in order to begin their new life with less hardship. This was a trek: 450-500 hard miles, day after day, walking into the unknown. It could be regarded as high adventure, although probably only the youngest considered it so. This journey could not have taken less than two to three months under the best of conditions in the 1830s. It is also quite possible that the party spent some time visiting daughters Elizabeth and Susannah in Mississippi.
We don't know the trail they followed, but today Interstate 20 runs a close appropriate path of least resistance through Alabama, Georgia, Mississippi and Louisiana, overlaying roadbeds and Native American trails. Almost certainly they would have had to cross the Mississippi on a ferry. The most likely places are Vicksburg, Natchez or Baton Rouge. Vicksburg seems most appropriate because it is on the straight-line route from where they started the trip. This would also have pointed the party towards Natchitoches, Louisiana, an important trading center of the era. There they could have rested and replenished supplies before heading southwest down a well-traveled road, corresponding approximately to today's State Highway 6 in Louisiana (Hwy 21 in Texas). And to Gaines Ferry across the Sabine River. This road is an extension of the historic El Camino Real and traces of it can still be seen.
They would have entered Sabine County, Texas
The Anderson's would have entered Texas in Sabine County. There is some evidence that many remained in Sabine County before purchasing land in Nacogdoches County. This passage from Eutaw, Alabama to Nacogdoches, Texas made use of trails and paths used for years by earlier travelers and takes advantage of established communities and trading centers. Even if they didn't buy or barter, it offered civility and relatively safe resting places. There's no written record about their arrival, stepping off the ferry into Texas. Family lore has it that they arrived in December, 1834: old Ben, Jane, children, grandchildren and slaves. It would be romantic to call them pioneers, but they were farmers, people of their times. They moved with relative frequency on the heels of others who neutralized the most serious dangers of a new frontier. The Andersons move in order to acquire land on the outskirts of nation moving West.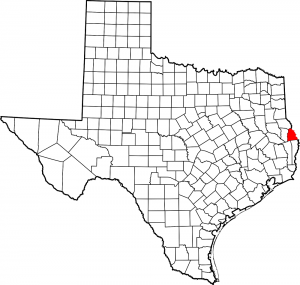 The size of the family dictated the relocation. Benjamin may have worried that he didn't have enough land to give all his children a suitable place to live. Also, cotton and corn deplete the soil and his crops may have been declining. Whatever the reason, Texas and its generous land policies under Mexican and Texas rule offered a great opportunity for farmers. Abraham Anderson, Benjamin's grandfather accepted 200 acres on the Carolina coast in 1764 from King George III.
They settled in Berkeley County, South Carolina, and stayed until the threats of war from Spain were resolved and most of the Cherokee Indians had been removed by purchase and treaty. They participated in a land rush to settle the Up country and the Piedmont. Benjamin stayed in South Carolina (probably on more free land) in Newberry County in the Ninety-Sixth District, and then accepted 900 acres from the new state of Georgia on the Ocheegee River in Greene County late in the 1790s after 40 years in Alabama in Jones and Greene Counties.
Benjamin purchased land in Nacogdoches County
Moving to Texas, he was eligible to receive a league and a labor for having settled prior to Texas becoming a republic in 1849. This time, however, Benjamin purchased land in Nacogdoches County in what was called Black Jack. In his lifetime Benjamin Anderson moved halfway across the continent, from tidewater South Carolina to Georgia to Texas. He participated in one way or another in two major uprisings, the American Revolution in 1775-6 and the Texas Revolution in 1835-36. He moved always to the edge – a borderer. Whether by instinct or circumstances, this was his fate. He was born the subject of an English King and died a Texan.
– Additional notes: My father, Irving (Andy) Anderson said that his great-great Grandfather, Benjamin Anderson sired 25 children with two wives. This is a story of a pilgrimage with his second wife, children and grandchildren from Alabama to Texas in 1834.
Writing verbatim an interview published in the Portales, New Mexico News in 1906. SEVENTY TWO YEARS IN TEXAS May I step in and talk a few minutes with the old pioneers of Texas. We moved to Texas in the year 1834 from Green County Ala. and landed in Sabine County and I lived there a while: from that place to San Augustine County, there to Nacogdoches County where I spent most of my young days. MY fathers name was Benjamin Anderson. He was the father of twenty-five children, nine by his first wife and sixteen by my mother, but that large family has all passed to the great beyond except myself and one brother, George W. Anderson of Mason County Texas. I am 83 years old and my brother 81. After leaving Nacogdoches County I lived in the following counties; Navarro, Wise, Parker, Jack, Menard, and Schleischer. I have seen all the hardships of an old Texan. The only counties organized when we landed in Texas were Shelby, Jasper, San Augustine, Sabine and Nacogdoches. I am now living with my baby girl and her husband Mr. and Mrs. J. B. Hext two miles south of Portales, N. M. and despite my age of 83 years I often walk to town after the mail and am doing fine for one of my age. If any of the old boys of my age are still living, would love to hear from them. I want to say here that I read the News in its infancy. wishing the News success, will just pick up my cane and be jogging along. Thomas Howard Anderson, Portales, N. M. Copy of article in possession of Michael Houck.
Check out historical books and novels by Donna R. Causey
includes the following stories
The Yazoo land fraud
Daily life as an Alabama pioneer
The capture and arrest of Vice-president Aaron Burr
The early life of William Barrett Travis, hero of the Alamo

Description of Native Americans of early Alabama including the visit by Tecumseh
Treaties and building the first roads in Alabama.