And
The family ancestral line inspired two historical fiction series –

Tapestry of Love

and

The Cottinghams.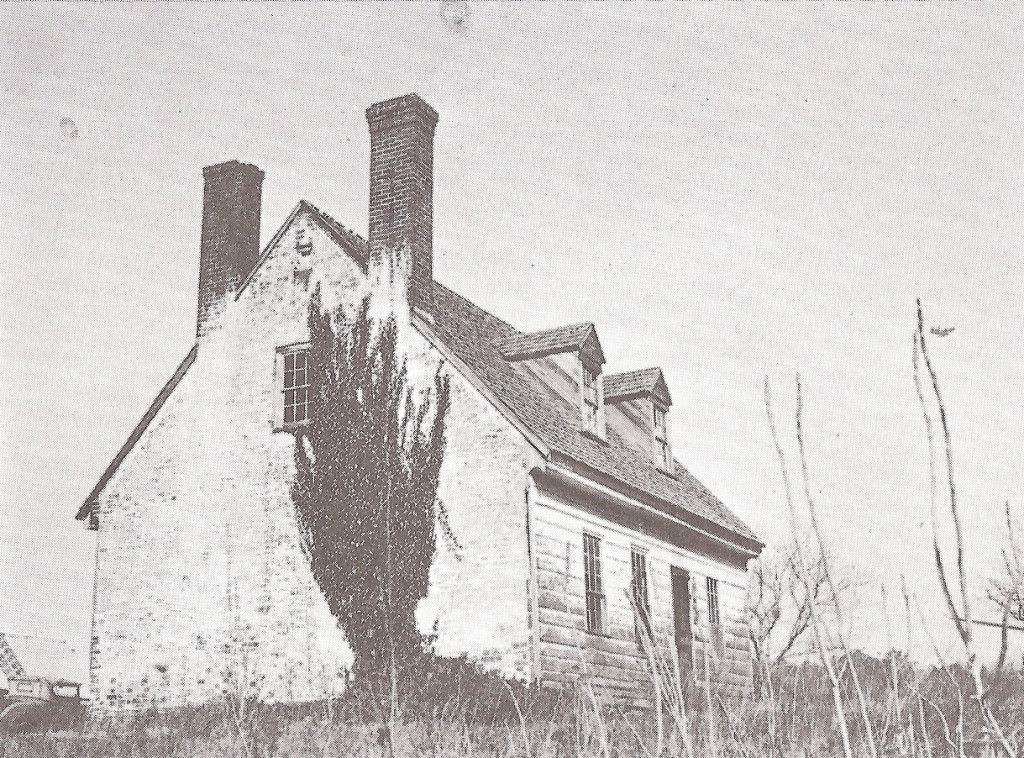 John Cottingham home in Snowhill, Maryland built 1707
Note from Author, Donna R. Causey
This is my personal ancestral line and it is mentioned in Douglas Blackmon's best-selling novel Slavery by Another Name: The Re-Enslavement of Black Americans from the Civil War to World War II.
Extensively researched
The Cottingham family has been extensively researched by many of my ancestors over a long period of time (See Cottingham genealogy), and one of my cousins, Hal Cottingham (now deceased) was even mentioned as a source in Douglas Blackmon's novel.
I knew they never became as wealthy in Alabama as depicted in Slavery by Another Name: The Re-Enslavement of Black Americans from the Civil War to World War II so I was inspired to tell the more complete story of the Cottinghams with my historical fiction series, Tapestry of Love. I included an appendix with sources of historical and ancestral information in each novel as I followed their journey. Though the novels are fictional, real names and historical events that took place in each locality were used to tell the Cottingham's story. The first novel, Ribbon of Love begins with my Quaker ancestors, the Dixons and Willsons, who settled on the Eastern Shore of colonial Virginia.
The specific Cottingham family line continues in my next series, The Cottinghams with my first novel, Discordance. I plan to follow them with future novels as they made their way to Alabama and eventually settled in Bibb County, Alabama before statehood. The Cottinghams were typical of many families who migrated to Alabama at an early day.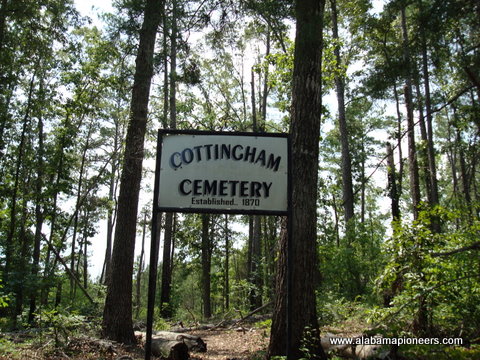 Alabama Descendants of ELISHA COTTINGHAM (ca. 1755-ca. 1820)
is a 478 page book which includes the genealogy reports, notes and sources of Elisha Cottingham (b. 1755) and his sons who first settled in Alabama.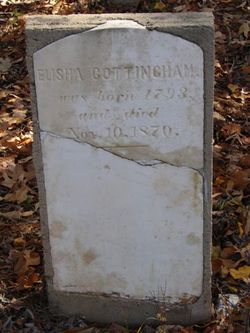 Elisha Cottingham tombstone at Cottingham cemetery in Alabama (personal collection of Donna R Causey)
Browse the FREE SAMPLE pages of Alabama Descendants of ELISHA COTTINGHAM (ca. 1755-ca. 1820) (which includes a brief descendant outline in the first pages) on Amazon to see if this is your family line.
Some surnames include: ABEL, ALEXANDER, AMERIUS, ARCHER, ARNOLD, ATCHISON, BABB, BAIN, BAREFOOT, BARNES, BARRY, BATTLE, BEAVERS, BEECH, BELL, BERRIS, BISSET, BLACKWOOD, BLAYLACK, BLEGAN, BOONE, BOWEN, BOOZER, BOZEMAN, BRACKNER, BRAND, BRANTLEY, BRIDGES, BRIDWELL, BROCK, BROOKS, BROWN, BRUNER, BUGLER, BUNTIN, BUSBY, BUTLER, BYERS, CALDWELL, CALHOUN, CAMMEL, CAMPBELL, CARROLL, CASH, CATES, CHANCELLOR, CHANDLER, CHAPMAN, CHISM, CHOATE, CLARK, CLEMMER, COCHRAN, COLE, COLEMAN, COLLINS, COOPER, COURTNEY, CRAWFORD, CREWS, CRIDER, CRONIER, CROSBY, CROTWELL, CRUISE, DAILEY, DALE, DAVIS, DIAL, DILLARD, DILTS, DOUGHIE, DUKE, DUNCAN, DUNNAVANT, DURKEE, EADY, EDWARDS, ELDER, ENGLAND, EVANS, FAIR, FARLEY, FARRINGTON, FERGUSON, FIELDS, FIKE, FIKES, FITTS, GAMEL, GARTHMAN, GIFOVERT, GIPSON, GIST, GLADNEY, GORMAN, GREER, HAND, HALLMARK, HARGRAVES, HARRISON, HAWKINS, HAYES, HENDERSON, HERENDEEN, HERLOND, HERLONG, HIGGINBOTHAM, HILTON, HITCHCOCK, HOLLAND, HOLLIFIELD, HORT, HOWELL, HUBBARD, HUDSON, HUTCHINSON, JAMES, JERNIGAN, JOHNSON, JOHNSTON, JONES, JORNIGAN, KELLEY, KEY, KILLINGSWORTH, KINNIE, LANGSTON, LAWLISS, LEACH, LEE, LINDSAY, LINDSEY, LOGAN, LOVE, LOVELADY, LOWE, LOWERY, MAHN, MALONE, MCALRAY, MCCAY, MCCARY, MCCRARY, MCCOMBS, MCCOOL, MCCUMBER, MCDOWELL, MCELROY, MCGHEE, MCGOWEN, MCGUIRE, MCHUGH, MCKINNEY, MCMURTIE, MEADOWS, MEDARIS, MEDDERS, MERCHANT, MEREDITH, MILAM, MILES, MITCHELL, MOFFATT, MOORE, MORGAN, MORTON, MOSELEY, MOSS, MUIR, NARRAMORE, NORTH, NUTT, OTT, PACK, PARDON, PARKER, PARKS, PARNELL, PATTERSON, PATTON, PECK, PEEK, PHILPOT, PICKETT, PIERSON, PITTS, POSEY, POW, POWELL, POWERS, PRATT, PRICE, PRIM, PURDEU, PURTLE, RAKES, RALEY, RAMEY, RAY, REDMAYNE, REGAN, REIS, RHYNE, RISINGER, ROBISON, ROULAINE, RUSSEL, SACCARO, SAUNDERS, SAYERS, SCHOFIELD, SEARLES, SELF, SHAW, SHEPPARD, SHIPLEY, SIDERATOS, SINCLAIR, SMEDLY, SMITH, SMITHERMAN, SNEAD, SPLAWN, SPURGEON, STALLINGS, STEADMAN, STEELE, STEWART, STILL, STOKES, STRAHAN, STUART, STUDDARD, TATUM, TAYLOR, TEPPER, THOMAS, THOMPSON, THORNTON, TINKLE, TOLSON, TRAMMEL, TROTT, TRUCKS, TUBBS, VAUGHN, WALDROP, WALKER, WALLACE, WALLS, WATTS, WEAVER, WELLS, WHEAT, WHITE, WHITSON, WIGGINS, WILLIAMS, WILSON, WILLSON, WOOD, WOODLIFF, WOODSON, WOOLEY, WORSHAM, WRIGHT, YARBROUGH, YEAGER, YOUNGBLOOD

Download and read any Ebook immediately on your computer or smart phone with FREE APPS! Then use the Search/Find feature on your electronic device will assist you in finding names or places in the book. Click below to see how.
Alabama Descendants of ELISHA COTTINGHAM (ca. 1755-ca. 1820)