Below is an excerpt of a transcription of a  history of Autauga County, Alabama written around 1886 by Shadrack Mims. It has been transcribed exactly as written with misspelled words etc and includes names and descriptions of many early settlers.
 Start of the Mims Family
But to go back to where we were before I began this incident in order to relieve the monotony of our ride. The next place we come to was settled by Williamson Mims, a distant relative of mine. He settled directly on the bluff of the river, but becoming dissatisfied with the County on account of the unhealthfulness of his situation, he moved back to Georgia and there died at a good old age, after becoming the owner of a hundred slaves and several valuable plantations besides several saw and grist mills. I think he settled in Georgia near Cotton Valley. He and his whole family embraced religion in Vernon. I saw him a short time before his death and the family still held on to their religion.
Many found the river unhealthy
In a short time we come to the place of Timothy L. Rogers, he too was from Georgia and settled on the bluff of the river. He was displeased on account of the health of his location and moved not far from Aberdeen, Miss., where I have understood that his oldest son, Manon, became an eminent lawyer.
DeJarnette family moved to Autauga area around 1848
John DeJarnette bought both Rogers' and Mims' plantations and cultivated them until his death, which occurred I think in 1848. John P. DeJarnette was a good farmer and manager; a man of open and generous heart; a kind neighbor; a warm and fast friend, though like other men, he had his weak points.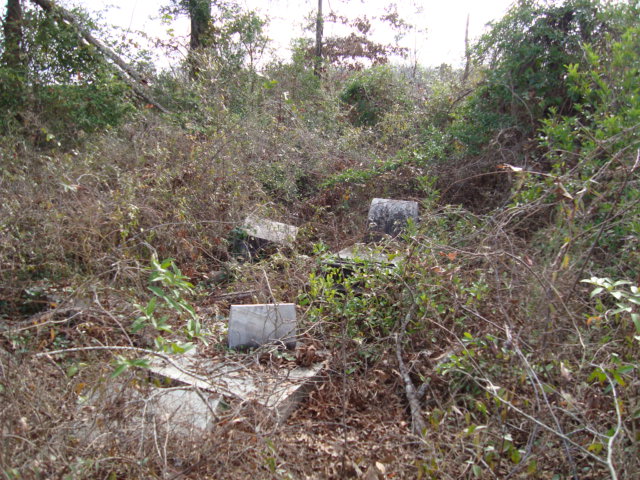 DeJarnette Cemetery no. 2, Autauga County, Alabama (Findagrave.com)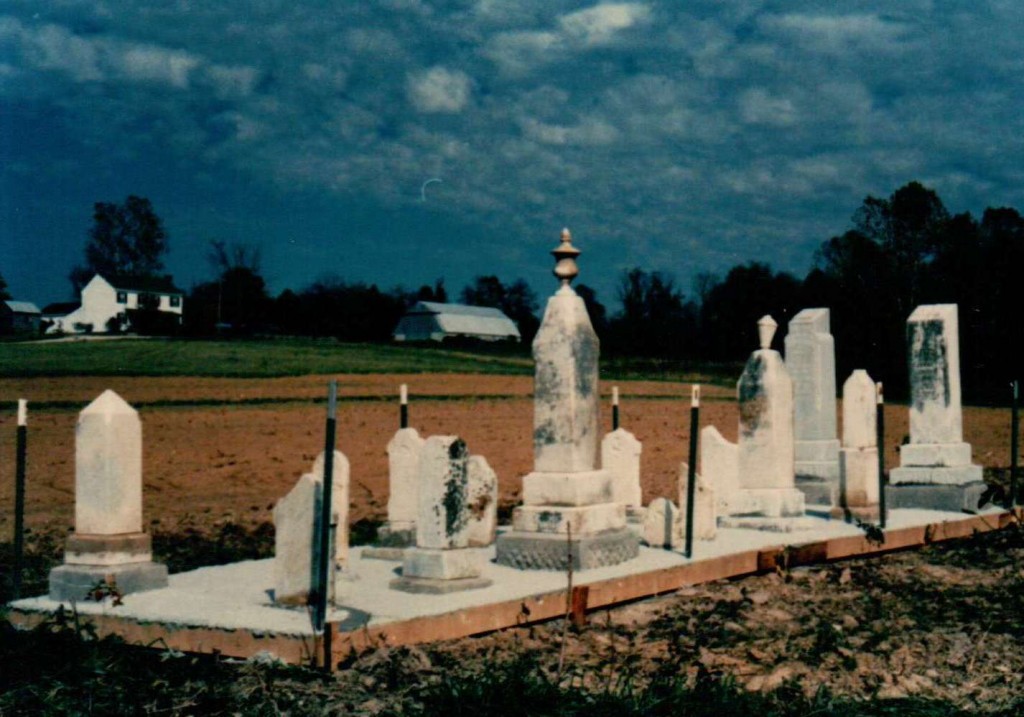 DeJarnette Cemetery no. 1 after renovation, Autauga county, Alabama (Sarah Chenault -Findagrave.com)
McQueen and McBryde family
He has not at this time a single representative in the County. His last wife was a widow McQueen, a native of North Carolina and her maiden name was McBryde. She was one of the best women I ever knew—was a member of the M. E. Church South. She left one son by her first husband. This son, Murdoch; McQueen, lives in the County and married a daughter of Alex Sample, ex-sheriff of the County.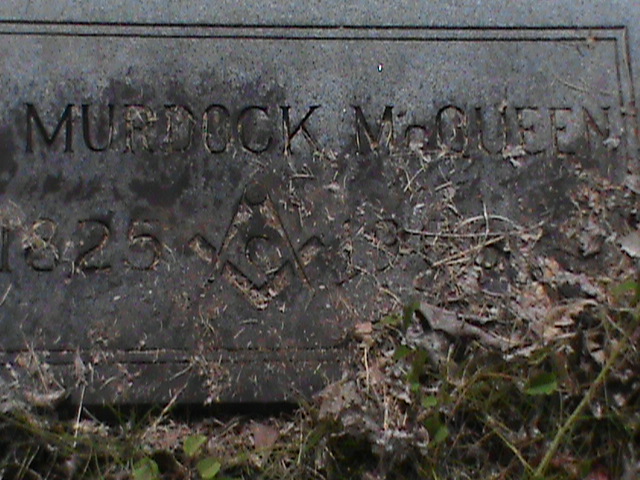 Col. Murcoch – McQueen tombstone, Vine Hill Presbyterian Church (Findagrave.com Added by: Gerald Jordan)
McQueen is a man highly respected and has held the office of County Surveyor for many years. Mrs. DeJarnette had a son and a daughter by her last husband. Both of these children live in Jefferson County near Birmingham. The latter married Wm. J. Mims. Terry DeJarnette died and left a widow with a son and two daughters, one of whom married a Mr. Haynie who now lives in Montgomery and does business for Pollak & Co. The second daughter married a Mr. Maule who also lives in Montgomery. I think Mrs. DeJarnette is living with her son at Autaugaville; she and her husband were members of the Episcopal Church, and I think her husband built the Episcopal Church of Autaugaville pretty much out of his own means.
There was a Wm. P. DeJarnette, a younger brother, who lived on a farm near Vernon. He married a Miss Fanny McBryde, sister of Mrs. J. P. DeJarnette. She too, was a Methodist and a good woman. After the death of his wife Mr. DeJarnette moved with his sons to Texas and there died. He has no representative in this County at present.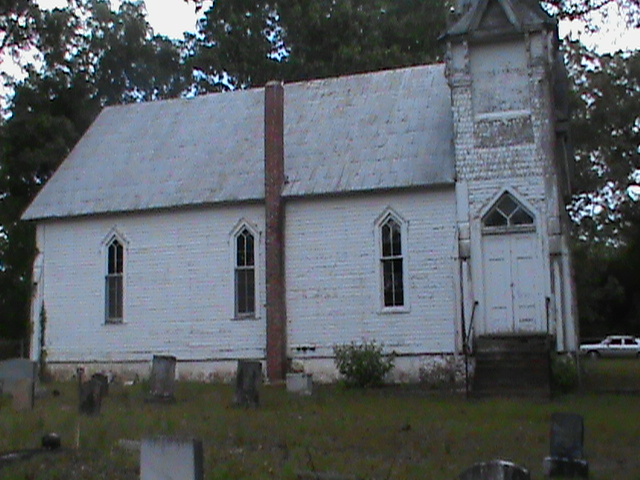 Vine Hill Presbyterian Church Added by: Gerald Jordan to Findagrave.com – many old graves in cemetery
Vernon, Autauga County, Alabama
Now reader I am in Vernon, the place where I first pitched my tent and where I lived twenty-six years.
All the property I ever made, which at the time I moved to Prattville I estimated at about thirty-five or forty thousand dollars, was made right in Vernon. Since coming to Prattville, I have about paid my expenses and no more; yet I for fifteen years did the hardest work of my life as Agent of the Prattville Manufacturing Co.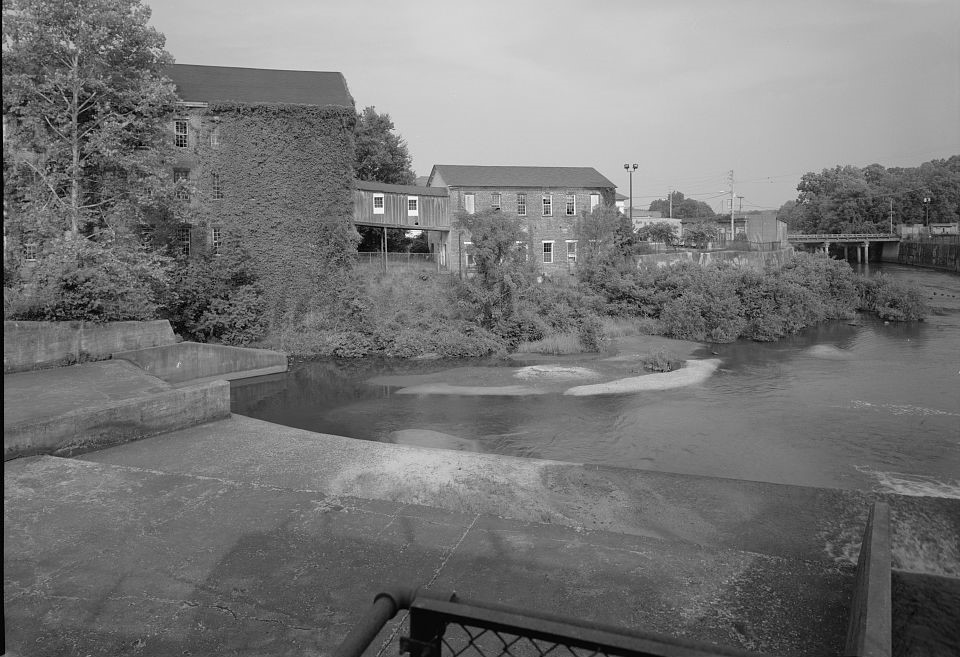 Prattville Manufacturing Company, 242 S. Court Street, Prattville, Alabama (Historic American Engineering Record, Library of Congress)
Health wrecked
I completely wrecked my health, resigned the Agency, and moved out of town upon the place I now own. Since which time I have been unable to do any out of door business and at times have been too weak to get from my bed to my chair and back again without assistance. At the close of the war, I  found myself stripped of everything except my farm and that in a dilapidated condition.
Four of my sons and one son-in-law enlisted for the war and when they returned, they found me unable to assist them in business and themselves penniless, but they were all brought up to business and commenced life, and at this time have families of children growing up around them like olive plants by the riverside. They are all being educated and promise well in life's future, they are all religious and join the church as they grow up to maturity.
Married fifty-three years in 1886
I have not a child or grandchild that would not divide the last crust of bread with his aged parents and grandparents—the father in his eighty-first year, nearly completed; the mother in her seventy-sixth year half completed, but now able to do and does do more work than since we were married, which will be fifty-three years next 13th March, 1886. Surely "goodness and mercy have followed me all the days of my life"-although poverty and affliction have overtaken me in old age, yet it is all for my good for "whom the Lord loveth, he chasteneth".
Reader, please pardon the allusion which I have made to myself and family. We form a part of the history of Autauga County which I am now writing, and I am the only representative of Seaborn Mims who was amongst the first settlers and who founded Vernon (the second village in the eastern portion of the State.) He was my guardian and raised me from ten to twenty years of age; I am also the only living representative of the Church he was instrumental in building up in Vernon—i. e. the only one now living in the County.
Vernon was an active town
Vernon though without a church, continued to be an active place of business until about 1848 when Autaugaville was built up it was then swallowed up by Autaugaville, as was Washington by Prattville. Nothing now remains of it except an old dilapidated warehouse which I built there, and perhaps a low doggery—a trap to catch the poor ignorant freedman. Ichabod is written upon her walls.
Men boasted of their prowess in Vernon
Before I leave Vernon, I must say something of her reputation as a place notable for pugilistic activities. This place, like all other little villages that supply the wants of the people, was the place of the gathering together of a large number of persons from the surrounding country. Amongst these there were two parties of pugilists, one called the Coker crowd, the other the Miller crowd. The latter consisted of three brothers, Henry, Charles, and William, and two brothers of the Windham family who were neighbors and particular friends of the Millers; they were all stout, resolute fighters.
Long and bloody fight
The Coker crowd consisted of about an equal number of stout men who boasted of their prowess in a rough and tumble fight. Saturday was the rallying day and often one or two of each side would take a hand, but they were equally matched, it always proved a drawn battle and had to be fought again. This state of affairs continued for several years; finally the parties met in full force and mutually agreed to parcel themselves out and engage in a general melee.
This was their last fight
I witnessed the fight from my store door—long and bloody was the fight, no man interferred and they fought till they were completely exhausted and both were willing to stop; first one and then another couple would separate until the whole ceased. The victory was generally awarded to the Miller crowd as the Cokers seemed the more used up. This was their last fight—soon both parties moved from the County and left no representatives to tell that such men ever lived in it.
Most intemperate man that ever lived
There is at this time a man living near Robinson Springs of that name but of another family of Cokers.
This man though a son of old Scrouge Coker, one of the most intemperate men that ever lived in our County, is a very respectable man, an orderly, quiet Methodist who has maintained a consistent Christian character till old age. He is a good farmer and well to do in the world.
Uncle Jerry was loved by everyone
Two miles from Vernon on a little creek called Yellow-water there lived an old white headed man named Jerry Lary. He was from Georgia and everybody loved him and called him "Uncle Jerry". He had a fertile farm and several negroes, was a good farmer, but was satisfied with  just enough to keep everything fat and sleek about him.
He had no family except his wife Martha, both "Uncle Jerry" and Aunt Martha were large and fleshy. "Uncle Jerry" had one weakness that followed him to his grave—he would go to Vernon every Saturday and get drunk on cheap Whiskey. While in this condition he was perfectly happy and seemingly harmless; he would sit still, pat his foot and laugh and call the name of his wife Martha. He always brought with him his favorite negro man, Lunn, who would take care of him and see him safe in the arms of his Martha.
Uncle John was well to do
Uncle Jerry had a half brother by the name of John Hicks. He was called "Uncle John". He had  four sons and two daughters that were handsome laddies, neat, tidy, and prudent in their deportment. Uncle John was well to do in the world and a good farmer. His sons all had farms, servants, and families except the youngest, Jack Hicks. He was more intelligent than the others and the only one of the family that did not imbibe too freely.
Hicks family were good neighbors
The Hicks family were honest, industrious, kind hearted and good neighbors; the only thing they lacked of making the very best material for giving character to a new County was education and culture. They had not been rightly trained in their youth and had received no religious training whatever except from a Hardshell Baptist now and then. They have a good many children and grandchildren now living in this County who are superior to the older set in point of intelligence and religious training, if not in wealth.
Parents were stripped of everything but land
The young people of the present generation have had a poor chance to make money, most of the young men of any patriotism having served four years in the war and those who did not fall in battle, upon reaching home finding their parents stripped of almost everything but their lands, had to commence life anew under the most embarrassing circumstances. The great wonder is that they have succeeded as well as they have.
Let me here remark that of the families I have mentioned, the descendants of those that were poor and moderately poor have stood up better than those of the rich, fewer of the former class have left the County, but are here trying to build up their then old homesteads. How those have fared who have gone to new countries, of course, I cannot say.
Again, the improvement in morals and religion and good citizenship generally of the former class has exceeded that of the latter. There are several reasons for this; first there was greater margin for improvement; second, the inducement was greater; third, their business habits were better suited to meet the exigencies of the country from the sudden changes caused by breaking up our labor system and social relations in life.
Terry and Pickett were men of intelligence
But to go back to my narrative;—there were Judge Eli Terry and his father-in-law, Jimmy Pickett, living in this neighborhood; these were men of intelligence and mark before they came here. Judge Terry had a large family of sons and daughters, but at this time, there is not a single representative of his family in the County. Where they are and what their standing is, I do not know.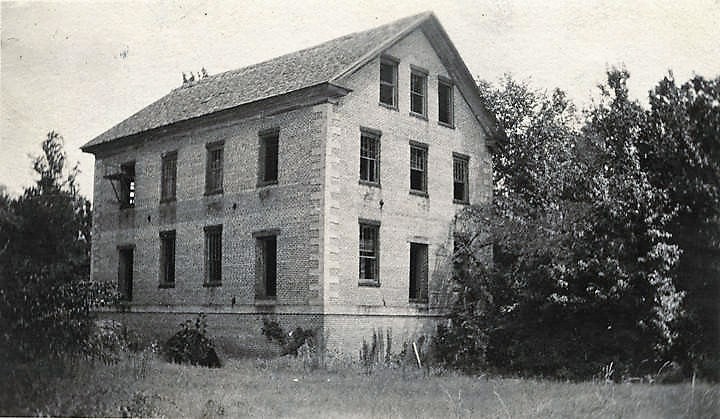 Pickett's Mill near Autaugaville, ca. 1910 (Alabama Department of Archives and History)
Col. Pickett's old mill was built by Cottrell
I have overlooked one or two families that deserve mention; one in Vernon; the other lived, when I came here, on Swift Creek where Col. W. R. Pickett's old mill formerly stood, within half a mile of Vernon. James L. Cottrell from Virginia built this mill before I moved to the County. It was used both as a saw and grist mill. Cottrell was a man of energy and means and a very ingenious mill wright. His career, however, was a most unfortunate one. He was killed in a fit of intoxication whilst pursueing a lad named Crawford.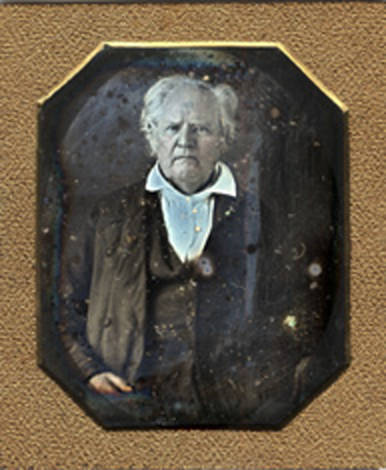 His family consisted of a wife, two daughters, and a son; they sold out their place to Col. W. R. Pickett and moved to Hayneville or near there. At the time they left the son was about sixteen years of age. In the course of a few years that son studied law and soon reached the head of the Hayneville bar. His tastes soon let him into politics and as a stump orator he excelled all others in that County, and went to the legislature as long as he wished. He married into a wealthy and influential family by the name of McQueen, afterwards moved to Florida. What his success has been there, I know not. If still alive, he must be near seventy-five years or more. His rise in the world was sudden and beyond precedent. He had, to my certain knowledge, no early educational advantages, so his natural powers must have been of a very superior order.
The German from Brazil
The other man that I passed over was a German from Brazil. He landed in Mobile, took the yellow fever, from which he recovered and then had chills and fever. He had no means of support and told me himself that he crawled on all fours and took such jobs as he could get about the kitchens. Finally he attracted the attention of a Roman Catholic lady who gave him assistance. When he got able to go on board a boat, cooking to pay his passage and landed at Vernon in a miserable plight and my brother assisted him till he regained his health. This man's name was John G. Herman. He died at an advanced age, worth fifty negroes, and several hundred acres of land lying on Swift Creek near Independence. He educated his family the best the County could afford, and his eldest son married into one of the most respectable families of the County.