From Tuscaloosa News, Aug 2, 1937
Three Men Arrested In Bangor Cave raid
Birmingham, August 2- (AP)
Three men arrested after a raid on Bangor Cave in Blount County made bond today on charges of operating and running a gambling casino, Sheriff Ed Miller, who had taken office only a few moments before the raid early yesterday, said all were part owners of the establishment.
When he and two deputies arrived "the place was teeming with more than 2,000 persons," Miller said. He said he allowed the dining room at Bangor Cave to continue in operation.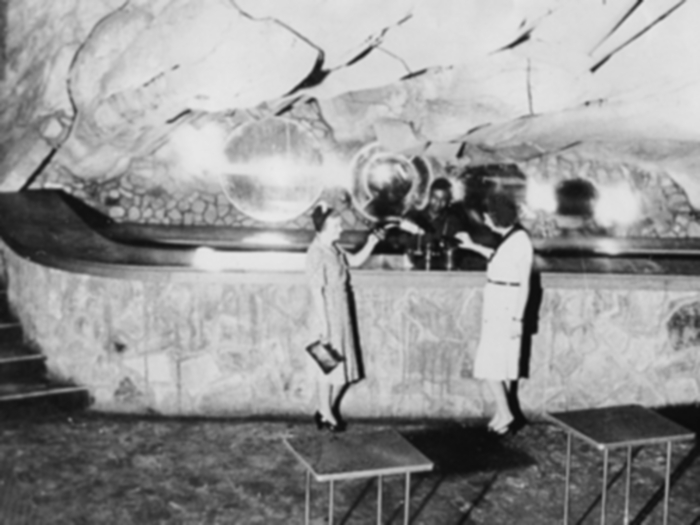 Bangor Cave ca. 1930s (Library of Congress)
Deputies Hunt Negro Charged With Murder
Sheriff's deputies were searching today for Houston 'Byrd', negro, wanted on a charge of murder in connection with the fatal shooting Saturday night of Joe Brown, negro resident of the Big Sandy community.
Brown was shot in the head at close range with a single barreled shotgun, according to Coroner S. T. Hardin, who investigated. Brown died almost instantly.
The shooting occurred at a negro residence on the Hargrove Road, 12 miles from Tuscaloosa following a quarrel between the two men, the deputies said. No trace as to the whereabouts of the negro who is charged with the shooting was known to the sheriff"s office today.
Two Bandits Rob Bank, Get $1,100
Cedar Bluff Institution In Cherokee County Held Up By Unmasked Men
Cedar Bluff, Ala., Aug 2 – (AP)
Two young unmasked bandits, flashing pistols, robbed the Bank of Cedar Bluff of $1,100 today, and with a confederate who waited in their automobile, sped northward toward Menlo, Ga.
Investigating officers said the two threatened President W. R. Westbrook and Cashier Fred Money with death, in an effort to force them to open the vault, but the bank officers refused.
The bandits then took all cash on the counter and fled.
Westbrook, Money and an unidentified customer were the only persons in the bank when the bandits entered. The two were about 25 years old. They wore overalls. Officers said persons who saw their machine speed away said it bore an Alabama tag. They did not get the number.
Cedar Bluff is in Cherokee County in northeast Alabama.
A New Trustee is Named
The selection of Dr. Harvey B. Searcy as a trustee for the Alabama Insand Hospitals was one of those things which logic made inevitable.
As has been pointed out, Dr. Harvey Searcy is the fourth member of his immediate family to serve in a conspicuous capacity with these eleemosynary institutions which have won a nation-side reputation for themselves.
Dr. Reuben Searcy, grandfather of Harvey Searcy, was a member of the original board when the first hospital was organized prior to the War Between the States with 26-year-old Peter Bryce as superintendent. Following Dr. Bryce's brilliant regime, came Dr. James T. Searcy, the father of the new trustee. Dr. James T. Searcy had been a member of the board five years when he was chosen as the second superintendent in 1892. At the turn of the century, he was chosen head of the entire system when the negro hospital was opened at Mt. Vernon. He died in 1919, and his son, Dr. George H. Searcy, came to the board ten year later, serving until his own death about two years ago.
In other words, the Searcy name completes the Alabama triumvirate, along with the earlier Bryce and the later Partlow, which has been so closely identified with these hospitals for more than three quarters of a century.
The doctors of Alabama and all those others who know of the Searcy tradition will be glad to hear of this latest election to the board. We have an idea, however, that Dr. Harvey Searcy himself would be the first to protest should his choice have been made for sentiment, tradition or anything like that. But if he has any fears along this line, they may be allayed. In his own right, he stands at the top of his profession in Alabama, and his readiness to bear any civic and social responsibilities which might be thrust his way, and bear them well, make him an ideal choice for the hospital board.
Save time and avoid pitfalls in your research.

WHERE DO I START? Hints and Tips for Beginning Genealogists with On-line resources

is filled with simple, no-nonsense instructions to set you on the path of your families' ancestry with the following information:
WHERE TO FIND – on-line resources, experienced genealogists will not be aware of many of these.

COURT RESEARCH – how to do court house research, where to find birth, death, social security records free on-line.

EIGHTY – ONE QUESTIONS – you should ask your elderly loved-ones before it's too late.

TIPS ON BREAKING DOWN THE WALL – Everyone faces some difficulties in research, often called a 'brick wall' but WHERE DO I START? provides suggestions for overcoming the brick wall.