Happy Birthday!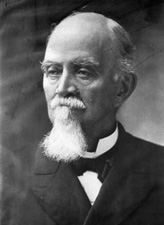 EDMUND WINSTON PETTUS
BIOGRAPHY and GENEALOGY
(1821- 1907)
Limestone, Cahaba, Sumter and Dallas County, Alabama
Edmund Winston Pettus, United States senator from Alabama, was born, July 6, 1821, to John and Alice Taylor (Winston) Pettus.
His father was born in Fluvanna County, Virginia where he was a planter.
John Pettus moved to Davidson County, Tennessee around the turn of the century and in 1807 married Alice Winston, daughter of Anthony Winston, a Revolutionary War Veteran as well as a member of the Virginia convention of 1775. Patrick Henry was a first cousin of Anthony Winston and his son John Anthony Winston, was the first native-born governor of Alabama. Alice was born in Buckingham County, Virginia. General Jackson was a friend and danced at their wedding.
In 1809, John and Alice Pettus moved to Madison county, Alabama then to Limestone County, Alabama where Edmund Pettus was born. John died in 1822 in Limestone County, Alabama but Alice survived him nearly sixty years, dying in 1878. She was living with Edmund in 1870 Selma, Dallas County, Alabama census.
Edmund Winston Pettus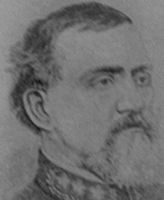 Edmund Winston Pettus was educated in the common schools and at Clinton college, Tennessee and studied law with William Cooper, of Tuscumbia. then the leader of the bar in Northern Alabama. In 1838,  he married Mary Lucinda Chapman (b. November 24, 1823, Huntsville, Madison Co., AL – July 15, 1906, Selma, Dallas County, AL)
He was admitted to the bar in 1842 and began practice at Gainesville, Alabama and fought in the Mexican War. In 1844 he was elected solicitor of Sumter county, a post he resigned when, in 1849, he was carried by the gold excitement to California. Returning after spending two years on the Pacific slope, he located at Carrolton, in Pickens county.
In 1852, he took up the duties of solicitor in that county and discharged them for two years. His administration of the office of solicitor had brought him prominently before the people, and in 1855 he was elected judge of the seventh judicial district. He resigned the judgeship in 1858 and removed to Cahaba in Dallas county, where he continued to live until the breaking out of the war between the States.
Edmund Winston Pettus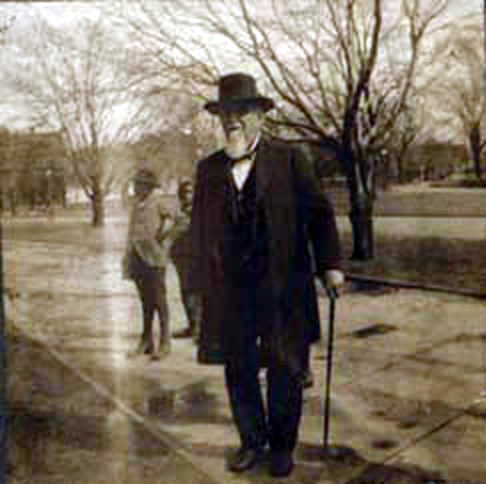 While the south was negotiating and planning for such co-operation as should render secession a fixed fact, Judge Pettus was dispatched a commissioner from Alabama to the state of Mississippi. As Mississippi was the scene of his first work in behalf of the Confederacy, it furnished the scene of martial exploit with which his name is widely associated. This occurred at the siege of Vicksburg. The enemy had captured a redoubt that was of great strategic importance and Gen. Stephen D. Lee ordered that it be retaken,in spite of the manifestly dangerous character of the attempt. It fell to the lot of Lieut. Col. Pettus that he should get the order to retake the redoubt. He promptly accepted the duty and called for volunteers.
It looked then as if to volunteer meant that the volunteer would go forth to certain death. Men shrank away. There was, however, there a body of men made of as stern stuff as the officer himself. Waul's Texas legion volunteered in a body. Selecting forty of them, and, together with three Alabamians who had also volunteered, Col. Pettus stormed the redoubt, captured it and carried away 100 prisoners and three of the enemy's flags.
He entered the army in August 1861 and was made major of the Twentieth Alabama infantry. He was shortly afterward promoted to the rank of lieutenant-colonel. He was with Gen. Kirby Smith in the Kentucky campaign of 1862. In. the succeeding winter he was assigned to Mississippi, and was in the engagement of Port Gibson and Baker's Creek and was shut up in Vicksburg. In October 1863, he was appointed brigadier-general and took command of the twentieth, twenty-third, thirtieth, thirty-first and forty-sixth Alabama regiments. His command saw constant service to the end of the war, being at Missionary Ridge and Lookout Mountain, at Atlanta, Nashville and at Bentonville. His only wound was received at Bentonville.
Edmund and Mary Lucinda (Chapman) Pettus had the following children:
Virginia Pettus
Lucy T. Pettus ( b. ca. 1845) married John E. Roberts before 1880
Mary N. Pettus (b. ca. 1853)
Francis Leigh Pettus (b. ca. 1859 d. 1901 in Montgomery, Alabama. In 1880, he married Mary Eleanor Knox (b. ca 1855- July 20, 1942) Francis and Mary had a daughter named Alice
In August 1861, he entered the army as a major of the Twentieth Alabama infantry and made lieutenant-colonel shortly afterward. Edmund became colonel on the death of Col. Garrot He became brigadier-general in September 1863. He achieved distinction as a soldier at Rocky Face Ridge, New Hope Church, Lookout Mountain, Missionary Ridge, in the operations about Atlanta and in storming a redoubt at Vicksburg.
After the war he returned to his law practice, steadily declining any political honors for many years, although he might have had years ago any office within the gift of the people of the State. In 1896 he was nominated, without his own solicitation, for the office of United States senator. After his nomination, he received more votes in the legislature than there were Democratic members, and on March 4, 1897, he took his seat as the successor of James L. Pugh
Although new to the business of a legislator in the Congress of the United States his long experience in the law, his active participation in and familiarity with political affairs, and the wide range of his information on public questions soon placed him in the front rank of senators. At the close of his first term ,he was re-elected, his died before his term expired on July 27, 1907, at the age of 86 and is buried in Dallas County, Alabama, at Live Oak Cemetery along with his wife, Mary Lucinda who died July 15, 1906.
The Edmund Winston Pettus Bridge in Selma, Alabama, a civil rights landmark, is named after him.
SOURCES
Notable Men of Alabama edited by Joel Campbell DuBose
1850, 1860, 1870, 1880 US Census Dallas County, Alabama
Find A Grave Memorial# 102072184 # 8761 # 102072188 # 102072185 # 102072186
Some stories include:
The true story of the first Mardi Gras in America and where it took place
The Mississippi Bubble Burst – how it affected the settlers
Did you know that many people devoted to the Crown settled in Alabama –
Sophia McGillivray- what she did when she was nine months pregnant
Alabama had its first Interstate in the early days of settlement