COMPLETION AND RECEPTION OF THE IRON BRIDGE ACROSS THE CAHABA RIVER IN BIBB COUNTY
(News article transcribed from the Bibb Blade, 15, October 1885- printed in Vol I of Bibb County Heritage Association)
CENTREVILLE, Oct. 13, 1885 The iron bridge across the Cahaba river has been completed and was received by the Board of Commissioners on Saturday the 10th inst.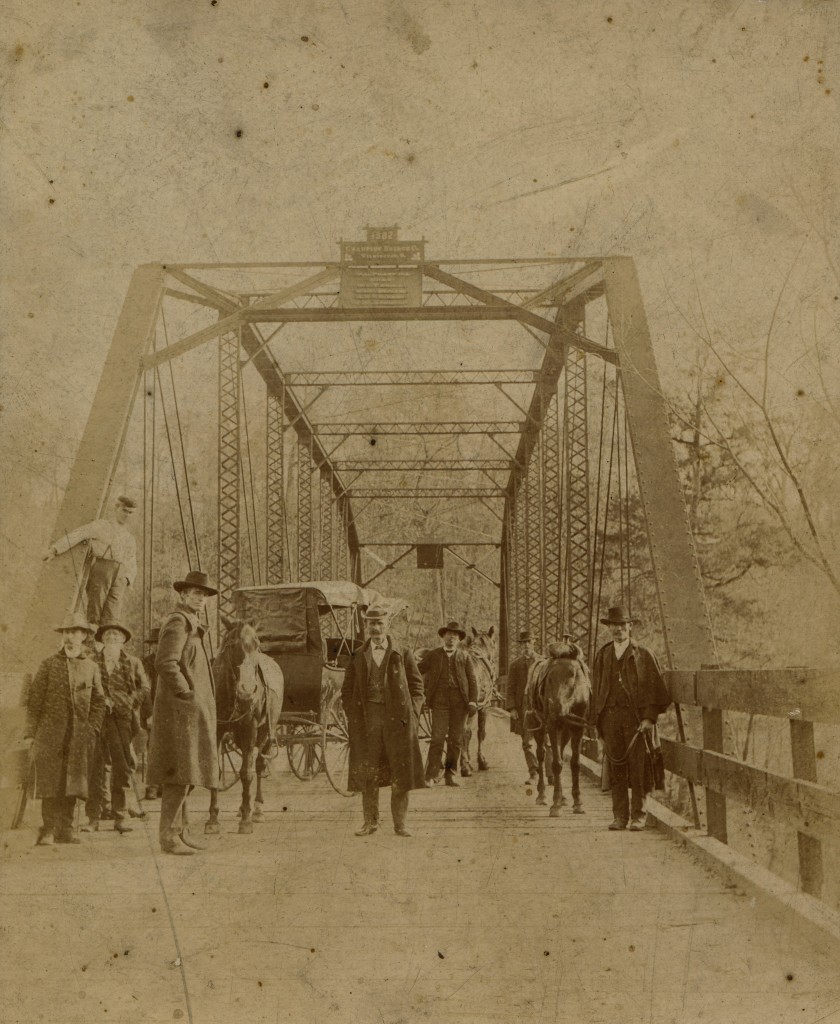 Opening of the Iron Bridge across the Cahaba River at Pratt Ferry, River Bend, Bibb County, Alabama (Private collection of Fern Langston)
Crowd of people at the bridge
As soon as it was made known that the rubbish was cleared away and that the commissioners were going down to examine and pass upon and receive the bridge, a large crowd of people composed of ladies and gentlemen, repaired to the river to view the beautiful structure and witness the reception, and while the bridge was thronged with its admirers, Mr. John Quinn, the superb photographer, went below to the "big rock" in the centre of the river, pointed his piece and photographed the whole.
There was a general jubilee as the complimentary remarks were falling from every lip, and joyous gladness seemed to beam forth from every face, and words of gratitude and praise were often and fitly spoken of the board of Commissioners. And, indeed, Messrs. Editors, it is but simple justice to say that the board, composed of Jno. S. Gardner, Judge of Probate, A. H. James, Sr., P. M. Fancher, A. J. Cox and J. W. Miller, have conferred upon the people of Bibb County a blessing, yes an investment of profit, of convenience and of durability. And the iron bridge will continue to stand as a monument to these noble men, to hallow and gladden the memory of their names long after they have passed away.
Built by King Iron Bridge from Cleveland, Ohio
The bridge was built by the King Iron Bridge M'f'g Co. of Cleveland, Ohio, under the supervision of Mr. H. P. Graham, their agent, who evinced a knowledge and experience of this business only possessed by the skillful and well schooled architect. Mr. Graham and his assistant, Mr Haynes, made many friends through this section. The indefatigible Maj. Belton Mickle, who was employed by the board of commissioners to draw plans, specifications and engineer the work, by his untiring energy, his faithful sticking to the work, his careful watch so constantly given, won from all, the plaudit, "well done, faithful servant."
But we come to the saddest part of our little squib. On Monday Messrs. Mickle, Graham and Haynes bid a farewell to us all, and indeed, the associations with these gentleman have been so pleasant, we could not without deep feelings of regret say good-bye.
Discordance: The Cottinghams (Volume 1) – A novel inspired by the experiences of the Cottingham family who immigrated from the Eastern Shore of Virginia to Bibb County, Alabama –
Filled with drama, suspense, humor, and romance, DISCORDANCE continues the family saga from the Tapestry of Love series with the children of Mary Dixon who married Thomas Cottingham.