This biography is included in the book Biographies of Notable and Not-so-Notable Alabama Pioneers Volume I
COL. WILLIAM BARRETT TRAVIS
(Hero of the Alamo)
BIOGRAPHY and GENEALOGY
(1809-1836)
Claiborne and Conecuh County, Alabama & Texas
William Barrett Travis was born in Edgefield District, South Carolina, (near Old Fort Ninety -Six,) on August 9, 1809. He was the son of Mark Travis, Sr. and Jemima Stallworth. Mark Travis and Jemima Stallworth were married Jan 1, 1808 in South Carolina. Mark and Jemima moved to Conecuh County, Alabama in 1815 and were among the earliest pioneers of Conecuh County, Alabama. William Barrett was the oldest of eleven children.
Travis was educated in the small schools in the rough frontier of Alabama and then later at an academy in Sparta. Finally, his uncle Alexander, a renowned Baptist minister enrolled him in an academy at Claiborne. After he finished, he taught school in Conecuh County, for some time,  then studied for the bar in Claiborne, Alabama under the leading attorney Hon. James Dellett and later became his partner for a brief time. It is generally concluded that he lived in Gospin and commuted back and forth every day to Claiborne for the meetings of the court.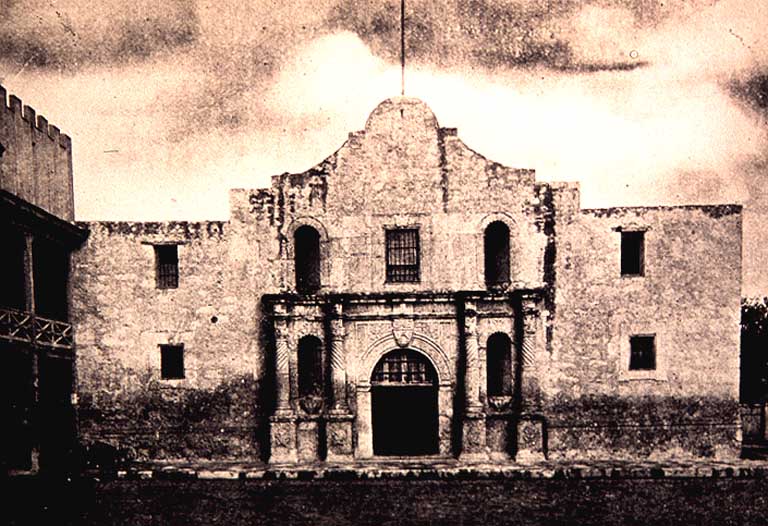 Travis married Rosanna Cato on Oct 26, 1828, and they had their first son Charles Edward Travis, born August 8, 1829. He began publishing a newspaper, the Claiborne Herald, was a member of Alabama Masonic Lodge No. 3. and was in the 26th Alabama Militia. There is a rumor that in 1831, after returning from a business he discovered his wife had been unfaithful. Of course, actual evidence is lacking but the story persists that he killed the man implicated with his wife, renounced the paternity of his yet unborn child Susanna Isabella and left for Texas, abandoning his family. Rosanna and William Travis were divorced on January 9, 1836, and Rosanna married Samuel Grandin Cloud Feb. 14, 1836.
William Barrett Travis became a lawyer in Texas and was one of the first to join the Texas force when friction developed between Mexico and Texas. On orders from the Provisional Governor in January of 1836, Travis entered the Alamo with about 30 men and commanded the Texas defenders during the Siege and Battle of the Alamo.
His appeal for reinforcements has become an American symbol of unyielding courage and heroism. Although a few reinforcements arrived before the Alamo fell, Travis and over 180 defenders gave their lives for Texas independence on 6 March 1836.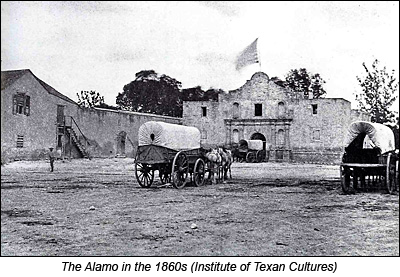 In his last message out he stated "Take care of my little boy. If the country should be saved, I may make him a splendid fortune; but if the country should be lost, and I should perish, he will have nothing but the proud recollection that he is the son of a man who died for his country." Travis was only twenty-six years of age at the time of his death.
His son, Charles Edward Travis was living with his married sister Susan Isabella (Travis) Grissett in the 1850 census of Monroe Co., Alabama and had the occupation of a teacher. Susan Isabella had two children, William Barrett Grissett and Mary Jane Grissett.
Charles Edward Travis won a seat in the Texas Legislature in 1853. The brother and sister were still together in Chapel Hill, Washington County, Texas in 1860 census. Charles Edward Travis was single, and a lawyer with considerable property. He had obtained a law degree from Baylor University in 1859 but died within a year of consumption.
Susan's husband John D also had a good deal of property in the 1860 census. Only Mary Jane, their daughter was listed, their son William Barrett died in 1855. Though William Barrett Travis questioned the paternity of Susan Isabella, he named her in his will.
SOURCES
WIKIPEDIA
The Handbook of Texas online
Find A Grave Memorial# 87059333 # 55435879
The Alabama Historical Quarterly, Vol. 19, No. 02, Summer Issue 1957
Biographies of Notable and Not-so-Notable Alabama Pioneers Volume I