(Transcribed and unedited excerpt from a story written by WPA (Works Projects Administration) writer, Susan Russell.
The Chickasaw Colberts of Colbert County
by WPA writer
Susan Russell
ca. 1934
George and Levi Colbert, Chickasaw Chiefs for whom Colbert County was named, were not full blooded Indians yet their decisions were (the) final word in matters affecting their tribe.
Logan Colbert, their father, a Scotch (sic) youth lived in the Carolinas, joined the English traders and in 1740, stopped at Muscle Shoals. He married a Chickasaw Princess. William was the first son, and left the nation for awhile. George, the second, and Levi, the third, remained with the tribe, as did James, the younger, who became the architect and historian of the Chickasaws.
George Colbert's home was at Buzzard's Roost Springs, near what is now Cherokee, 20 miles below Tuscumbia on Federal Highway 72. Three years ago (ca. 1931) it was burned but still standing is the cooks cabin built of huge yellow popular logs, three of them comprising one side of the house.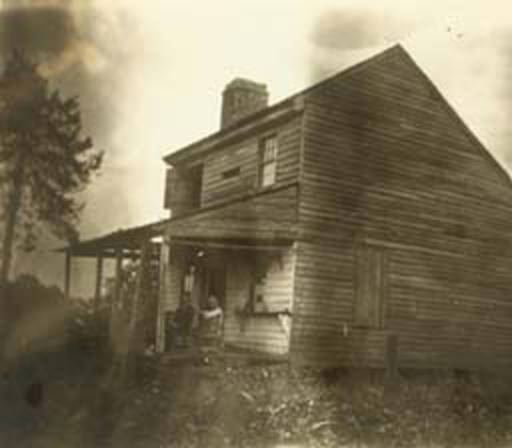 Home of George Colbert (Alabama Department of Archives and History)
Levi Colbert's plantation was not far distant, and a marker to the brothers has been erected by patriotic women of Colbert County, on the old Natchez Trace, near the former home of George.
Not easy to abandon customary life
While the Colbert family acquired extensive land holdings, built large homes, bought slaves, and tried to settle down to a quiet life, it was not easy for the Indians to abandon their customary life. The late George Simpson, of Florence, often told the story of Mrs. Colbert. When she went visiting she sent her handsome carriage and fashionable clothes ahead with the coachman. She followed on her favorite pony, barefoot and dressed in typical Indian fashion. She changed to the fashionable garments before reaching her destination but replaced them with her preferred Indian clothing while enroute home.
The Colbert boys attended school in Florence and Tuscumbia, but jumped into the Tennessee river and swam home, when they were reprimanded for the first time.
Gifts to marry his daughters
George Colbert wanted his children to marry into the white race and old papers in possession of Tuscumbians, record the offered one of his four barrels of silver to any white man who would marry one of his daughters. In the Alsobrook family of Colbert County, is a silver medal valued because it was given as a token of esteem, when one of the girls, believing the proposal received was due to strategy of her father, refused to consider it. The medal was presented Chief Colbert by President Jefferson, in 1801, for services rendered the white settlers.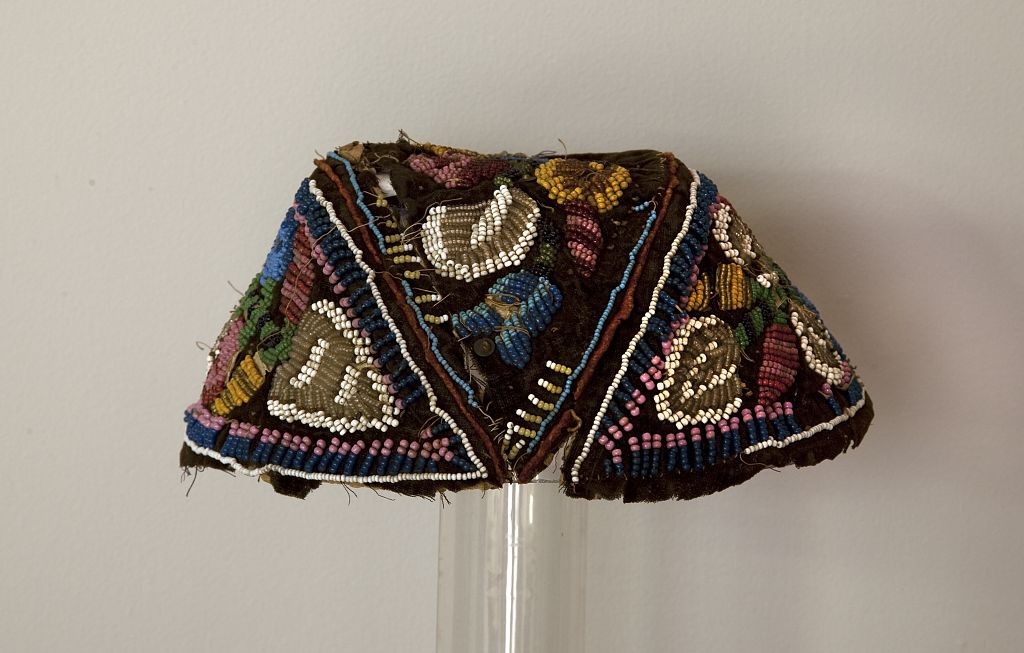 Hand-beaded cap which belonged to Chickasaw Chief George Colbert in the Tennessee Valley Museum of Art in Tuscumbia, Alabama by Carolyn Highsmith 2010
Before he finally left for his new home in the west, George presented valuable gifts to his white friends. The Pride family of Tuscumbia, possess a richly woven beaded sash received from the old chief, and J. W. Rutland, also of Tuscumbia, has a beautiful beaded belt, a gift to his family from George Colbert.
Ataloa, of Redlands, Calif., the great grand-daughter of George Colbert, visited Tuscumbia as the guest of Mrs. Lulu Merrill Simpson, of Sixth and Water Streets, in 1936. She was the first of the Chickasaws to return since their expedition westward.
Do you need some guidance in your genealogy search? Save time and avoid pitfalls in your research. This book provides simple, no-nonsense instructions to help you get started. Many FREE research links included. Where Do I Start is filled with Hints and Tips to begin your family genealogy research and acquire Genealogy information.
WHERE TO FIND – online resources, experienced genealogists will not be aware of many of these.
COURT RESEARCH – how to do court house research, where to find birth, death, social security records free online.
EIGHTY – ONE QUESTIONS – you should ask your elderly loved-ones before it's too late.
TIPS ON BREAKING DOWN THE WALL – Everyone faces some difficulties in research, often called a 'brick wall' but WHERE DO I START? provides suggestions for overcoming them.

Download Where do I Start? to your Kindle in less than 30 seconds or to your PC, iPAD, iPhone, MAC or Android device with FREE Apps from Kindle.