JERIMIAH "JERRY" CHANCELLOR
REVOLUTIONARY WAR SOLDIER
(b. 1760 England d. Sep. or Nov. 20, 1831)
Autauga County, Alabama
"This soldier of the Revolution is buried in a county churchyard at Pine Level Methodist church, in Autauga county, eighteen miles west of Montgomery."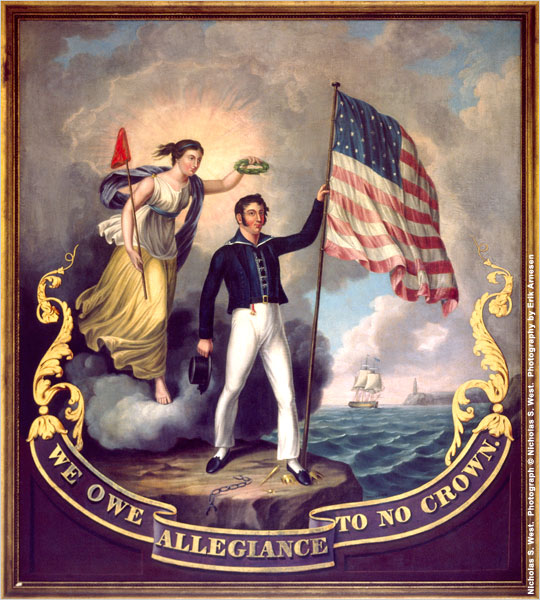 He was born in England and came to America with his father and two brothers, when sixteen years of age. This was during the Revolutionary war. After remaining a short time in Virginia, the father and his two oldest sons, William and Jerry came to South Carolina, leaving the youngest son, Jackson Chancellor, in Virginia. Tradition says that Chancellorsville, Virginia, was named for the family of this youngest son.
"When the Chancellors arrived in South Carolina they found the war raging violently all around them and it became necessary for them to decide what their own course should be. The father, whose loyalty to England could not be shaken, told his sons that he should join the British; the sons declared that they admired the Americans for standing up for their rights and they intended to cast their lots with the people of their adopted country. The father and sons never met again, but fought on opposite sides until the close of the Revolutionary war. We do not know in what regiment Jerry Chancellor served, but Saffell's Records, p. 293, states that Nov. 1, 1779, William Chancellor was a private in South Carolina regiment commanded by Lieut. Col. Francis Marion, Seventh Company, Thomas Dunbar, captain.
William and Jerimiah Chancellor are in the Minute Books (1789-1800) of Lower Lynches Creek Baptist Church, which was located at Witherington Mill on Boggy Swamp in Darlington County, SC. They were in the 1800 census for Chesterfield County. William's family included five males, seven females, six other free persons (except Indians) and eight slaves. Jeremiah's household consisted of himself, seven males, 6 females, 12 other free persons and two slaves. The 1810 Census for Chesterfield County also names William and Jerimiah Chancellor."
In the Darlington District when the 1820 census was taken. There were William Chancellor, James Chancellor, and Moses Chancellor. There were no Chancellors in a South Carolina Census after 1820.
Jerry Chancellor married Galatea Gilbert ( b. 1773 SC d. after Sep 20, 1831) and settled in South Carolina after the Revolution, where he remained until 1818, when he organized a colony in South Carolina and came with them to Alabama. They settled on the Autauga side of the Alabama river. He remained with this colony until his death. Descendants of Jerry Chancellor are now living in Childersburg and in Coosa county. His grandson, William S. Chancellor, was one of the oldest Masons in Alabama."1After the close of the war, the grandfather, Jerry Chancellor, settled in South Carolina, where he remained until 1818. He then came to Alabama and settled on the Autauga side of the Alabama river. He had brought with him a colony organized by himself in South Carolina, and with this colony he remained until his death. William Chancellor remained in South Carolina until 1821, when he removed to Alabama just before the land sales, and settled on Nolin's creek, near Prattville, where he remained seven years. He then returned to his former home, and about 1845 removed to Texas, where he died. He was a lieutentant [sic] in the state militia several years. He was a Baptist in religion, as was also his father.
Children of Jerry and Galatea (Gilbert) Chancellor include:
Gilbert Chancellor (b. 1784)
William J. Chancellor (b. ca. 1789 SC – d. March 1860 Smith Texas) married Nancy Truit ca. 1815. and the parents of William C or S. Chancellor, (below) of Childersburg and Coosa County born Feb. 12, 1816 in Darlington Districh, SC and died Dec. 23, 1907 in Childersburg, Alabama
Amos Chancellor
Abraham H. Chancellor (b. April 5, 1792 SC – d. 1860 Smith, TX) went to Texas in the 1840's married 1st Elizabeth Blackwell March 25, 1813 in Chesterfield, SC; married 2nd Caroline Robinson September 26, 1854 Smith, TX – he served in the Creek Indian War – Alabama Mounted Volunteers – children were born in Alabama.
Jackson Chancellor
Moses Chancellor (b. 1795 SC – d. 1865 Cushing, Nacogdoches, TX) went to Texas in the 1840's – married Nancy Ann Oats February 7, 1825.
GRANDSON
William S. or C. Chancellor was the grandson of Jerry and Galatea (Gilbert) and son of William and Nancy (Truitt) Chancellor. He "was raised on the farm and received but a limited education. This education, such as it was, was received in an old log school house on Brushy Knob, Indian Hill, with its puncheon floor and seats. Previous to his marriage he did no receive more than three months' schooling." 2William S. or C. Chancellor married 1st Mariah or (Maria) Louisa, daughter of William and Mary (Tatum) Bridges. Mariah Bridges was born ca. 1827 in Alabama. She married Williams C. Chancellor July 30 1837 in Autauga County, Alabama. They had nine children. These were some of the children according to 1850 census of Hatchett Creek District:Thomas J. Chancellor, b. 1838; Alfred M. Chancellor b. 1840; Martha Chancellor b. 1843;Mary Chancellor b. 1845, ;Peter L. Chancellor b. 1848;James Chancellor born 1860; Jane S. Chancellor born 1854; Louisa F. Chancellor born 1856; S. R. born 1858. Maria died Feb. 7, 1881."
"In 1881 William S or C. Chancellor married for his second wife, Mrs. Elizabeth J. (Caruthers) Kelly, (b. Dec. 29, 1834 d. May 17, 1918) the daughter of William and Mary (McCulla) Caruthers, of Virgini She was a member of the Methodist Episcopal church, south. After his first marriage he had neither property nor money, and borrowed $50 of Judge Brown with which to enter his first forty acres of land. After a great deal of misfortune he lost this land; but with that true grit which usually characterizes pioneers, he began again at the bottom, and by hard work and strict economy he had accumulated considerable property by the time the war came on. He had a large tract of land on the Wewokee creek, upon which he had built a mill which he operated in connection with his farm, but all was swept away by the war. In 1863 he enlisted in Capt. Hubbard's company, and served in the Confederate service one year. He was then elected tax collector of Coosa county, but had great difficulty in getting out of the army to take his office. And it was not until application was made to Gov. Watts that this was accomplished, the governor issuing an order to Gen. Weathers that he be released, with which order the general immediately complied.
After the war he gathered up what was left, and sold off his stock, thus raising $50 with which he earned his second forty acres of land. This he cleared and improved and made money very fast for several years. In 1884 he embarked in the mercantile business, but having had no experience in that line, he lost $8,000 in fourteen months. Again he took hold and with an undaunted will he paid off his debts, and again accumulated property, and now owns 700 acres of land where he lives, 240 acres in Coosa county, beside considerable town property in Childersburg. Mr. Chancellor is one of the oldest Masons in Alabama, as well as one of the oldest citizens of the state. His life has been one long struggle with adverse circumstances, but its closing days promise to be blessed with peace and plenty."3
William C. or S. Chancellor passed away Dec. 23, 1907 and is buried in Childersburg Cemetery, Childersburg, Talladega County, Alabama.
Note: This was the mother-in-law of William Chancellor –
"William and Mary (Tatum) Bridges were married Dec. 17, 1819 in Montgomery County, Alabama. She was the daughter of Eppes Tatum and Sukie Pryor. Mary (Tatum) Bridges was born 1786 in Georgia and died Aug 31, 1890 in Childersburg, Alabama at the home of her son-in-law William Chancellor. At the time she was the oldest lady in the county, 104 years and had been a widow for 70 years. She was a member of Pine Level Methodist Episcopal Church. She had outlived all her children and had lived with her son-in-law for 50 years. She was buried in Childersburg Cemetery."
.
SOURCES
http://www.chancellorfamily.org/Chancellor_genealogy.htm
Memorial Record of Alabama vol ii, p. 895
Married by David Rogers, JP, Autauga Co. AL Book 1, page 76.
Find a grave.com Memorial # 54579559 # 6161659 # 6173285 # 6161628 # 6173277
1Memorial Record of Alabama, vol. ii., p. 895.
2Memorial Record of Alabama, vol. ii., p. 895.
3Memorial Record of Alabama, vol. ii., p. 895.