(Old Houses in Perote, Bullock County, Alabama and anecdotes about their owners)
REMINISCENCES OF PEROTE IN BULLOCK
By A Native
Catharine Elizabeth (Hixon) Rumphi
(This transcribed excerpt was written before 1958)
Dr. Rumph's sister, Mary Ann, who married Mr. William Wannamaker came with him from South Carolina to Alabama and settled west of Pea River in Pike County (now Bullock). Mr. Wannamaker only lived a short time. They carried his body back to South Carolina for burial.
Mrs. Wannamaker married, second Mr. George Rodgers, Their house was built like the one Dr. Rumph bought in Perote, The front porch the width of the hall with two columns.
Mr. C. W. Rumph, Sr.'s house was very much like the Carroll house except it has two large rooms on each side of a wide hall. It had an ell extending west from the north-west room with a narrow hall between. The porch extends all across the front with four columns. It has a hip roof. He built a two-room house a short distance south of this house that was called the "Preacher's house." Later he had it joined to the big house forming an ell on the south. In after years, he moved a one-room house from the country to the park, to the south, used as the boys room. This was after Dr. Rumph's death and his wife went to live with them.
Malachi Ivey house
Mr. Malachi Ivey's house was built on this same plan. Between his house and the highway were woods and for a good many years gypsies camped there for a week or two. The men trading mules and horses and the women going from house to house to sell laces and fancy work and wanting to tell "your good fortune."
For several years two foreigners came through with one or two trained bears that the children always enjoyed very much.
Log houses
Most of the log houses around here had one large living room, two smaller rooms across the back and a porch and shed rooms on the front or two large rooms with a wide open hall between. In the early days, the kitchens were in the backyard. Some with a platform connecting it with the other part of the house. Several of these log houses were remodeled and covered with weatherboarding. There are two here now. (1958)
Octavia Adkinson House, Wilson Road, Peachburg, Bullock County, AL W. N. Manning, Photographer, July 17, 1935 – This Log home built nearby in Bullock County is similar to the log home described.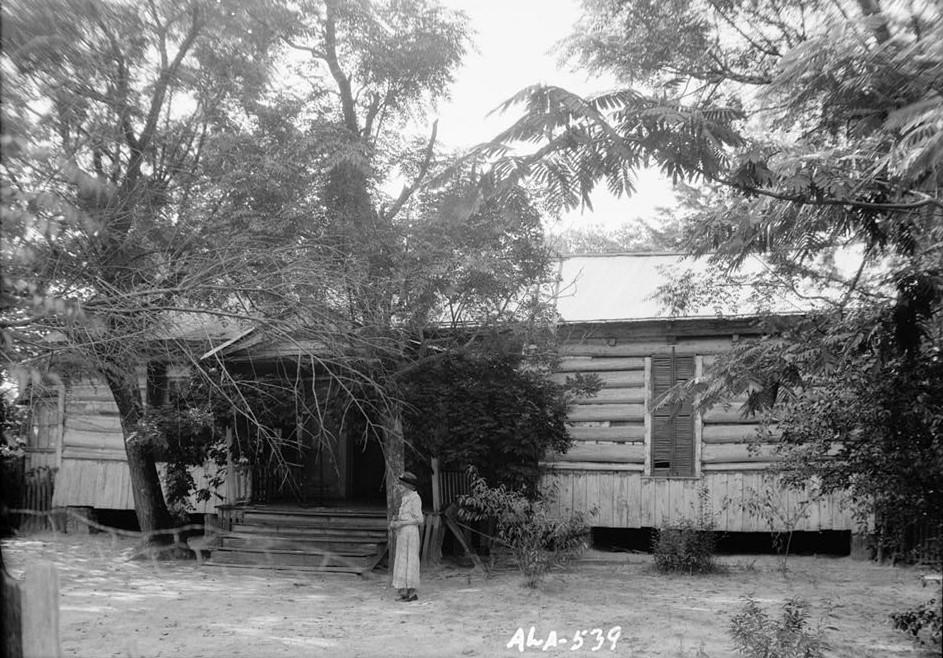 Mr. Jesse Locke had the house known: as the Laney house, now owned by Mrs. J. G. Main, built by Noah Scafe, a negro architect. He built several houses around here and the Methodist Church that was burned.
Business establishments
The first store on the west side of the highway going south belonged to Mr. Jesse Locke (it was probably the one built by Mr. Fulford). He was one of the early merchants here. The post office was in it and his daughter, Miss Willie Locke, was postmistress. Next was Dr. William Walker's and Dr. Olin Zeigler's drug store. It had a little back room and there was a skeleton hanging back of the door that the children were interested in. Some were scared of it This store was sold to Mr, B, G. High who sold general merchandise there for a number of years. After his death, his son, Ben Hall, ran it for a while. It was vacant several years, then sold to a negro who built him a house of the lumber.
The next store belonged to Drs. Walker and Zeigler and they sold general merchandise. The post office was there and Mr. Caleb Cox, from Star Hill in Barbour County, Alabama was the postmaster.
S. D. and D. A. Hixon bought this store in 1892 and sold general merchandise for a long time. They dissolved partnership while both were living, and it could be done together. They owned two stores and each took half of the stock of goods and a store. A Mr. Daniels sold jewelry in one corner of it but Perote could not support a jewelry store and he was not there very long
Mr. John H. Peach kept a grocery store next, it was mostly .for furnishing the hands on his plantations. Don't think he tried to sell much. He died in 1905 and his wife and daughter moved to Clayton, Alabama. Jim Hixon sold groceries there for a number of years.
Mr. Bill Miles shoe shop was next.
D. A. Hixon and Mr. Tasso Culver were in business in the next store and after they dissolved partnership it was C. W. Rumph and D. A. Hixon. They were together till 1891. Mr. Rumph moved across the street to the Lodge building, where he did business until his death in 1898.
On the east side of highway 29, on the northeast corner of the crossroads going south stood the Masonic Lodge. It was a two-story building. Mr. James M. High sold general merchandise on the first floor and the Masons held their meetings on the second. Mr. John Sellers of Montgomery bought him out. When he came to take possession he found that it had burned the night before, Mr. C. W. Rumph or Mr. Jeff Fryer bought the lot and rebuilt it. Mr. Fryer sold goods there till about 1892 before moving to Clayton, Alabama. Mr. Rumph bought it and sold goods there from 1892-1898.
After the death of Mr. Rumph, Mr. A. B. Laney rented the store and kept store and was postmaster for a number of years. In 1907 it burned and was never rebuilt there.
Mr. Bob McDowell erected a two-story building farther south and it is thought that the Masons had the second story added for their meetings. Mr. McDowell sold the store to S. D. and D. A. Hixon. The east side of the highway burned twice after I could remember. Mr. McDowell owned one next to the Lodge before the first fire and Mr. Eugene Pitts another. This fire was in the 1880's. The next in 1907.
iCatherine Elizabeth (Hixon) Rumph was born in Bullock County and has lived during her entire life time there. She is the daughter of a Confederate Veteran who was some time a prisoner at Ship Island off the coast of Mississippi and grew up in the environment of the small country village about which she writes and among interesting Confederate associates, Mrs. Rumph has collected Americana, folk lore and historical data and contributed in no small way to the life of this rural community
SOURCE
The Alabama Historical Quarterly, Vol. 20, No. 03, Fall Issue 1958
Discordance: The Cottinghams
 Inspired by true events and the Cottingham family that resided in 17th century Somerset, Maryland, and Delaware, colonial America comes alive with pirate attacks, religious discord, and governmental disagreements in the pre-Revolutionary War days of America.