JOSIAH GORGAS
BIOGRAPHY and GENEALOGY
(1818-1883)
Bibb and Tuscaloosa, Alabama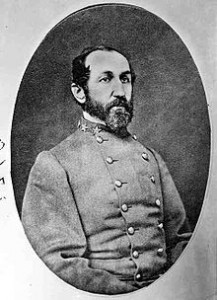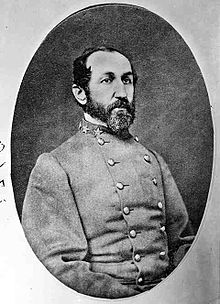 Josiah Gorgas was born July 1, 1818, in Dauphin County, Pennsylvania. He was graduated from West Point in 1841. He was graduated from West Point in 1841 and was assigned to the Ordnance Department.
Gorgas served in arsenals in different parts of the country before the Civil War broke out. Early in his career, Gorgas served at Watervliet Arsenal near Troy, New York, and at the Detroit Arsenal. Following the Mexican-American War, Gorgas served in Pennsylvania and in November 1851 was transferred to Fort Monroe in Virginia. There he began his association with the Tredegar Iron Company, which would become an important Southern foundry once the Civil War began.
Gorgas went on to serve at the Mount Vernon Arsenal north of Mobile, Alabama beginning in 1853 where he met and married Amelia Gayle, daughter of former Alabama governor John Gayle. She was born in Greensboro, Hale County, Alabama. He served in the Mexican-American War and was promoted to captain in 1855.
The Gorgases lived in Mount Vernon until mid-1856 and then moved to various arsenal locations in Maine, South Carolina, and Pennsylvania.
As the political situation deteriorated, Gorgas faced a daunting decision: whether to stay with the regular army or resign his U.S. Army commission. Josiah was commanding the Frankford Arsenal when he resigned from the United States Army on March 21, 1861 (effective April 3). It seems to have been motivated as much by his various career resentments as by political principle. His Southern friends urged him in the direction of the Confederacy but not, apparently, his wife. "It was a heart-rending decision for him," Gorgas's biographer Frank Everson Vandiver has written, "and he made it alone, for Amelia remained a silent onlooker. The consequence was a permanent estrangement from his large family in Pennsylvania."
"In 1861 Josiah received an appointment as chief of ordnance for the Confederacy. He relocated to Richmond, Virginia, with the rest of the Confederate government in June 1862, and his family joined him soon thereafter. When Josiah fled Richmond with the Confederate government in April 1865, his family, which by this time included William Crawford and sisters Jessie, Mary Gayle, Christine Amelia, and Maria Bayne and brother, Richard Haynsworth, moved in with Amelia's sister in Richmond. Later that year, the two sisters and their children moved to Maryland."
"His most pressing concern was the Confederacy's shocking lack of military hardware. An inventory turned up only 159,010 small arms and about a thousand cannon—many of which were old and obsolete—that had been captured at Norfolk Navy Yard and from forts along the Atlantic coast. Underdeveloped Southern manufacturing meant that initially the Confederacy would be forced to rely on importing goods, but the Union blockade of the Atlantic and Gulf coasts complicated this plan.
Gorgas sent Major Caleb Huse to Europe to trade cotton for ordnance and provisions and eventually established the Bureau of Foreign Supplies to maintain the flow of imported goods, especially munitions, powder, copper, tin, saltpeter, and lead; he also organized a fleet of blockade-runners to bring them to Southern ports. Until 1863, about 90 percent of the weapons used by Confederate armies were either imported from Europe or captured from Union armies.
That balance began to shift because of Gorgas's efforts to increase Southern industrial capacity. He quickly established armories to manufacture weapons but was challenged by a lack of skilled labor and the proper machinery. He organized cannon foundries in Macon, Columbus, and Augusta—all in Georgia—and, in the last community, created the Augusta Powder Works, the largest manufacturer of its kind in North America.
At its peak, a new ironworks in Selma, Alabama, was able to process thirty tons of pig iron daily; shot and shell, meanwhile, were manufactured in Salisbury, Virginia, and Montgomery, Alabama. To supply these facilities with raw materials, he created the Nitre and Mining Bureau and reinforced preexisting railroads to ease shipment of both raw materials and finished goods.
All of these efforts contributed to Gorgas's ability to turn plowshares into swords, as the title of Vandiver's biography would have it. Ingenuity was important, as well. Saltpeter for gunpowder was discovered in limestone caves in the Appalachian Mountains and Southern women were encouraged to save the contents of their chamber pots, from which the same mineral could be leached.
Church and plantation bells were melted down for bronze, and battlefields were combed for lead and repairable weapons. The historian James M. McPherson has called Gorgas; Isaac M. St. John, who headed the Nitre and Mining Bureau; and George W. Rains, superintendent of the Augusta Powder Works, the "unsung heroes of the Confederate war effort." Their contributions were crucial to waging war but they were not able to share in battlefield glory and the Confederate high command was slow to promote them. Gorgas did not become a brigadier general until November 10, 1864.
Still, Gorgas was rightfully pleased with his accomplishment. In 1864, he wrote in his diary, "Where three years ago we were not making a gun, a pistol nor a saber, no shot nor shell (except at the Tredegar ironworks)—a pound of powder—we now make all these in quantities to meet the demand of our large armies." Indeed, when the Army of Northern Virginia surrendered at Appomattox on April 9, 1865, Confederate general Robert E. Lee's veterans had been without food for three days, but each emaciated infantryman nevertheless carried seventy-five rounds of ammunition.
In 1866, Josiah Gorgas and several other investors reopened an existing iron works at Brierfield, Alabama, and his family joined him there. The years in Brierfield were happy for the family. The other directors appointed him to manage the iron works and he moved his family to the furnace site. Due to high operating and management costs, he was forced to lease the iron works after just a couple of years in operation.
The iron works failed in 1869, and Josiah Gorgas took a position as headmaster at the University of the South at Sewanee, Tennessee, set in a remote, mountain-top wilderness and populated largely by ex-Confederates.
In 1878, he was elected president of the University of Alabama and moved into an 1829 mansion on campus. A series of strokes left him incapacitated. When he was forced to resign due to ill health, the trustees gave him the house for his retirement. The building was dedicated as a memorial to the family in 1944 and is now known as Gorgas House.
His widow was installed as the university's librarian. The main university library is named the Amelia Gayle Gorgas Library. Their oldest son, William Crawford Gorgas (born 1854) served as Surgeon General of the U.S. Army and is credited with implementing preventative measures against malaria that allowed for the completion of the Panama Canal.
Josiah Gorgas died at the age of 65 in Tuscaloosa in 1883 and he and his wife Amelia are buried in Evergreen Cemetery in Tuscaloosa, Alabama.
SOURCES
Encyclopedia of Alabama
Find A Grave.com # 10878 # 68709568 # 68709986 # 68709508  68709468 # 6843719
Discordance: The Cottinghams (Volume 1)

A novel inspired by the experiences of the Cottingham family who immigrated from the Eastern Shore of Virginia to Bibb County, Alabama