REV. WILLIAM C. BRADFORD
BIOGRAPHY and GENEALOGY
(1862 – aft. 1896)
Bullock, Montgomery, & Tuscaloosa Counties, Alabama
Rev. William C. Bradford, pastor of the First Colored Baptist Church, Union Springs, son of Henry and Elizabeth Bradford, was born in Montgomery, Ala., in 1862. His early years were spent in the Swayne school in said city, in which he succeeded in laying the foundation of a liberal English education.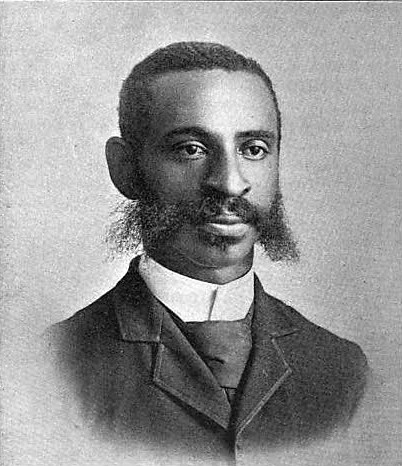 Rev. William C. Bradford (The Cyclopedia of the Colored Baptists of Alabama – Their Leaders and Their Work copyright 1896)
In his eighteenth year, and two years after his father's death, he was baptized into the fellowship of the Columbus Street Baptist Church, Montgomery, by the late Rev. James A. Foster. Feeling a call to the work of the gospel ministry, he, with a view to fitting himself for this solemn charge, entered Atlanta Theological Seminary. In school as well as out among his brethren, he has managed to occupy a place with those who formed the van.
Built a church building
In the person of his good wife, once Miss M. H. Allen, of Georgia (daughter of Rev. T. M. Allen, ex-member of the Georgia Legislature), whom he wedded in 1884, he has found happy and efficient help in his studies as well as in his calling. For awhile Mr. Bradford followed the tailor's trade, but at the call of the Gilfield Church in Wetumpka, the Dexter Avenue Church, Montgomery, in 1886 set him apart to the work of the gospel ministry.
At Wetumpka, he built a church edifice worth about $700. While pastor at Clayton he led to the erection of a building worth $1,000 and just now is rejoicing with the good people of Union Springs on his entrance into the new brick structure which was dedicated on the second Sunday in October 1892. He was principal of the city school while in Clayton, and now holds several positions of honor and trust. Mr. Bradford is one of the strongest and is among the most successful young men in Alabama. His affable manner commends him to all. He is now at Tuscaloosa. (NOTE: PASTOR OF FIRST AFRICAN BAPTIST CHURCH, TUSCALOOSA, ALABAMA)
SOURCES
Where Do I Start?: HINTS and TIPS for BEGINNING GENEALOGISTS with ONLINE RESOURCE

 Do you need some guidance in your genealogy search? Save time and avoid pitfalls in your research. This book provides simple, no-nonsense instructions to help you get started. Many FREE research links included.
Tips include:
WHERE TO FIND – on-line resources, experienced genealogists will not be aware of many of these.
COURT RESEARCH – how to do courthouse research, where to find birth, death, social security records free on-line.
EIGHTY – ONE QUESTIONS – you should ask your elderly loved ones before it's too late.
TIPS ON BREAKING DOWN THE WALL – Everyone faces some difficulties in research, often called a 'brick wall' but WHERE DO I START? provides suggestions for overcoming them.