THOMAS BIVIN CREAGH
BIOGRAPHY and GENEALOGY
(1788-Feb. 1842)
Ireland, Virginia, Wilcox County, Alabama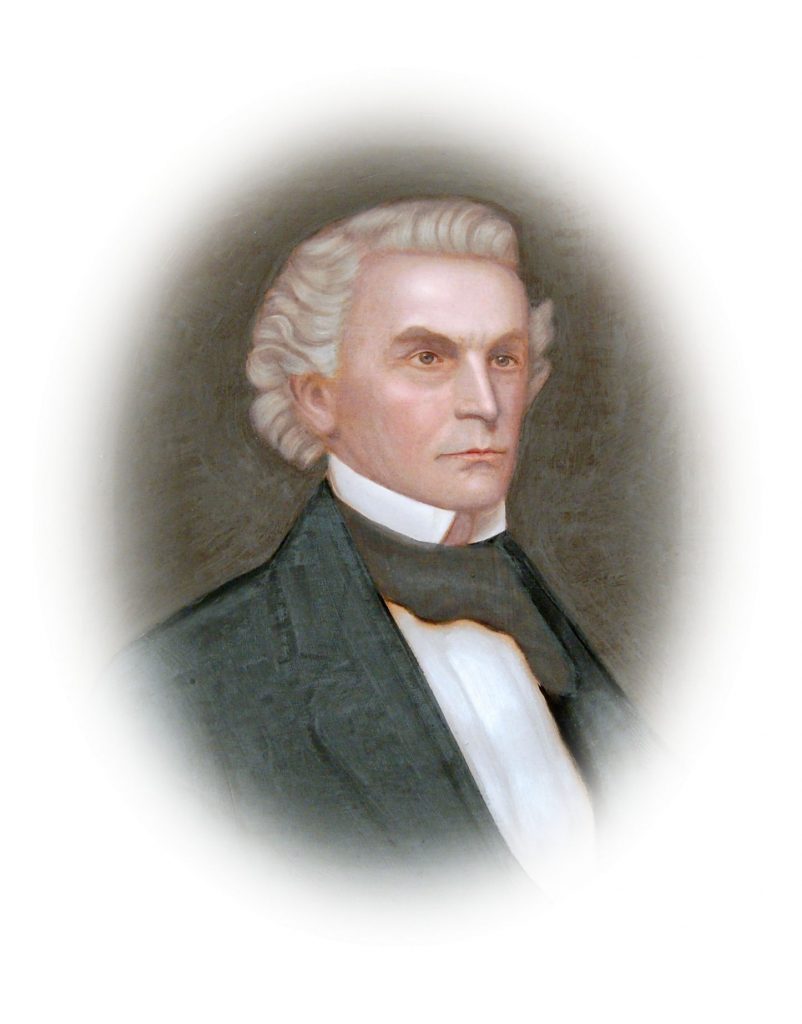 THOMAS BIVIN CREAGH, farmer, was born at Donerail, County Cork, Ireland around 1788, son of JOHN and SARAH O. (MOORE) CREAGH, of Donerail, County Cork, Ireland. He died Feb., 1842 at Boiling Springs, Wilcox County, Alabama and is buried in Creagh Cemetery in Wilcox County. The founder of the name was a son of King O'NEIL of Ulster, who commanded a body of troops in the Castle of Limerick at the time the Danes invaded Ireland. He defeated the Danes with great slaughter, and when he returned to the castle, the population turned out to greet him, placing laurel in the horses' bridles. Laurel in Irish is known as "creagh," and he was known from that time on as CREIGH O'NEIL, until O'NEIL was dropped and CREAGH alone used. The street in Ireland leading from that castle to the river is known as Creagh Lane to this day.
An English officer
MR. CREAGH came to America as an English officer with GEN. BRADDOCK before the Revolution. He was an educated man who later held office under the British government, but he did not return to Europe. There is a tradition that it was to CAPT. CREAGH that GEORGE WASHINGTON spoke, when he said that BRADDOCK could not fight the Indians by the method he was then pursuing. He settled in Lynchburg, Virginia, after retiring from the army, and was married there. He moved to North Carolina for a short time, then located in South Carolina, near the Georgia line.
He was a farmer and a large slave owner. He lived in Abbeville, S.C. until after his wife died, then broke up his home and followed his son, GEORGE CREAGH, to Alabama, settling near Suggsville.
His home was made of lumber sawed with a whipsaw by hand before there was a mill. He was a Master Mason and was the high priest of his chapter and a Democrat. He was Grand Master of the Alabama Freemasons during the years, 1828, 1829, 1830.
Married Twice
He married (1) at Lynchburg, Virginia., REBECCA WALTHALL, daughter of GERARD and ELIZA ANN (DAVIS) WALTHALL, who lived on a plantation at Lynchburg, Va., a descendant of the DAVIS family of Salisbury, N.C., of Scotch-Irish ancestry, who emigrated to America, settling first at Salisbury and later moving to Lower Peach Tree; and (2) WINIFRED DAVIS, of Clarke County.
Children from the first marriage;
JOHN G. CREAGH (b. 1787, in South Carolina) was educated in DR. WADDELLS'S academy, was an early settler in Alabama, a lawyer and farmer, who was elected to the State legislature five times from Clarke County, and served one term as probate judge, d. in 1830, married CLARA HOWZE, who later married Judge A. B. COOPER, had one child, CLARA who died in childhood;
RICHARD P. CREAGH attorney general of Mississippi, who was killed in a rencontre in 1823 while occupying that position;
COL. GERARD WALTHALL CREAGH – was a native of South Carolina and an early graduate of Columbia College in that State. He settled in Alabama before 1813 and became a resident of Clarke County, Alabama. He was wounded in an Indian Fight at Burnt Corn. His Captain was GEN. SAMUEL DALE of Mississippi. G. W. CREAGH became a successful merchant. He married ELIZA A. DAVIS (b. Jan 11, 1804 NC-d. Jun 25, 1872 AL).i He was elected to the House of Representatives in 1838; became a Senator in 1839 and served ten years until his death around 1850. He was a gentleman of the strictest integrity, and was always appointed Chairman of the Committee on Accounts and Claims. His vigilance in guarding against fraud and extravagance was proverbial; so much so that he was called the " watch-dog of the Treasury by way of commendation. After a claim had been endorsed by his report, there was no further use of inquiry, and it was at once allowed. MR. CREAGH was a modest gentleman, whose real worth did not show itself at first sight. His reputation is a proud inheritance to those who represent the blood and the name. He is buried in Creagh Cemetery in Suggsville, Clarke County, Alabama.ii
EDWARD A. CREAGH, who came from South Carolina to Alabama, d. unmarried;
LORENZO CREAGH;
MEMORABLE WALKER CREAGH, M.D. – of Marengo was first elected to the House in 1849 and was again returned in 1853. DR. CREAGH was well educated and raised in polished society. Always accustomed to wealth and refinement, it is natural that he should be a high-toned Southern gentleman, of which class he is a true representative. While ardent in his attachments, and indulgent in his feelings, his soul takes fire when the rights and the honor of the South are drawn in question, or put to hazard. These he is at all times ready to support and defend at any peril. Under the old classification of parties, DR. CREAGH was a Whig. He was a good speaker, and had considerable influence on the floor of the House. In the debate on the appropriation to complete the Hospital for the Insane, he made a strong and beautiful effort. The question was wholly free from politics, and his soul overflowed with arguments in behalf of a class not capable of appealing for themselves. The fountains of humanity were opened, and his language was so forcible and eloquent that many gentlemen changed their purpose and voted for the bill. This, if I mistake not, was the last speech of any moment he made in the House, and, whether by design or not, it was not likely that he could have improved upon it. Dr. Creagh died in 1872.
MILTON ALEXANDER CREAGH, m. (1) ANN HOWZE, deceased, child JOHN WESLEY CREAGH, m. LIZZIE SIMMONS, of North Carolina. (2) WILLIE H,. GLOVER, daughter of BEN GLOVER, who lived near Dayton, children, CLARA, AMANDA HUGHES, SALLIE and WILLIE. ALEXANDER CREAGH was an intelligent planter, and a gentleman of fine culture and standing.iii
THOMAS B. CREAGH'S last residence was Boiling Springs, Wilcox County, Alabama."iv