[Birmingham, Alabama had a movie production company in 1928 and they made at least two films. This Birmingham News article from July 14, 1929, states a number of people were involved in the movie, Trustworthy.  I've been unable to find out any more information, so please share if you know more about the movie group and/or films]
"More than 100 Boy Scouts and probably half that many other Birmingham residents took part in a film produced in Birmingham, Alabama in July 1929 by the Birmingham Movie Group. The film 'Trustworthy' was the story of a boy and his gang. "It started when the boy was very young, and the gang was a roving bunch of mischievous youngsters. During the course of the picture, the boy grew up, and the gang became a dangerous gathering. "Through careful and well-directed character building, the boy and his gang learn the value of righteous living and finally overcome all desire to do evil.
Scene from Trustworthy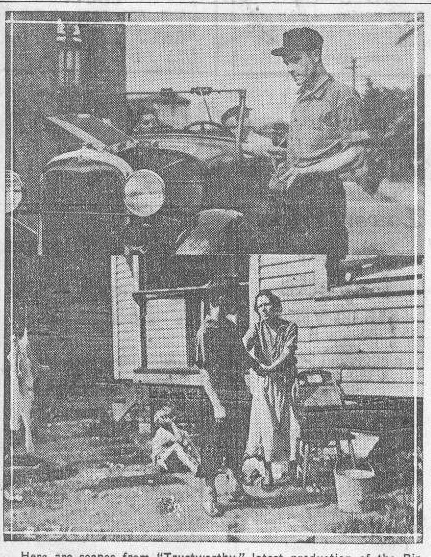 The film was the second picture to be made by the Birmingham Amateur Movie Association, an organization of Birmingham people engaged in writing, filming and producing motion pictures on a non-profit basis.
The first picture was entitled "What Price Pearls," The film received favorable comment in the July issue of Movie Makers, a national publication with headquarters in New York. It was taken on 16-millimeter film so it was limited in showing to private homes and auditoriums.
Trustworthy was filmed on 35-millimeter film which was standard size at the time and it could be shown in any motion picture house. Jack London was president of the movie organization. Other people involved in the production were Mrs. Louise O. Charlton, director of the Birmingham Amateur Movie Association. It only took five weeks to film.
The Birmingham Movie Organization began with a charter membership of more than 50 persons August 3, 1928, at the Birmingham Public Library.
It was modeled along lines of similar organizations in many of the larger cities in the United States with the objective of producing local amateur moving pictures.
Officers of the Group
Jack London was elected president; E. C. Krug, vice president; J. Mont Thomas, secretary, and John E. Roberts, treasurer. Committee heads were; Scenario committee, Harry Garrett, chairman; Mrs. W. H. Yenni and Howard Parish, Membership Committee, Mrs. Erwin Caldwell, chairman; Robert Bromberg and Mrs. J. Martin Smith, Jr., Constitution and by-laws committee, David R. Solomon, chairman; Mrs. Priestly-Toulman, Jr., and Mrs. Howard Parish. Techinical Committee, C. L. Engle, chairman; John Roberts and Erwin Caldwell.