When I began my my personal genealogy quest, I often spent days in courthouses, libraries and cemeteries as well as considerable expense copying records only to discover that I was following in another researcher's footsteps. I could have saved myself time, effort and a lot of money if I'd only known of this research earlier.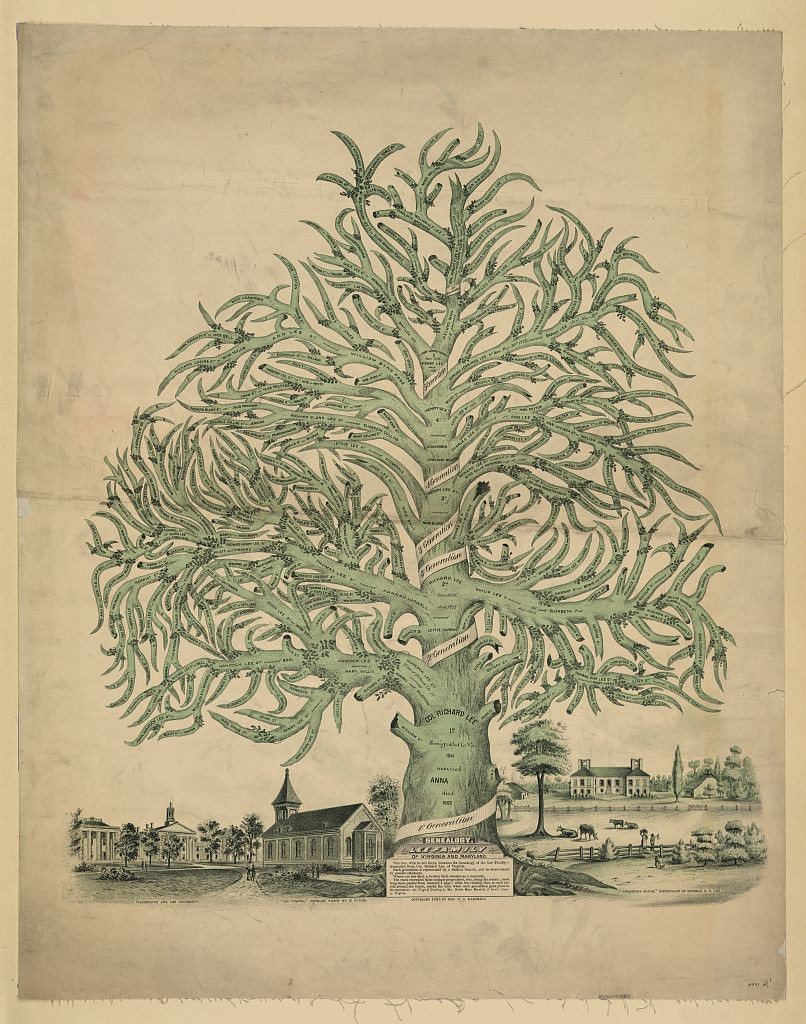 Genealogy Tree of Lee 1886 (Library of Congress)
Theophilus Goodwin 1709 -1788 Southern descendants

 is a 394 page book that includes a compilation of documented genealogy records, notes and brief biographies of THEOPHILUS GOODWIN descendants in Alabama and some other southern states. Many transcribed deeds, church minutes, cemetery records, end notes, anecdotal stories of descendants have been included.
You can check to see if this is your family line by browsing a Sample on Amazon of the Outline of Descendants from the first pages of this book.
Descendants names in the book include the following: ABERCROMBIE, ABERNATHY, ADAMS, ANDREWS, ATCHINSON, AUTREY, BERRY, BIRD, BISHOP, BLEDSOE, BOGLE, BOLTON, BRANCH, BRAMBLETT, BROWNING, BRYANT, BURCHFIELD, BYRD, CALDWELL, CARATHERS, CARTER, CARUTHERS, CASHAT, CASSADY, CASTLEBERRY, CLEMENTS, COBB, COLLYER, COOK, COOPER, CORBIT, COX, CROSSLAND, CROW, DALE, DICKSON, DODGEN, DUBOSE, DUKE, DUNLAP, EDWARDS, ENNIS, ERNEST, EVINS, FARRAR, FAUCETT, FERGASON, FERGUSON, FIELDS, FLOYD, FORREST, FOSHEE, FOSTER, FREDERIKS, FULLER, GABLE, GAHAGAN, GARDNER, GORDON, GRAY, GREENBURY, GREENE, GRIFFIN, GRUBBS, HARRIS, HATCHER, HAYNES, HAYS, HENRY, HILL, HIXON, HOOK, HORTON, HOWARD, JACKSON, JACOBS, JAMES, JOHNSON, JONES, JORDAN, KELLEY, KELLY, KENNEDY, KINNAIRD, KINNARD, LASHLEE, LASLEE, LEWIS, LITTLE, LLOYD, LOWEREY, MAY, MCCASLAND, MCCARTY, MCCARY, MCGEE, MULLINS, MYRICK, NABERS, NABORS, NEIGHBORS, NOLAN, NORWOOD, PAGE, PALMER, PARHAM, PARISH, PARKER, PARSONS, PATE, PICKARD, POPWELL, PORTIS, POUNDS, POWERS, PRATT, PRESLEY, REID, RICE, ROBINSON, RUCKER, SALTER, SANFORD, SAWYER, SEALS, SEXTON, SHANKS, SHARPE, SHERRER, SHINE, SIMPSON, SIMS, SMITH, SMITHERMAN, STEELE, STEWART, STITH, SUTTLE, SWIFT, TAYLOR, THOMAS, THOMPSON, TILLEY, TUCKER, TURNER, WALDROP, WARD, WEST, WHATLEY, WILLIAMS, WILSON, WIMBERLY, WIMBISH, WOOD, WOODSON, WOOLLEY, WRIGHT, WYCHE
Did you know that you can read Ebooks on computers and smart phones with FREE APPS from Amazon. Click the link below to discover how.
Theophilus Goodwin 1709 -1788 Southern descendants