From Cecile Ashworth Brown
Thought someone may be interested in why I became interested in genealogy. My Dad used to tell me that one of his ggfathers was the first Baptist minister to preach west of he Miss. River. As I was in school I always liked history. I kept thinking to myself: Can that really be true? This is Louisiana ( mostly Catholic). So I researched it and it is true .I have corresponded with other folks(distant cousins) and they all heard a version of the same story. He came from South Carolina and made his way to La. in the late 1700's founded many churches and is buried in Rapides Parish. He left many Baptist descendants, myself included.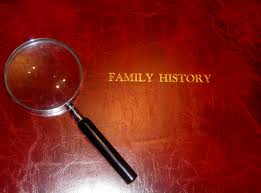 From Debbie DuPree Williams
Years ago, while searching for my Mother's father's family, I decided to have a search done in the Alabama Archives. I had done so much through that office that I had developed a relationship with one of the personnel in that department. It didn't hurt that her husband might be related to me on my father's side.
One day, a few weeks after ordering the search and having paid my monies to the office, I got a phone call. My new-found friend had news for me that she just could not wait to share with me. In searching for my Great grandfather, Andrew Jackson Bass(1830-1862), she had found a long-lost letter just sitting in their records. It was a letter, dated October 31, 1862, that had been penned by my grandfather, just three weeks prior to his death at Camp Lee in Richmond, VA ! Now, whether or not this is truly Grandpa Andrew's hand or not, I cannot honestly say, but the letter did contain his words to my Great Grandmother, Ellen Davis Bass.
In this letter, he called her his "dear wife" and the children "our precious little children". He hoped to be sent home before Christmas as he was not well and had rheumatism. But, alas, this was not to be. He died from the measles just three short weeks later.
If you go to ancestry, you may read his letter there or you may find it by simply doing a Google search. I transcribed the letter to the best of my abilities. It was not in good shape, but oh, what a treasure to have this and to be able to share that with all of the family!!
Grandpa was laid to rest at Hollywood Cemetery in Richmond, in grave S333, very near the Confederate monument. I had the honor of being the first member of his family (as far as anyone knows) to stand at his grave. You can imagine the tears I shed that day. I simply told him I had found him and that we all love him.
Where Do I Start?: Hints and Tips for Beginning Genealogists with Online Resources –

Do you need some guidance in your genealogy search? Save time and avoid pitfalls in your research. This book provides simple, no-nonsense instructions to help you get started. Many FREE research links included
Shop Amazon – All – New Kindle Paperwhite