Dr. Jack Shackelford
Transcribed from The Alabama Historical Quarterly, Vol. 18, No. 03, Fall Issue 1956
Part II
Dr. Jack Shackelford, a pioneer of Alabama, moved to Shelby County, Alabama and purchased a cotton plantation. He served in the Alabama State Senate three times. He was appointed to head the United States Land Office in Courtland, Alabama om 1829.
When the Texas Revolution erupted, Dr. Shackelford recruited volunteers for the cause in the fall of 1835. The company was given the name Red Rovers because they wore red jeans. They served under Col. Fannin in Texas and most of the company was wiped out in a bloody battle. He wrote these two transcribed letters to his wife and son when he was in Texas.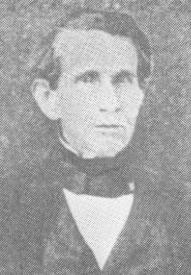 Dr. Jack Shackleford (Wikipedia) 
Goliad, Texas, 9th March 1836
My Dear Maria:
I have let no sort of opportunity of conveying a letter to you escape me—and I have no doubt but I have written many letters which you will never receive.
We have been at this place three weeks and have been fortifying and making it strong. We are about ninety miles from Bexar—or St. Antone as it is call'd— and I would not wish to conceal from you that, that place is invaded by a powerful army of four or five thousand men, said to be commanded by St. Anna in person.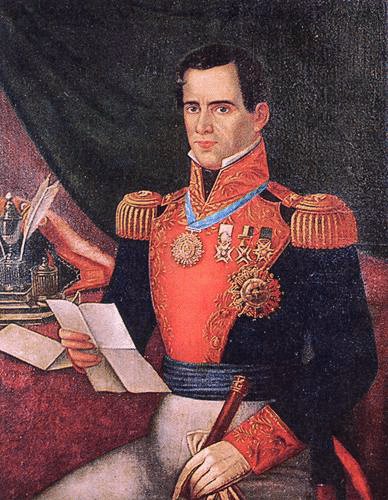 Santa Anna in a Mexican military uniform (Public Domain)
Begging us to join them
The garrison does not contain more than two hundred men, and they have already repuls'd several attacks of the enemy with great loss—without even losing a man on their side. These poor fellows can't hold out much longer without they receive aid—the citizens turn out slowly and were not convinced of their danger until their country was invaded.
I rec'd a letter from John Sutherland yesterday morning by express—stating that two hundred men were with him at Gonzales on their march to St. Antone—and begging us to join them. We have about four hundred effective men here and I was asking for 250 to march off to their relief with two pieces of cannon—but I was overrul'd in a council of Officers— from the difficulty of procuring teams for the Artillery and baggage waggons—and from a report that a body of some six or eight hundred men were assembling fifty miles below this—with a view to cut off our provisions—under these circumstances it was deem'd most prudent to remain here for further developments.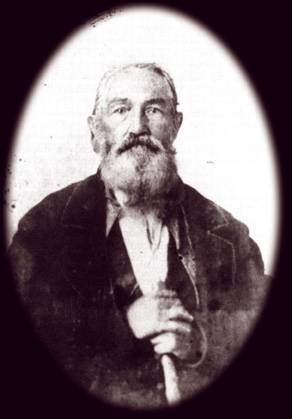 Dr. John Sutherland moved with his family to Decatur, Alabama about 1824 – emigrated to Texas in 1829-30 (Public Domain)
I think myself, we ought to take off all provisions, and stores here and retire nearer to the settlements. I would not have given you any news which was calculated to produce anxiety and uneasiness on your part but that I was apprehensive you would hear many false rumors, and I knew it was best to give you the truth—Under every circumstance my dear wife—let me beg—let me entreat you to be calm and submissive. Your Husband and Son is in the hands of their heavenly Father—to his will I bow with deference, and on his arm I rely for support—Let us remember each other at a throne of grace.
I have recently written to Harriet—Mr. McMahon— Majr. Fearn & Jos. Saunders. If they have not rec'd my letters tell them to urge all the volunteers that will come—to do so without delay—The company continues to enjoy good health.
We have scarcely had a shower of rain since our arrival—indeed this is the purest, driest, and most elastic atmosphere I ever breath'd in my life—My own health has been uniformly good—better than for several years—though my hair is coming out rapidly, and I may stand in need of a whig when I get home. You shall hear from me on all occasions. I am truly distress'd at not receiving one solitary line from home since I left New Orleans—I know it is not your fault.
Every one of the young men request me to mention them to their friends. Natus conducts himself well—and indeed it 1s admitted by all, that I have the best company in service. Present me affectionately to Harriet, Genl. Lary & Mr. McMahon—cousin Martha—Margaret & the girls—and to all—every one of my friends in Courtland and the neighborhood.
Receive the warm & ardent affection of your ever devoted
Shackelford
My dear Edward:
If you were here, you could get a Pony almost every day but they are not worth more than Ten dollars a dozen—all of them have been rode down carrying expresses but I hope about the time I start home I shall be able to get you a handsome little Camanche Pony. If these Mexicians (sic) and Texians (sic) should make peace, I could go about one hundred miles and buy a plenty of good Horses at Ten dollars a piece, and Mules at $25—
You must be a good dutiful child—attend well to your learning obey your Mother—and don't leave her by herself to be lonesome. You must be kind and affectionate to your sister & brother and don't quarrel with them. You must do what Mr. McMahon tells you—If you were to see these Mexicians riding you would laugh, they have long Iron spurs which trips them up when they walk, a saddle cover'd with skins and large wooden stirrups covered with leather to keep the briers from sticking in their feet—but they ride well, and will catch a wild Horse and jump on him in the Prairie and stick their spurs in his sides, and run him until he is almost heart broke—they say he is then gentle— & so he is, for he can hardly go along.
Tell Cousin Lucy he is learning to speak Spanish very fast—Bob is not so apt. Sometimes we drive 150 head of cattle up at a time, and us all go to killing and eating and feel very sick—once us had no corn or flour for 4 or 5 days & no beef for two days the boys all look'd mighty sour & when they got a plenty to eat you never see fellows in such a good humor in your life. We all have plenty of sugar and thats what they love. They will eat sugar and fat beef together like bread & meat.
The Prairies are full of little wolves – they come close up to the Fort every night and whine like young puppies—They come about us some times when we are mustering. You must be sure to remember me to every one of my friends in town—go and tell them all so. You must say your prayers night and morning & don't forget your Father and brother. Farewell my dear little boy
Jack Shackelford
(Superscription)
SHIP
Mrs. Maria E. Shackelford
Courtland
North Alabama