My Childhood Christmas Memories
by
Jean Butterworth
It is almost Christmas time and memories come flooding back remembering the simple Christmas celebrations my family had in the early 1940's. My dad and brother would go into the nearby woods to cut a cedar tree. This would be our Christmas tree which would be placed in the living room.
Coal stove
Our living room contained a big coal burning stove in our WWII rented government housing project in Childersburg, Alabama. The tree was then decorated with strips of colorful construction paper glued together as loops. Tinsel was added along with some fragile red balls. A paper star was placed on top. At this time colored electric light were just gradually being used. And for sure, not at night when the town's lights were blacked out on occasions during WWII.
On Christmas Eve Dad would go out to the coal bin connected to the house and bring in coal in a coal scuttle. He would prepare the fire for Christmas Morning by laying some small sticks on top of the coal. Early before my brother and I got up he would light the coal so the room would be warm on Christmas morning. We would wake up early and be so excited. We also noted if Santa had eaten the cake we left out for him on the kitchen table.
Sears and Roebuck catalog
The Sears and Roebuck catalog had many turned down pages tagging our wish list for Christmas. Presents were few as compared today but I remember getting a big baby doll and my brother a play gun and holster set along with some tinker toys. Also a pair of gloves for me and an airman's hat with flaps for my brother. There were also oranges, apples and candy.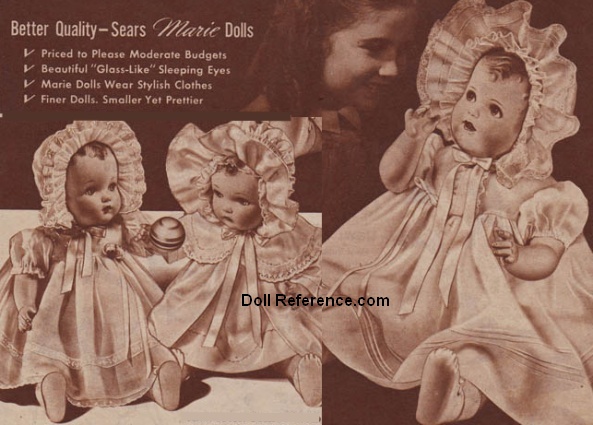 My friend, Jeanelle told me that she celebrated Christmas in North Georgia. Their tree would be decorated with ice icicles, and red and white rope. One year she got a Shirley Temple doll. Their ritual for Christmas was to place six chairs around the Christmas tree and each of the six children would put a shoe box in the chair for Santa to fill with present, toys fruit and nuts. When the children went to bed on Christmas Eve they would listen to noises made by Santa. In reality, it was their Dad bringing the Santa toys out from the loft in the barn into the house. They did not hang stockings.

Christmas Play
Our small church always had a Christmas Play. My dad was always selected to be the Joseph in the pageant. The play followed the story in the Bible. There was a manger scene, the Shepard's and the Wise men from the Far East. Angels wore gowns made from bed sheets and halos from gold tinsel and coat hangers.
Costumes consisted of faded dark bathrobes and towels for head coverings for the Shepards. Gold paper crowns were made and paper covered cigar boxes were used as the presents from the Wise men. After the Christmas play we would all sing Christmas carols. So simple, but so meaningful.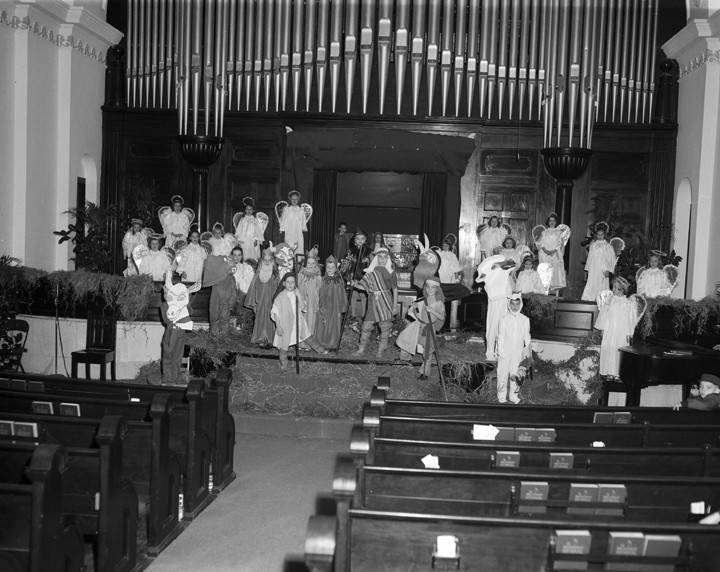 My dad was a hunter and my mother was delighted that he enjoyed this sport. Often in the Christmas season he would go hunting in the woods for squirrels or to the fields to shoot dove. I can remember many times when he came in from the hunt that I would run up to him just to count the doves in his inside hunting coat. The supper that night would be fried dove. Delicious!
Today, I look at my decorated Christmas tree in my den with all those pretty ornaments I had collected from all over the world. But then, I think of my childhood Christmas around a simple cedar Christmas tree in a coal-heated room and I feel the joy of remembering childhood Christmases!
Don't forget Alabama Pioneers this Christmas season in your gift giving. Monetary donations from you keep this website free!
Family Surname Books – use the Search box to find your ancestor
New Historical Series on Colonial America
Shop Amazon Gift Cards – Instant Delivery or Free One-Day Shipping