In Alabama on November 14, 1891 the Times Daily, of Florence, Alabama was able to report the following about Alabama.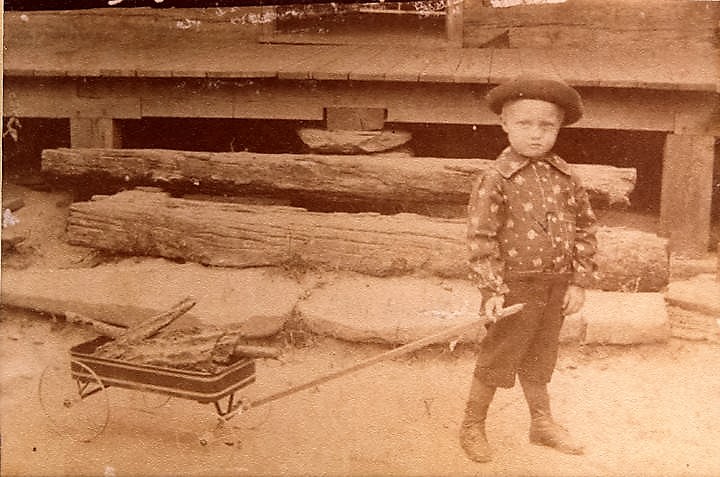 Benjamin Hugh Tucker pulling wagon of sticks by photographer Crapps, S.Y.M. Gold Hill, Alabama (Q4813 Alabama Department of Archives and History)
Every residence in Montgomery was occupied.
The stove factory at Decatur employs ninety men.
Mrs. James Wood, of Jefferson county, is 106 years old.
Courtland is to have a cotton warehouse that will cost $8000.
Huntsville will have a free delivery service in about sixty days.
The city of Birmingham has $150,000 on deposit in the banks.
The Alabama River at Selma is lower than it was ever known.
Mr. W. L. Parke, of Troy, is a candidate for the office of attorney-general.
Mr. R. R. Pool, of Marengo, is a candidate for congress from the First district.
Hon Alto V. Lee is announced as a candidate for congress in the Third district.
The Presbyterians at Courtland have put a new $1000 organ in their church.
The remaining furnace of the Woodstock Iron company at Anniston will soon be in blast.
A Dale county farmer has this year made 700 bushels of corn and four bales of cotton with one mule.
Mr. Jarman, of Sumpter county, has gathered twenty-six bales of cotton this season for thirty acres of land.
An English syndicate is negotiating for the purchase of all the property of the Fort Payne development companies.
Other stories include:
The Yazoo land fraud;

Daily life as an Alabama pioneer;

The capture and arrest of Vice-president AaronBurr;

The early life of William Barrentt Travis in Alabama, hero of the Alamo;

Description of Native Americans of early Alabama including the visit by Tecumseh;

Treaties and building the first roads in Alabama.