(This article has been precisely transcribed (with spelling and grammar mistakes) from FIFTY-FIVE YEARS IN WEST ALABAMA which was printed in the Tuscaloosa Gazette August 12, 1886)
FIFTY-FIVE YEARS IN WEST ALABAMA
CHAPTER FOUR
by
By HON. E. A. POWELL
Going back to the earlier days, I will notice the Congressional elections of 1831 and 1833. In 1831 there were three candidates in the field: Sam W. Mardis, Gen. Garth, and R.E. B. Baylor. I was then too young to know anything of the merits of the canvass. I only know that one Gen. Erasmus L. Acee took the field against Baylor, but in whose favor I do not know. I only know that Mardis was elected,—and remember seeing his 'frank' on public documents to my father. I never met either one of the candidates. General Baylor went to Texas, and I think became a minister in the Baptist Church. I met General Acee one time, in 1837. He was a zealous advocate of total abstinance, (sic) and a son of his told me during the war that his father never went back on himself on that subject.
He said the man had lied
In 1833 the contest for Congress was between Gen. James Davis and Col. John McKinley. There was a Mr. Hatch in the race, but his vote was nominal. Gen. Davis made the first political speech I remember. Some one had circulated a report prejudicial to him, and he was speaking of it. He said the man who circulated the report (giving his name) had willfully, willingly, and knowingly, lied. The other was about this: HP said some people said the Government had done a great deal for the poor man. He said in one sense of the word that was true. The Government allowed a poor man to enter forty acres of poor land for fifty dollars, on which he would remain poor as long as he lived. General Davis was defeated, though making a fine race. The Tennessee counties voted too strong for the hilly South.
Col. John McKinley ca. 1840 Etched by Albert Rosenthal, Phila.1890″ but was based on an antebellum image (Alabama State Archives)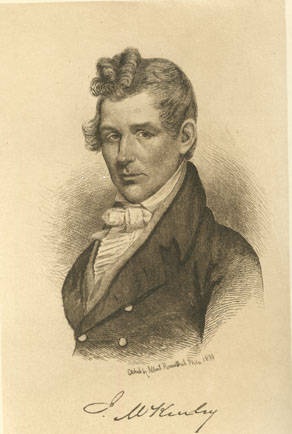 McKinley afterwards became one of the Associate Justices of the United States Supreme Court. Of Gen. Davis I knew nothing after the election. He was the brother of Gen. Reuben Davis, of Aberdeen, Mississippi, who was in time quite distinguished as a criminal advocate.
In 1834 there was an election for Senator from the District composed of the counties Fayette and Marion,—There were three candidates, Mark Meeks, who was just going out of the Sheriff's office of Fayette county, Jas, K. McCollum of the same county, and Henry Burrough, of Marion county.
Burrough being defeated, disappeared
The contest was an exciting one.—Meeks and McCollum divided equally in Fayette, while Burrough consolidated the vote of Marion and bore off the prize. Meeks moved to Mississippi, and died in a few years. Burrough being defeated in a second race disappeared, as far as I can state. McCollum remained in Fayette until about 1872, where he died.
In many respects he was a remarkable man.— Siding with the Whig party, which was only nominal in Fayette county, charged with many offences (sic) of high grade, still he would seek office, and almost always making a fair run, and in 1849 and 1851 was elected to the House over strong Democratic opposition. In 1855 he made his last race, and stood a good pole against the invincible E. P. Jones,—who will be hereafter noticed. Incidental to the name of J. K. McCollum I may relate an incident which exemplifies the true sense of gratitude as well can be:—In the early history of Fayette county, Jesse Barnes came from North Carolina, with a large family of children, and in almost destitute circumstances. In passing through the county, McCollum chanced upon him, took in the situation of the family, told Mr. Barnes to send to his mill and get bread for his family, and pay for it when he could. He did so. In a few years he paid for it, and ever after that, whenever McCollum was a candidate he was sure of the vote of the entire Barnes family. The old man would talk to me about it and say, "Ab, they say a great many things about Jim McCollum, and I am afraid they are true, but he fed my children when they were hungry, and I can't vote agin' him."
He had never been to school a day in his life
Mr. Barnes was a very remarkable man. He was of low stature, but heavy, of great physical power. He had never been to school a day in his life,—raised, I think, about eighteen children,—never sent one to school, and if either of his children ever sent one of theirs to school, I never heard of it. He was a great hunter, and thought he had the best rifle ever made in North Carolina,—killed hundreds of deer, a good many bears, and said he could tell you the circumstances of the killing of every one. When he was up in the eighties he professed religion and joined the Methodist Church. He said he had never been sick a day in his life and had never taken a dose of medicine. When he was ninety-three or four years old he was sitting in a large arm chair at the house of his son;—his daughter-in-law had left him as well as usual,—was gone but a few minutes,— when she came back the old man was sitting up in the chair-dead. He had simply QUIT,— 'dust had returned as it was' and the spirit to God who gave it.
Two men ably represented Fayette County
In 1842 Fayette county was represented in the House by James Morris and Adley Harris; and in 1843 the same gentlemen were returned. These two sessions began and closed the Legislative career of both of them. Mr. Morris was a merchant. Was a man of fine practical sense,—with limited speaking powers. His course in the Legislature gave general satisfaction, but he never sought another election. A few years afterward he moved to Giles county, Tennessee, where for many years he filled the office of Justice of the Peace. Years ago he died, respected by all who knew him.
Mr. Harris was a candidate again in 1844 but was defeated. He was a well-informed farmer, of good sense and fair talking powers. His character was above reproach. He died at quite an advanced age a few years ago. In politics he determined to know nothing but Democracy of the Andrew Jackson school.
Representatives in later years
In 1844 Alvis Davis and W. W. Bell were returned to the House from Fayette county. Mr. Bell was a Methodist preacher of fair talent and good standing. He never sought a re-election. Mr. Davis was elected again in 1845 with Elijah Williams, and again in 1847 with John R. Kirkland. He was never afterwards successful. After one or two efforts he retired to private life and died a few years after the war. He was a man of energy,— rather speculative in his ideas,—a good citizen and made a faithful representative. Of Mr. Williams, after his term, I know nothing. He was a modest man, highly respected among his neighbors, and stood fair in the House. He was never a candidate again. Mr. Kirkland moved to the North West, and I lost sight of him. In Alabama he was a Jacksonian Democrat, but I learned after he went West he joined the Republican party.
In 1847 Daniel Coggin was elected to the Senate from Fayette and Marion counties. He was from Tennessee; came to Fayette county about 1845. In the contest for the Senate he was opposed by Judge Wm. R. Smith, who will hereafter be noticed. The contest was repeated between the same gentlemen in 1849 and with like result. Mr. Coggin was a lawyer of fair ability, rather independent of the Queen's English in speaking. He was elected to the office of solicitor by the legislature of which he was a member—filled that office until 1852, when death stepped in and closed the scene with him. In all his public life he was faithful. In Tennessee he had been elected to the Legislature as a Whig, but during the session changed his mind—became a Democrat—and resigned his seat, it was said the day before the adjournment of the session. His style of speech was unique, rather pleasing to the crowd, and he spared no effort in making his opponent feel the force of his power.
A. J. Coleman was elected to the House from Fayette county in 1849 and 1851 in connection with, James K. McCollum. In 1857 he was again elected with James Brock in 1859 with Japtha Seay. In 1861 he was elected to the Senate and served in that body during the war. This closed his public career. Mr. Coleman was a man of medium ability, fair character, faithful to his party, which he always considered an evidence of fidelity to his country. Mr. Coleman still lives in Pickens county. He was during his entire public life and is now a minister in the Primitive Baptist church and regarded by his denomination as one of their ablest divines.
In 1853 Fayette county was represented in the House by E. W. Lawrence and Alva M, Reynolds. They were both farmers of medium ability, good character and faithful as public servants. Mr. Reynolds was a minister of the Primitive Baptist church; he never offered his services any more; a year or two after the war he died in Fayette county at a good old age. His private character was never called in question.
E. W. Lawrence filled a vacancy after the war
Mr. Lawrence was elected to fill a vacancy after the war. He served in the session of 1866-7, and took an active part in the establishment of the county of Jones, taken partly from Fayette and partly from Marion. Under the reconstruction measures the convention of 1867 abolished the new county, and remanded the territory to the original counties.
At the first legislature held under the new constitution of 1867, Mr. John T. Harkins was returned to the House from Fayette. He took position with the few Democrats in the House. Mr. Lawrence went down to Montgomery to revive Jones county, and in order to succeed contested the seat of Mr. Harkins, got him turned out, and himself seated in his place, and finally succeeding in reinstating the county under the name of SANFORD, which has since been changed to Lamar. This closed the public life of Mr. Lawrence. He still lives in Fayette county, a respected citizen.
The Know Nothing Party in 1855
In 1855 the great Know Nothing contest occurred in the State. The candidates in Fayette county were,—on the Democratic side, Thomas P. McConnell and John C. Kirkland: on the side of the Know Nothings (as they were called) A. M. Nuckols and Jeptha Seay took the field. The contest was an exciting one, with chances rather favoring the new party. But the great contest in Virginia between Wise and Flourney being decided against the new party, its prospects began to wane, and in the election in August the Democratic candidates were elected by fair majorities. This subject may be again referred to in the progress of these sketches.
Mr. McConnell was an intelligent farmer of far more than average general information. He was a forcible and earnest speaker,-—very logical in his propositions, and always carried with him the evidence of sincerity.—No man believed that even in the heat of debate he ever uttered a sentiment which he did not believe to be true.—In the Legislature, he was modest, attentive to business, always on hand at roll call. Whenever he spoke in the House the few remarks he made were listened to with attention. As a member of the body he commanded universal respect.
In 1857 he contested the re-election of Hon. E. P. Jones to his seat in the Senate, but although making a reputable run, the popularity of Judge Jones was too much for him to overcome. Mr. McConnell has, since the war, been several times before the people for office, but not being fully aligned with the old party, they have managed to defeat him. He still lives in Fayette, a highly respected citizen. His character for morals and integrity is equaled by few and surpassed by none.
(The article above has been precisely transcribed with spelling and grammar mistakes from FIFTY-FIVE YEARS IN WEST ALABAMA which was printed in the Tuscaloosa Gazette August 12, 1886)
Vinegar of the Four Thieves was a recipe that was known for its antibacterial, antiviral, antiseptic and antifungal properties for years. It was even used to cure the Bubonic Plague. See Thomas Jefferson's recipe in VINEGAR OF THE FOUR THIEVES: Recipes & curious tips from the past