Genealogy research is harder in America
I recently had a discussion with someone from the United Kingdom about family research and I made the comment that it is sometimes hard to get past 'brick-walls', especially when we have to trace back to other countries.
She replied, "It's not so hard for us."
I was astonished at her response and asked why.
She stated, "Unlike all your American ancestors, our ancestors never went anywhere. We're all generally from the United Kingdom. Our families never left the country so all we have to do is to check local records. We don't have to do research in other countries for our ancestry."
I realized she was correct, but I was especially struck by her words, "We are all generally from the United Kingdom."
Dutch family at Ellis Island 1901 (Library of Congress)
One Nationality
Is there anyone in America that can claim only one nationality in their ancestry? Most ancestors came from many countries to the United States at various times in history so very few citizens in America can say that their entire ancestry, both maternal and paternal, comes from one country. We are a mixture of many countries and no one, except for possibly, the Native Americans, can claim America as the origin of their ancestry. Our ancestors simply migrated here at different times.
This brought up additional questions in my mind.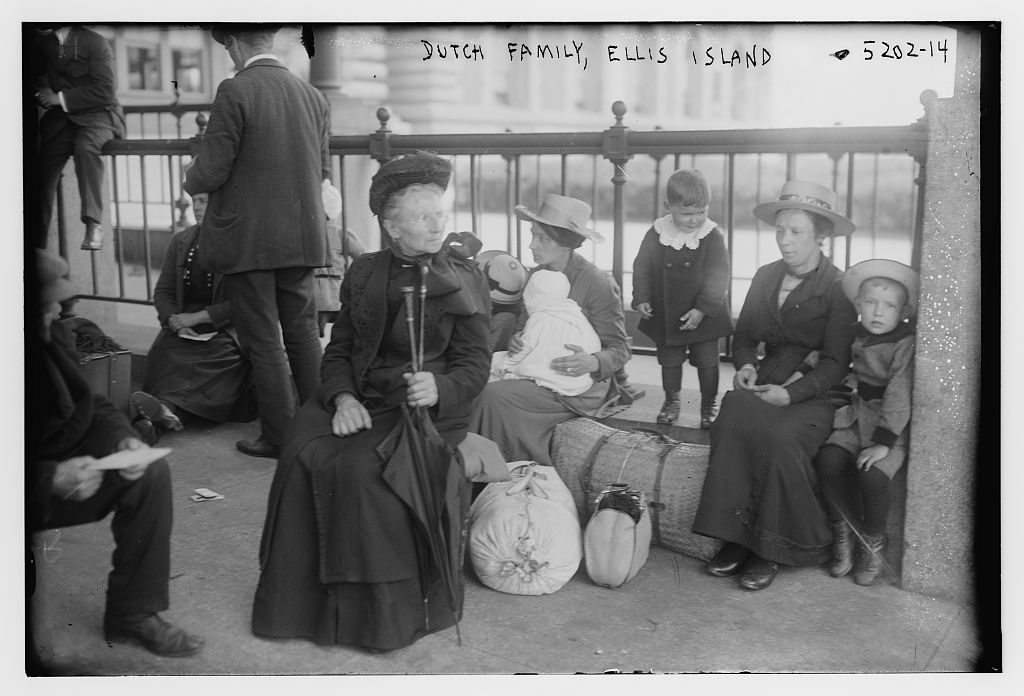 Dutch family at Ellis Island 1901 (Library of Congress)
Who is a true American?
A true American is different from citizenship. Legally, citizenship is a "right to have rights" in the United States and there are two primary ways this can be done – – through birthright or naturalization. I am referring to the genealogical background only.
Should the nationalities of our ancestry always be hyphenated, such as Irish-America, etc.? What if someone has many ethnic backgrounds? How should they be included?
This statement about citizenship from Wikipedia describes a kinship that develops over time. . .
"While citizenship has had variability considerably throughout history, there are some common elements of citizenship over time. Citizenship bonds extend beyond basic kinship ties to unite people of different genetic backgrounds, that is, citizenship is more than a clan or extended kinship network. It generally describes the relation between a person and an overall political entity such as a city-state or nation and signifies membership in that body."
Perhaps, there is a generation when we should drop the hyphens and simply be called an Americans. What generation is that?
Since our ancestors arrived at different times, even those who arrived before the Revolutionary War, at what generation does this "extended American kinship" network take place?
What are some of the personal characteristics that reveal the extended kinship has become American one? In other words, when do we become true Americans?
Share your opinions in the comments below.
Faith and Courage: 2nd edition -A Novel of Colonial America 

Inspired by real people and actual events, the family saga of colonial America continues with Ambrose Dixon's family and their life during

 Pre-Revolutionary War days of America, intertwined with a love story.