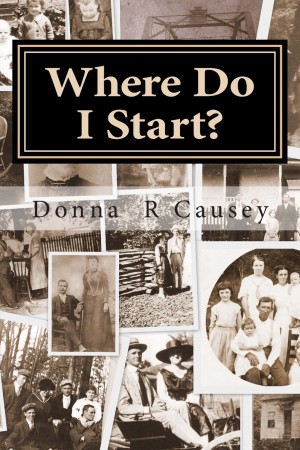 After I spent a number of years researching my family genealogy, many peoples asked me to help them start their own personal family research.
I wanted to help, but as anyone who has done family genealogy research knows it takes considerable time to answer a beginner's questions.
Genealogy is a fun hobby for everyone and I wanted them to experience the joy of tracking down long, lost relatives as I did.
WHERE TO FIND – on-line resources, experienced genealogists will not be aware of many of these.
COURT RESEARCH – how to do courthouse research, where to find birth, death, social security records free on-line.
EIGHTY – ONE QUESTIONS – you should ask your elderly loved ones before it's too late.
TIPS ON BREAKING DOWN THE WALL – Everyone faces some difficulties in research, often called a 'brick wall' but WHERE DO I START? provides suggestions for overcoming them.
Now when anyone ask me how to get started in genealogy. I simply give my book to them as a gift.
REVIEW:
The book was clear & concise, with excellent information for beginners. As an experienced genealogist, I enjoyed the chapter with lists of interview questions. I'd recommend this book to those who are just beginning to work on their genealogies. For more experienced genealogists, it provides a nice refresher. ByPatsym
Where Do I Start?: Hints and Tips for Beginning Genealogists with Online Resources