BAD MAN IS FATALLY SHOT
Sheriff Hill and Deputies Try to Arrest Much Wanted Man and Shoot Him
Sheriff O. B. Hill, accompanied by policeman Ed. Broadfoot went to State Line island Tuesday to arrest John B. Denton for violation of the State revenue law. Arriving at Waterloo, they were joined by Mr. Pope McCorkle. In attempting to make the arrest one of the officers shot Denton in the back with a charge of buckshot, inflicting what is believed to be a fatal wound.
Transcribed From the Florence Times October 6, 1905 – Lauderdale County, Alabama
WARNING: This news article from 1905 is a graphic account.
Left with three small children
Denton has been long regarded as a bad and desperate citizen. Years ago he was flagman on the Northern Alabama Railway, his wife died and left him with three small children, he in the course of time married again, while still in the employ of the railway, but after the great Sunday riot in Tuscumbia several years ago in which five (?) white men lost their lives in efforts to effect the arrest of a negro, in which affair he gained the credit of firing the fatal shot that ended the negro's bloody career, he soon lost his position on account of dissolute habits, and soon abandoned his wife and children, and located in Sheffield and was attached to the police force for some time, where he gained an unsavory reputation. He .. . with a woman, occupied rooms in the notorious, if not famous, Mobile Block, where, during the progress of a negro dance in one of the halls, he engaged in a desperate encounter with a negro, who he succeeded in killing after he had been horrible cut about the neck, face and head.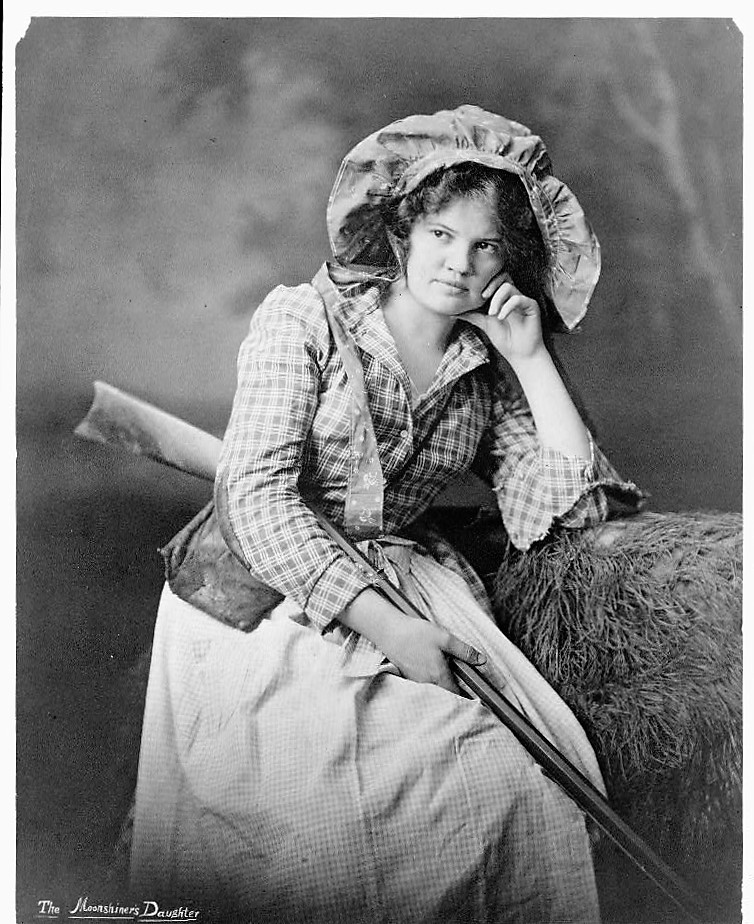 Moonshiner's daughter – portrait 1901 (Library of Congress)
Secured a shanty boat to sell whiskey
He came to Florence and remained but a short while, leaving here (?), he secured a shanty boat and engaged in the illegal whiskey traffic near the government work at Colbert Shoals, for which a half dozen or more indictments were returned against him in Colbert county, since then he located in this county where the last grand jury found fourteen bills of indictment against him for the illegal sale of whiskey and other violations. It was for these latter indictments Sheriff Hill, policeman Broadfoot, and Mr. McCorkle were attempting to arrest Denton when he was shot.
The officers left here Monday night to arrest Denton, and the Sheriff instructed his deputies to shoot if he showed fight, upon arriving near his shanty boat, the officers discovered Denton on the river bank and surrounded him, the Sheriff approached him from the front, and Broadfoot and McCorkle spread out from the rear. Approaching Denton the Sheriff commanded him to surrender when he drew his pistol, but before he could discharge it, deputy McCorkle fired a shot of buckshot into his body completely disabling him. The officers arrived here at an early hour Wednesday morning, leaving the scene at 5 o'clock Tuesday evening.
I'll sell whiskey as long as I live
A physician stating Denton was fatally wounded, he was left on his boat. The woman for whom he abandoned his family was also left in a critical condition from shock. The officers regret the shooting but found it absolutely necessary in the discharge of their duty.
After Denton was shot the officers placed him on his boat where he kept his stock of contraband liquors, and while the officers were still aboard the boat, several customers, ignorant of the fact that Denton had been shot boarded it for the purpose of buying whiskey, and the woman, prostrated by the occurrences, too ill to move, lay on the bed and told them where to get the whiskey, and continued to sell it in the presence of the officers as long as they remained, and said to them, "Yes, I've been selling whiskey, and expect to sell it as long as I live," showing she was as lawless as her paramour. The locality of the tragedy is a wild region and noted for the lawless deeds committed there.
Did you know you can read Ebooks on your computer? Click below to see how.