GLENNVILLE, ALABAMA
(Transcribed From Smartt, Eugenia Persons..History of Eufaula, Alabama. Birmingham, Ala.: Roberts & Son, printers, 1930, c1933. – Some of the homes mentioned may no longer be standing)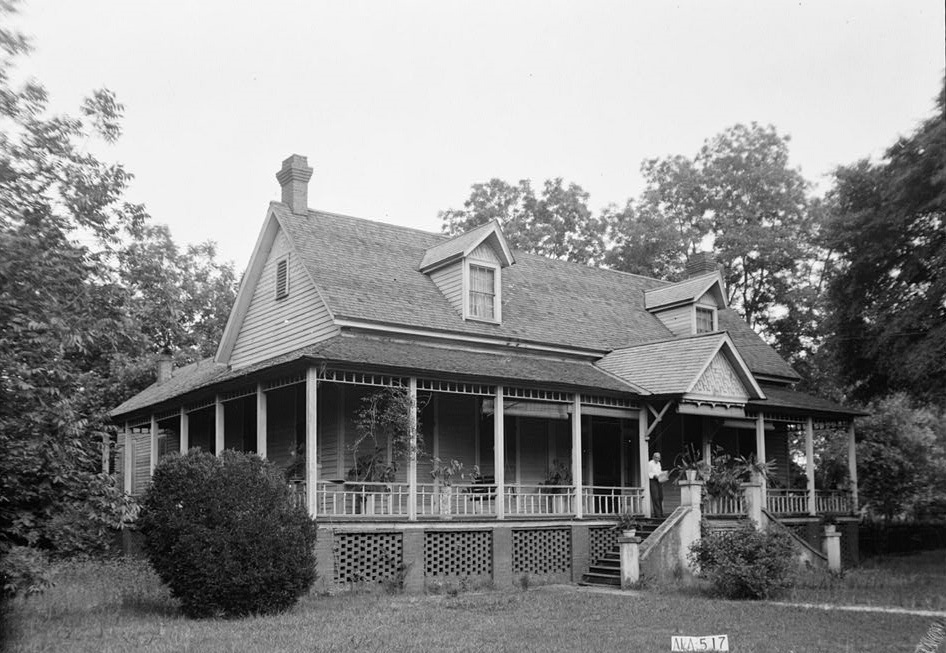 McDonald – Smartt House by W. N. Manning, Photographer, May 16, 1935. – 315 North Randolph Street, Eufaula, Barbour County, AL (Library of Congress)
In the name of this city is history of by-gone days, where wealth and beauty of southeast Alabama held sway. In speaking of its former greatness the familiar names of Dr. J. M. Raiford, A. C. Mitchell, Brown, George Thompson, T. H. B. Rivers, Graves, Dr. Evans, dentist; Sanford, Tyson, John Treutlen, Judge Cochran, Mac Glenn, Dosh Glenn, Colonel William Ivey, Malichi Ivey, Walker Richardson, Douglass, Howard, Foster, Captain Griffeth, Screws, E. C. Perry, Sam Eberhardt, Raiford Logan, John McGough, John Bass, Dr. Burke, Dr. W. A. Mitchell, Dr. J. B. Henry, Dr. A. W. Barnett, Dr. Joseph Jones, Dr. Dawson, Dr. Lomax, Dr. Dave Johnson and many others formed a part of the great commonwealth of Barbour County and were known far and wide in the South.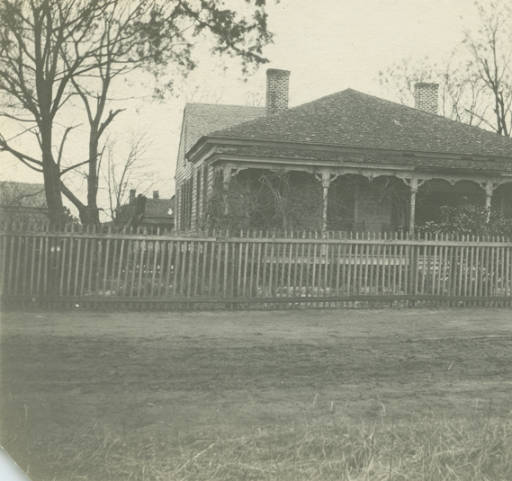 E. C. Perry's home (Alabama Department of Archives and History)
These men owned an cultivated the broad acres of the Cowikee and the Hatchachubbee, and were professional men, or mercantile business men whose wealth was used to beautify and elevate.
Two colleges once flourished there, the Glennville Female College and the Glennville Military College. These were two to the finest in the South.
The location of Glennville is lovely; situated on one of the highest points in southeast Alabama, and surrounded by rolling lands with high ridges on either side, it is quite picturesque. No wonder the children of those grand old residents ofter turn their thoughts to the lovely old place with beautiful memories.
Most of the fine residences, business and public houses have gone to decay or have been destroyed by fire, while some have been moved away, but their grandeur still lives in the memory of the children scattered far and near, many being residents of Eufaula today.
ALABAMA FOOTPRINTS Exploration: Lost & Forgotten Stories (Volume 1)
Judge Logan and Captain E. C. Perry lived longest in this spot so dear. A company of young men marched from the city with Captain Perry as their leader and did valiant service in the War Between the States.
J. H. Bass' beautiful home is still standing and on these grounds were probably the first paper shell pecans that were grown in Alabama.
F. H. Elmore has, within the past few years remodeled the home of Mr. Mac Mitchell, and it is today beautiful 'Elmoreland.' To Mr. And Mrs. Elmore are due credit for the St. Stephens Mission which was built largely through their efforts.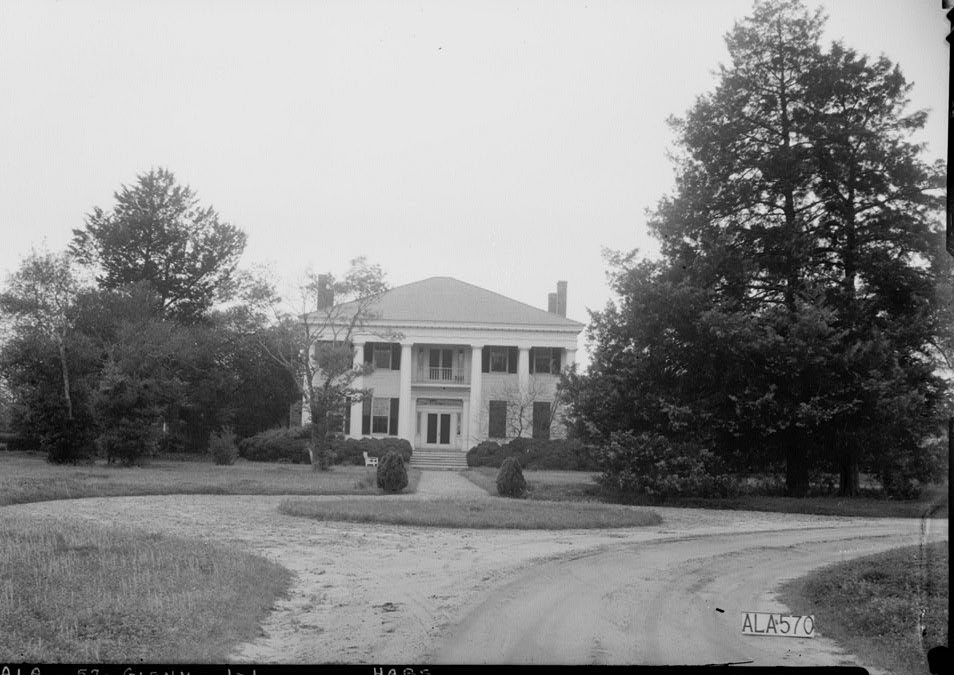 Elmoreland 1935 Glenville, Russell County, AL
Dr. John B. Henry's home was moved to Pittsview and is today the some of Mr. Sam Pitts.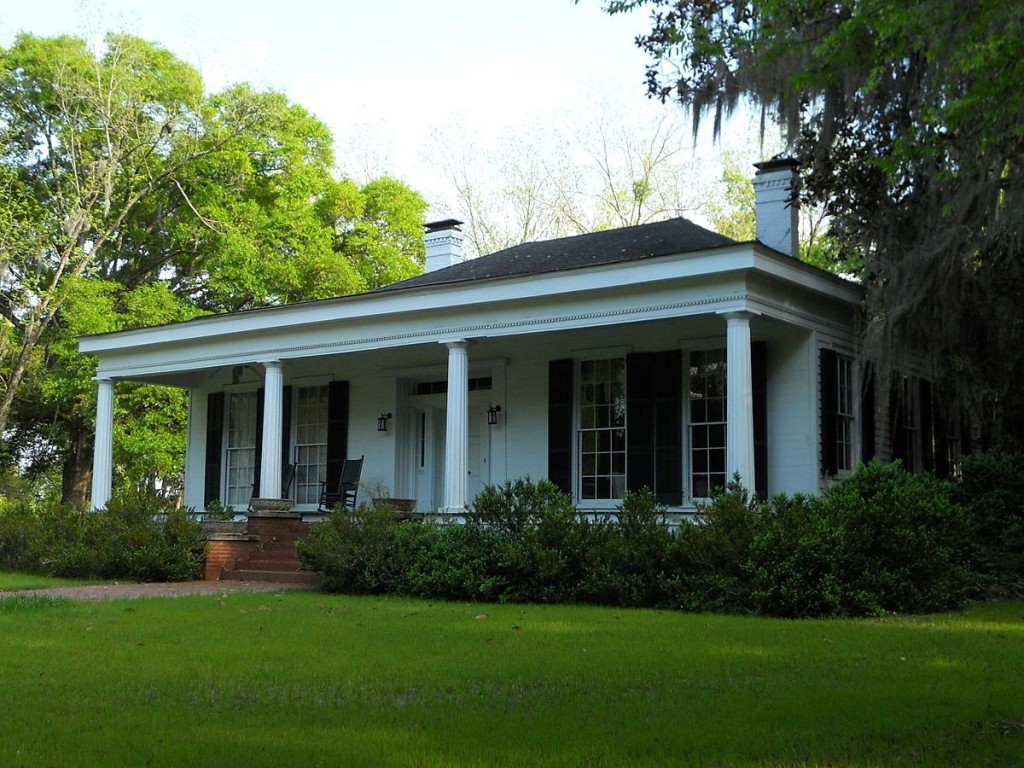 Samuel R. Pitts, Pittsview Plantation home (Wikipedia uploaded by SaveRivers)
Mr. Douglass was president of the Glennville Female College, which was on of the South's leading colleges. Mrs. Douglass taught in the musical department. (Mr. And Mrs. Douglass were grandparents of Mrs. E. C. Motley (Nellie Ballowe) and Mrs. John A. Des Portes (Katie Ballowe).
Discover more lost and forgotten stories about Alabama in:
The first four Alabama Footprints books – Volumes 1-IV have been combined into one book