This biography is included in the book Biographies of Notable and Not-so-Notable  Alabama Pioneers Volume I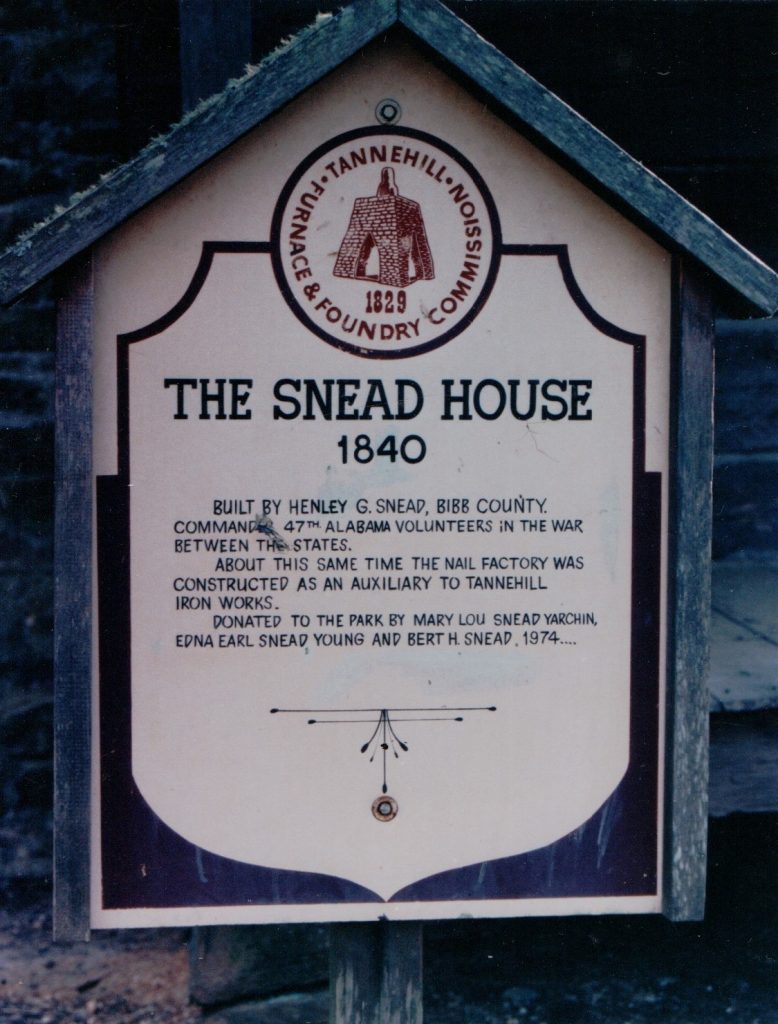 HENLEY GRAHAM SNEAD
BIOGRAPHY and GENEALOGY
(1814-1906)
BIBB COUNTY, ALABAMA
Captain Henley Graham Snead was born October 27, 1814, Richmond County, North Carolina. He traveled to Bibb County, Alabama, with his parents Daniel & Margaret (Graham) Snead while still young. He was very proud of his roots and asked that his tombstone record that he was born in Richmond County, North Carolina.
Henley joined the militia at a very young age because he was made a Captain when he was 23 years old in 1837 and was elected Colonel of the Alabama State Milita Beat #3 , 1st Batl. 53.Regt. 20th Brig., 2nd Div. Dec. 18, 1852. On May 6, 1861, he was elected Colonel 53rd Regt., Bibb C., Alabama State Militia. Com. May 29, 1861. March 25, 1862, be became Colonel Commandant or 53rd Regt. Henley married Sarah Griffin on March 26, 1840, in Bibb County, Alabama. Sarah was the daughter of Benjamin and Martha "Polly" Griffin. She was born Jan 27, 1820 and died October 5, 1888. He built a log house near his father for his wife, Sarah and their ten children. All of his children and many of his grandchildren were born in this log cabin. The cabin was built next to a cold spring coming out of the hillside in Bibb County, Alabama and was moved to Tannehill State Park, a gift from Henley G. Snead's great grandchildren in 1974. Tannehill State Park was the site of one of the iron furnaces destroyed in 1865 by Wilson's Raiders.
As a member of a pioneer farming family, hardship was a way of life for him. Henley prospered as a cotton farmer before 1860 but was not wealthy. Though there is a possibility he had slaves, no record has been found to show that he paid taxes on slaves.
When Henley G. Snead saw his first born son, David V. (1842-1861) off to war in early 1861, it was not his first experience with the tragedy of war, for a younger brother, Daniel W. (1819-1842) died in the Mexican War. After word came later that his son died from measles in Virginia, Henley decided to go to war himself. He heard early in 1862 that Col. J. B. Harrison was recruiting at Scottsville so Henley and some others, recruited a company at Centreville. This company, which became the 44th Company F, elected Henley as captain April 14, 1862. Despite his comparatively advanced age of 48, he led the company through Second Mananas, Sharpsburg,
Fredericksburg and the Suffolk campaign. Like his son David V, illness rather than war injuries caused him physical suffering during the war. Henley had a spell of jaundice in July 1862 and a kind family near Richmond, Virginia nursed him back to health. He received a 40 day furlough Dec 15, 1862. He returned to the war after his furlough and on March 28, 1863, he was elected Captain. His commission expired in June 1863. Worn and ill, he resigned on June 18, 1863, as the 44th was on the march to Gettysburg. That fall, he learned that a younger brother, William Jasper Snead (1830-1863) died at Chickamauga.
"Henley Graham believed in the cause for which he fought and sought to comfort his family by letters home." (Copies of these letters and additional information on the Sneads can be found in the "Snead Notebook", a genealogy book compiled by Elizabeth Cowan Snead Shue, printed in 1991 by Gateway Press.) After the war, Henley resumed his military work and became a colonel in the Alabama National Guard. He continued his farming and owned a steam powered sawmill. Henley lived to the age of 92 and enjoyed telling others of his many experiences during the war. He died Dec. 18, 1906.
Henley and Sarah (Griffin) Snead had ten children.
Daniel V. Snead born June 19, 1847, died August 17, 1861, in the Civil war at Culpepper, Virginia of measles.
Martha E. Snead born June 13, 1844, died October 6, 1844.
Daniel Bernard Snead born October 12, 1845, died June 4, 1919, married Alethia Caroline Abercrombie and second Sally Parker
Mary Susan Snead born December 10, 1847, died August 23, 1905 married Andrew Jackson "Andy Kersh. They moved to Texas.
Jerome W. Snead born January 10, 1850, died October 12, 1850
Nancy Jane "Jennie" Snead born August 4, 1851, married David Joshua W Kersh and moved to Humble, Texas.
Margaret J. born July 11, 1854, died Sep 30, 1866.
Charles Earl Snead b. March 1, 1857, died April 11, 1944. He married February 12, 1885 Mary Elizabeth Abercrombie (1857-1940).
Ida G. Snead born August 10, 1860, died February 16, 1937, married John David Lightsey
Annar Eulalia Snead Born June 17, 1865, died June 6, 1930. She never married."
SOURCES
Dalwayne Caradine, Bibb County Heritage book Committee to The Heritage of Bibb County, AL vol IV:
Mary Lou Snead Yarchin Bibb County Heritage book Committee to The Heritage of Bibb County, AL vol IV:..
Snead Notebook,Compiled by Elizabeth Cowan Snead Shue, 1991, Gateway Press.
Devil's Den by Charles E. Boyd
Find A Grave.org memorials # 81214521 # 59492630 # 59492801 # 59492872 # 81209148 # 81209765
Biographies of Notable and Not-so-Notable Alabama Pioneers Volume I