PERSONAL REMINISCENCES OF COLONEL
ALBERT JAMES PICKETT
BY COL. MICHAEL LEONARD WOODS1
Montgomery (Alabama)
PART I
(Albert James Pickett has been given the title of the first historian in the State of Alabama. Col. Michael Leonard Woods was his son-in-law. The following is Part I of a transcribed speech given by Col. Woods about his father-in-law to the Alabama Historical Society prior to 1904 when it  was reprinted in book form by the Alabama Historical Society)
When the accomplished and indefatigable Secretary delivered to me a short time ago the invitation of the Society to deliver the annual address on this interesting occasion, he also informed me that it was desired that I should take for the subject of my address "Personal Reminiscences of Colonel Albert James Pickett."
My relation to Colonel Pickett is well known to most, if not all, of those present, and while I have often related to my friends m private incidents of which I had personal knowledge or reliable information, in the life of Colonel Pickett, I must confess that tonight, owing alone to that relationship, I feel some embarrassment in repeating some of them in this public manner. But I took the invitation to do what I am going to do, as in the nature of a command from the officers of the Society, and I now shift the responsibility 'from my shoulders to theirs.
Moved to Alabama in 1818
Colonel Pickett was born in Anson county, North Carolina, August 13, 1810, and was the son of Col. William Raiford Pickett and Frances Dickson, his wife. His father came to Alabama in 1816 but did not move his entire family to this State until 1818, when he located in Autauga county, then a part of Montgomery county.
Colonel William Raiford Pickett (Alabama Department of Archives and History)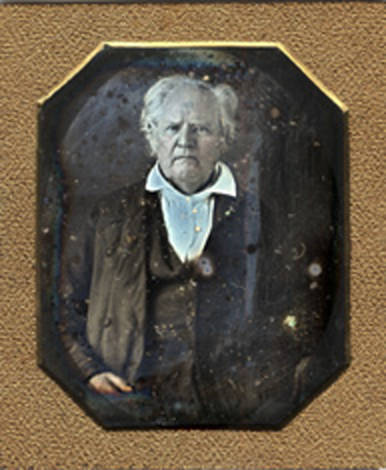 The facilities for the acquisition of a literary and scientific education were meagre then, and while the father devoted himself to merchandising, planting and somewhat to politics, the son was permitted in his intercourse with the hardy pioneers of the territory and the Indians to acquire such knowledge as was practicable from personal observation, and the recital of facts by others rather than information derived from books. He was particularly fortunate in this regard, his daily associations being with that class of settlers who made such an impress, at that early period, as to give strength and force of character to the county of Autauga, which has continued to distinguish it until the present.
Schools he attended
While deriving practical knowledge thus, he occasionally attended various old-field schools, as they were familiarly called, when such were in his vicinity. One of his first teachers was the late Neil Blue, so long honorably connected with the Montgomery post office, and always so highly esteemed by our citizens during a long and useful life spent among them. Another of his teachers who was celebrated was Joseph Hall, whose school was located at Rocky Mount.
In the spring of 1828, he conceived the idea of joining a military school, under the charge of Captain Partridge, at Middletown, Conn. Public conveyances being at that time almost unknown in this section of the country, he left his father's residence, then in the neighborhood of Vernon, Autauga county, on horseback, with a pair of saddle-bags, which contained something to eat as well as something to wear, and traveled to Wadesboro, N. C., through the territory inhabited by various tribes of Indians, who were in a state of almost open hostility because of the efforts of the Federal Government to obtain their lands and other grievances of which they complained.
Upon his arrival at Wadesboro, where he had relatives, he first met Edmund S. Dargan, who subsequently became a distinguished citizen of Alabama. He there exchanged with Mr. Dargan, who was a young lawyer, his saddlebags for a small trunk, and, having disposed of his horse, put his clothing in the trunk and resumed his journey in a public conveyance to New York, where he tarried for a few days in order to purchase an outfit of clothing and other things more suitable to be worn and used at the school which he expected to attend.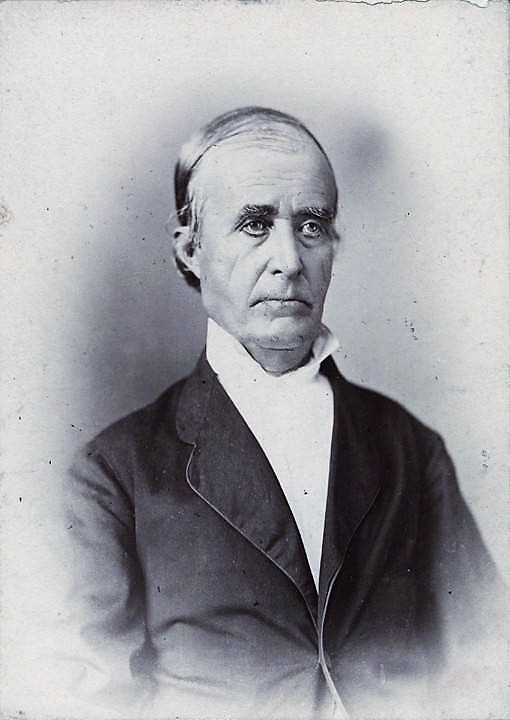 Hon. Edmund Spann Dargan, Senator and Representative, and Justice of Chief Justice Supreme Court of Alabama (Alabama Department of Archives and History)
Incidents of the trip
I have listened with others to Colonel Pickett recite the incidents and adventures of this trip, which he did with such display of wit and humor and keen appreciation of the ludicrousness of many of its incidents and adventures, that every listener was convulsed with laughter from the beginning to the end of the story. He told of the tender care and solicitude with which his mother prepared his outfit, the particular garment which received the most attention in its making being an outer garment made in the style of a man's hunting shirt, such as were worn in those days. He described in striking terms and with infinite zest his appearance when finally he was mounted upon his horse for his departure, with this garment made of material of varied and brilliant colors, closely belted to his body in such a manner that it was with difficulty he could set his fiery steed.
Much attention had been given by his loving mother to supplying him with an abundance to eat during his long journey through the unsettled country, besides extra clothing, all of which had to be packed in his pair of saddlebags, something difficult to accomplish. But his troubles with his saddle-bags during the trip from his home near Vernon to Wadesboro, N. C., were nothing compared to those he encountered after he became the owner and possessor of Mr. Dargan's small hair trunk.
He was lighthearted, rollicking individual
Only those present who have lived in the days of the stage coach driver or the stage driver, as he was generally called, can fully appreciate that interesting and, it may be said, heroic character, for he was a hero and an oracle to all the girls and boys living along his route. He was known to everybody, old and young. He was the telegraph and long—distance telephone of his period. He dispensed all the neighborhood news and gossip upon each trip from one end to the other of his drive. He was generally a lighthearted, rollicking individual and, while in most instances, he was obliging and accommodating, he was naturally given to his quips and jokes when a fit subject was a passenger upon his coach. One such was found in young Pickett with his small trunk, in which its owner manifested such a lively interest. It was a small trunk, one of which nearly every family in those days possessed. It was covered with dressed calfskin generally, with a circular or round hinged cover or upper part, and was known in the family as "the small hair trunk," now a thing of the past, having been supplanted by the fashionable "dressing case."
The hair trunk attracted notice
The female relatives at Wadesboro had replenished his supply of eatables, all of which, together with his clothing, were packed in the trunk. From the start, at Wadesboro, that trunk attracted the notice of the stage driver, who began at once to practice jokes upon its youthful owner. It was the last article to be put in the boot and the last to be taken therefrom to be transferred to the next coach. A wink from one driver to the other at each relay was quite sufficient to cause a repetition of the pranks.
When a driver pointed to the small trunk at one relay and inquired with apparent disdain for the owner of that trunk, it was with some shamefacedness that the youth acknowledged ownership. Some of the drivers carried the joke to the extent of actually requiring the owner to put the trunk in the boot, threatening that, unless he did so, it would be left.
But the enterprising youth finally reached New York city with his trunk and made his way to the hotel which had been designated by his father as his stopping place. Here his misfortunes grew apace.
Difficulties continued
In this instance, they arose solely out of his own inexperience. He encountered some difficulty in securing a room, not having made himself known to the proprietor. When he finally succeeded in doing so he was assigned to a room on the top floor. He had trouble in getting a porter to carry his trunk to that room.
When this was accomplished and he had time to take into consideration his surroundings, he was overcome by a feeling of desolation. He opened his trunk and in an effort to drive away homesickness began to sort such things as he had in it. A good portion of the things to eat which had been stored in it by his Wadesboro relatives remained, and without realizing what might result from doing so he began throwing them out of the window, and as the building faced a street the hardened biscuits and other edibles, including the remnant of a small boiled ham, fell to the street below, and in the fall happened to strike or in some way interfere with some of the people passing, and the result was that very soon there was loud knocking at his room door, and a call to know what he was doing and why he was trying to murder the people passing on the street below his window. Explanations followed and a night somewhat of loneliness was passed.
Head of the firm appeared at the hotel
The next morning he appeared at the hotel office and inquired of the person in charge if he knew a certain mercantile house in the city, and as it was a leading one he received an affirmative reply. Thereupon he produced a letter of introduction addressed to this house by his father, who was then a large and trusted customer of the house and found little trouble in inducing the clerk to send a guide with him to the house.
Soon the head of the firm, who had been told the facts of the situation, appeared at the hotel with the youth. The proprietor was told that his young friend must have the best accommodations in the hotel. The father had advised the firm that the son would require an outfit from head to foot. Soon he was in the best room in the hotel, a sole leather trunk was substituted for the small hair trunk, a new suit of the best clothes instead of the bright-hued, but comfortable, hunting shirt, was covering the youth.
Incidents influenced his life
I have dwelt at some length upon this incident in the boyhood of Colonel Pickett because I believe it exercised a large influence upon his after life. When in his mature years he looked back upon these scenes of his own discomfiture, with a ripened judgment, he understood that the pranks were merely the sudden inventions of the frolicsome stage driver for temporary amusement without the least malice toward anyone. It taught him to appreciate a joke, even when practiced at his expense, and I am sure he fully recouped himself out of his friends in after life.
(CONTINUED IN PART II)
1'For a sketch of Col. Woods see the Alabama Official and Statistical Register, 1903, pp. 18-19.—Em'rox.
ALABAMA FOOTPRINTS Pioneers: A Collection of Lost & Forgotten Stories  They felt the lure of the frontier and struck out for unknown territory that would become Alabama, bringing with them only very few implements to survive. From Tennessee, North Carolina, South Carolina, Georgia and many other states they came to settle in the newly opened Mississippi Territory. Alabama Footprints Pioneers continues the series with lost and forgotten stories of the earliest Alabama pioneers.
ALABAMA FOOTPRINTS Pioneers includes the following stories  
The Yazoo land fraud

 

Daily life as an Alabama pioneer
The capture and arrest of Vice-president Aaron Burr
The early life of William Barrett Travis, hero of the Alamo
Description of Native Americans of early Alabama including the visit by Tecumseh
Treaties and building the first roads in Alabama.