Click to see how to Become a Patron of Alabama Pioneers and read thousands of lost and forgotten stories, free books and other added benefits for only $2 a month. Cancel anytime.
Activities of local people in Columbiana, Nov. 22, 1883
(Excerpt from The Shelby Chronicle, Columbiana, Alabama, Nov. 22, 1883)
LOST
Between Columbiana and Calera on the 14th inst. one memorandum book, accounts of various men for blacksmithing. The finder will be suitably rewarded by leaving same at this office.
JOHN BLACK
Calera, Ala.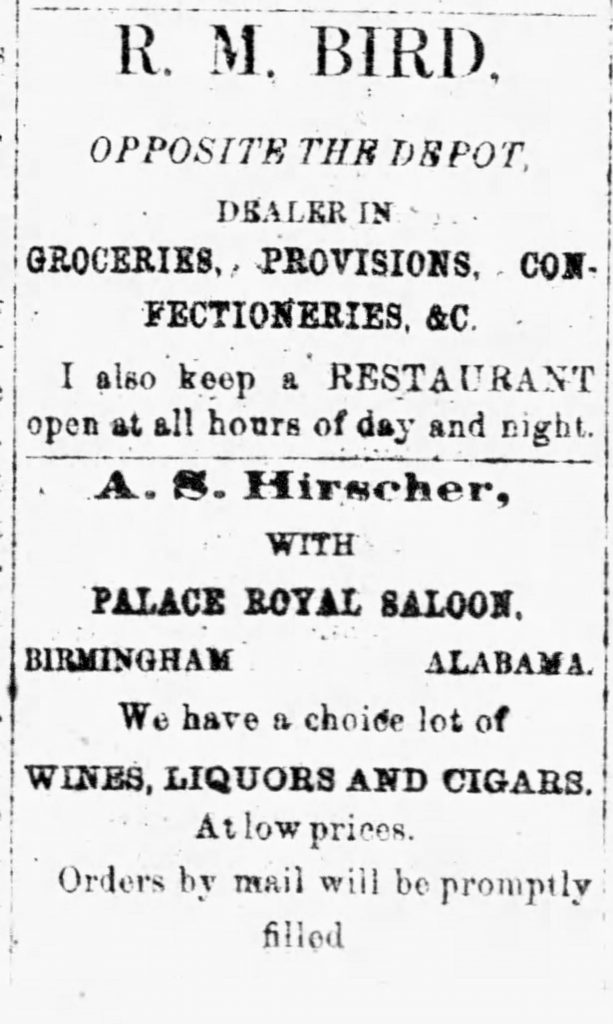 REMOVAL
SHERIFF F. A. Nelson has purchased the McClanahan place, on the outskirts of town, to which he has moved his family and is making considerable improvements.
MARRIED
At the residence of William Roper in this county, Nov. 15th James M. Vick and Sara J. M. Johnson. The ceremony was performed by Squire N. C. Milan.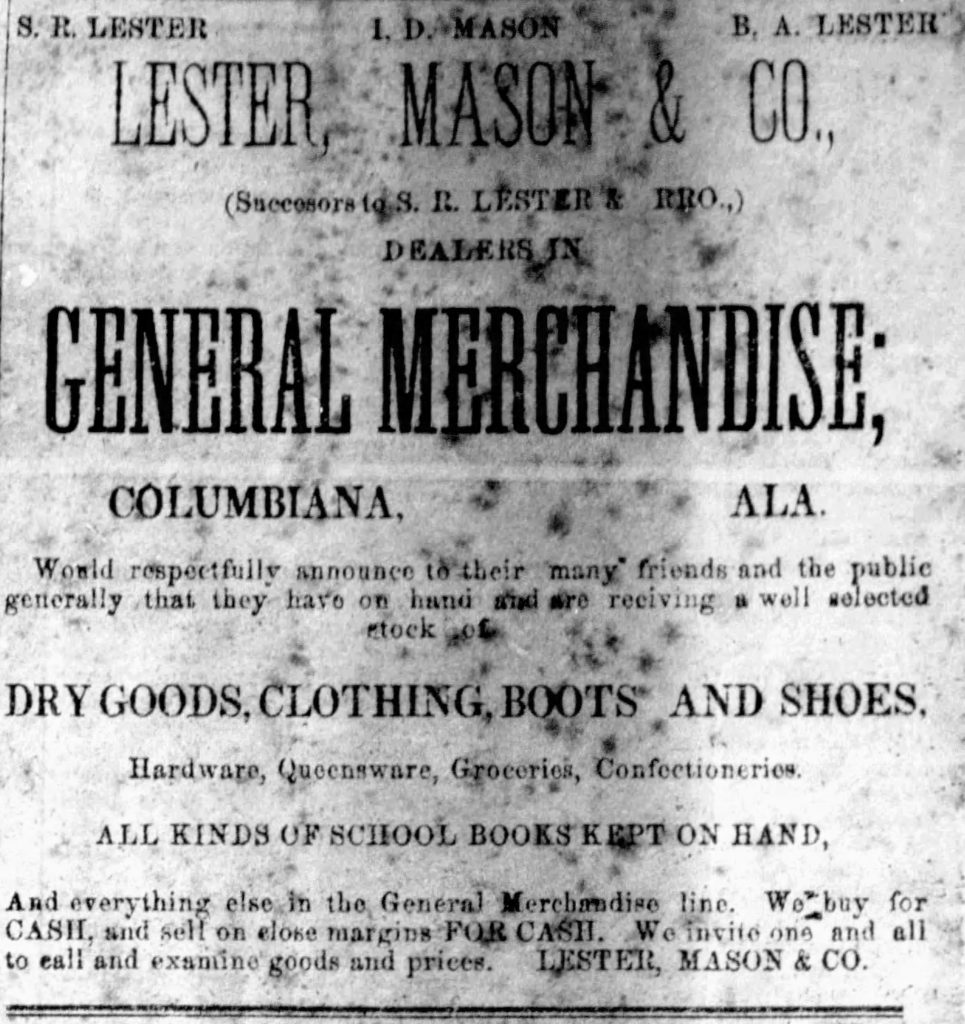 THE PARTIES
The young folks are indebted to Messrs. John W. Johnston and E. B. Nelson for two very pleasant evenings last week. Both parties were well attended and greatly enjoyed. These gentlemen and their charming ladies know how to make the young folks enjoy themselves. Many thanks to the hospitable gentlemen.
DEATHS
The Christian world mourns the death of two distinguished divines, who died in the last few days, REv. Dr. J. B. McFerrin, Nashville, Tenn. of the Methodist church and the Rev. Dr. Winkler, Marion, Ala. of the Baptist church, able, useful men, who will be greatly missed by the church and the world.
MARRIED
On Sunday morning 9 ½ o'clock at the residence of the bride;s mother, Mrs. Mary Wooley, near Montevallo, by Rev. J. S. DeLache, Mr. J. N. Falkner to Miss Lanora Wooley.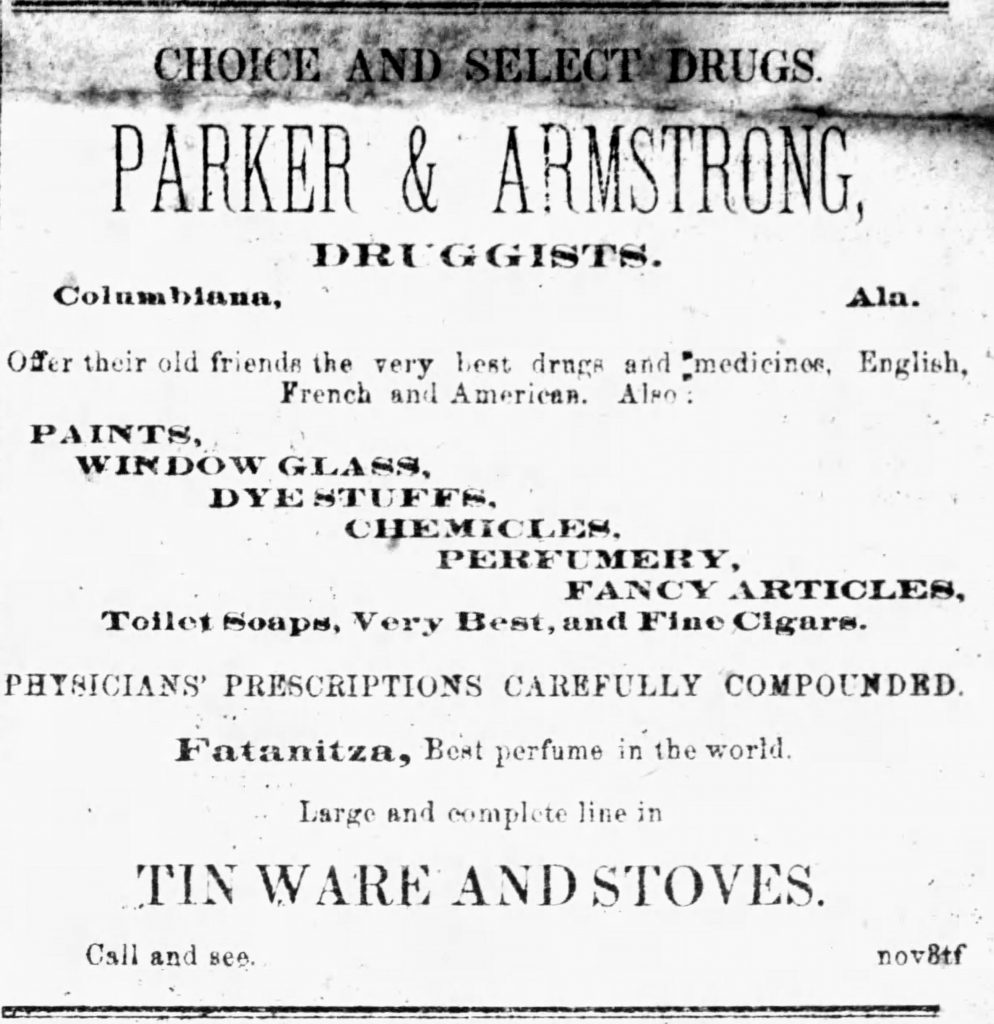 A Little Hero
On Friday last Mr. I. D. Mason's house took fire from sparks. When discovered the blaze was mounting up five or six feet high. When the alarm was given, little George, Mr. Mason's son, about eight years old who was sick in bed, jumped up, and was on the roof with a bucket of water before anyone knew that he was about. By his promptness and activity he staid the flames until help was obtained. Mr. M. was at Birmingham attending the Annual Conference of the Methodist church. Three cheers for little George! We will elect him chief of the fire department when we have one which will be in the near future.
A Big Hero
Last week the store house of Mr. Elias Cosper, at Cobb in this county, was burned with the entire stock of goods, besides a considerable amount of money in the cash drawer. When Mr. Cosper discovered the fire, the whole building was in flames. In the store were two kegs of powder, which, had they exploded, would have destroyed his residence nearby. Mr. Cosper rushed into the raging fire, secured both kegs and bore them out through flames that singed his clothes, hair and eyebrows. Mr. C. is certainly a soldier. He would do to charge a battery. We trust he was covered by insurance, but do not know.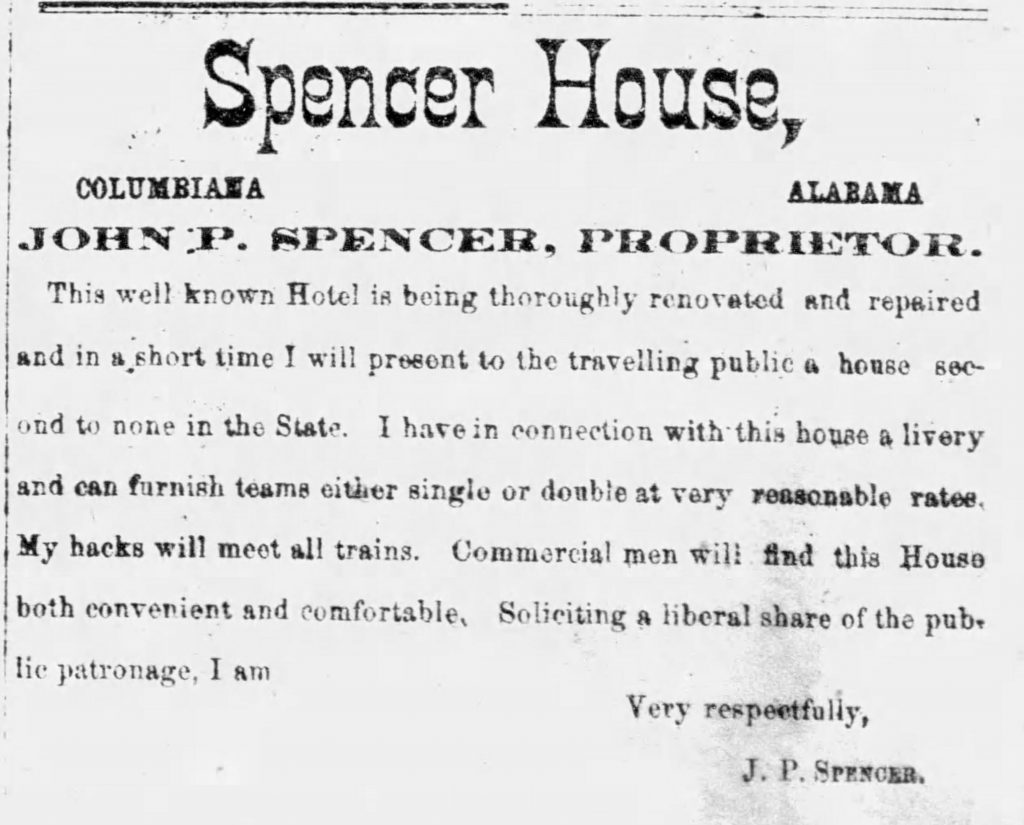 The Raging Element
The entire house at Alabama Furnace was burned, with the stock of goods last week, Loss, $25,000. Insured, we presume.
The bridge over Salt Creek on the E. T. V. & G. railroad, near Alabama Furnace, 110 feet long was burned last week, but was replaced in twenty-four hours and trains running through. Quick work.
Mr. F. A. Nelson came near losing his new barn and contents a few days since. A sedge field caught fire near by and with much difficulty the barn was saved.
Rev. J. G. Walker
This community of all denominations are truly glad that this most estimable gentleman has been returned to this work. Mr. Walker has been with us for two years and has won the hearts of all by his quiet, unostentatious deportment, and earnest zeal for the Master's cause. May his labor amongst us be blessed of Heaven, and he and his family richly rewarded with all that a beneficent Providence can bestow.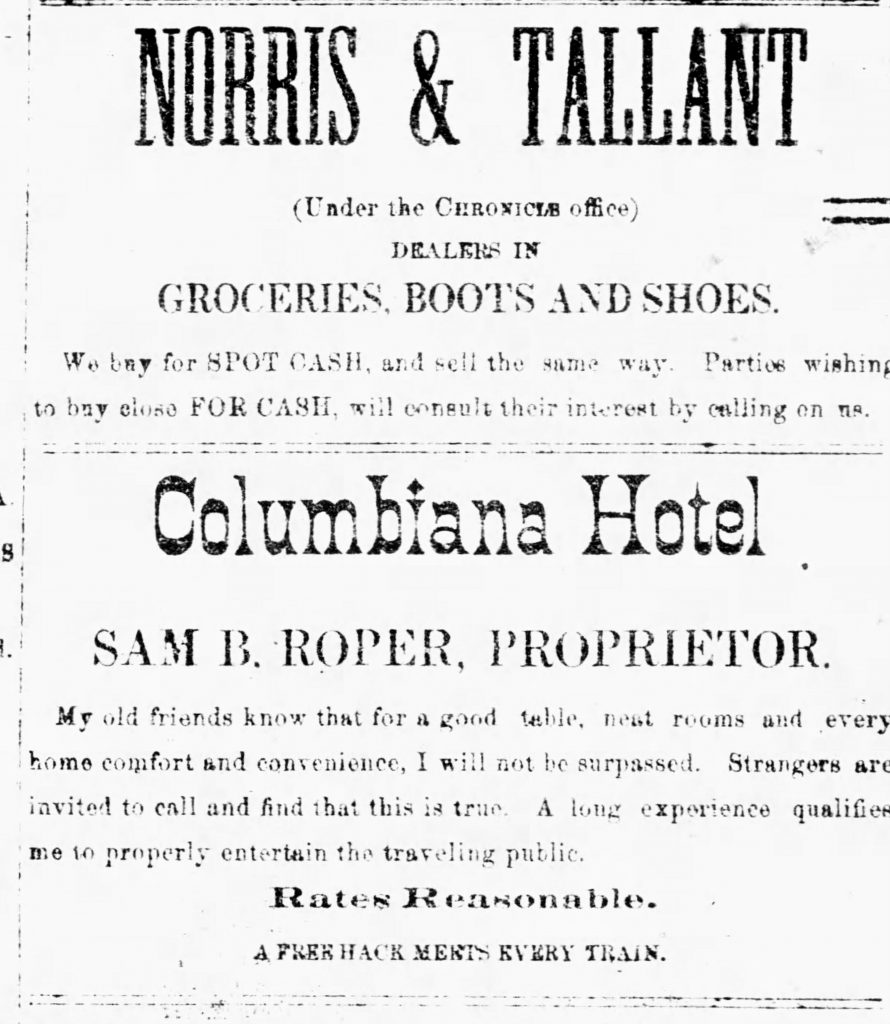 ACCIDENT
The Shelby Iron Works engine, guardee by that veteran engineer, Mr. John Sanders, ran off the track at the turn table the other night, but was soon righted without damage, other than slightly cutting the leg of a negro, who was assisting in putting the engine on track.
Valued Present
The whole-souled, genial Major of Abbottsville, Mr. Green Abbott, called on us the other day with a list of subscribers. During the visit, he spoke of raising some large pumpkins. We said we liked pumpkins. Next day here came a load, a present, and such pumpkins. The largest was one yard and 2 inches from stem to stem, weight 63 lbs. The rest were very large. If Green's soul ever expands, we will be sorry for him, it is now as large as his body.

PERSONALS
We are glad to see our old friend Mr. Ed Vasser, son of Mr. Geo. R. Vasser, of this place, back from Texas, where he has been for several years past. He is a young man of fine business habits and has been doing finely in the "Lone Star" State.
We learn that Mr. T. W. Kimball, of Dadeville, is expected today. He with his family are going to move to the Gardner place, about two miles from this town. Mr. Kimball is the son-in-law of Mr. H. F. Norris, merchant of our town.
Messrs. Browne, Nelson, McMillan and Milner left our city yesterday for Selma, to be present at the marriage ceremony of Major E. F. Wilson, which was to take place at the Baptist church at Selma last evening. We hope to state in our next that there "was no slip" twixt cup and lip. More anon.
We received a call from Major Wagner, of Siluria, a polished South Carolina gentleman of the old school, who are now, unfortunately, few, but for that reason, the more highly appreciated.
This Volume reveals the relationships between the ACTONS, BAILEYS, CLOWER, CROWSON, LEES, NABORS, NELSON, ROBERTSON, and WILSON families of early Shelby County, AL. Notes and sources are included. Genealogy reports with all supporting evidence, wills, and deeds when available are included.

This Volume reveals the relationships between the ACTONS, BAILEYS, CLOWER, CROWSON, LEES, NABORS, NELSON, ROBERTSON, and WILSON families of early Shelby County, AL. Notes and sources are included. Genealogy reports with all supporting evidence, wills, and deeds when available are included.
Surnames found in this book include; ACTON, ALEXANDER, ALLEN, ALLGOOD, ASHMORE, AVERY, AYETTOTT, AYLETT, BAILEY, BAINS, BAKER, BALCH, BANDY, BARHAM, BARNETT, BARRONS, BASS, BEALER, BEARDEN, BELL, BEMAN, BENGE, BENTON, BEVILL, BILLINGSLEA, BISHOP, BLANTON, BLEDSOE, BLEVINS, BLOUNT, BOOTHE, BOYD, BOYLE, BRAGG, BRASHER, BRIELAND, BRINKER, BRATTON, BRITTON, BROWN, BRYAN, BULLOCK, BURNETT, BURROW, BUTLER, BYARS, BYNUM, BYRUM, CAHILL, CALDWELL, CARPENTER, CARTER, CASEY, CLAYTON, CLEVELAND, CLIETT, CLOWAR, CLOWER, COHEN, CORLEY, CRAIG, CRAWFORD, CROCKETT, CROSS, CROWSON, DANIEL, DAVIS, DEAN, DESHAZO, DICKENSON, DILBANE, DOLLAR, DUKE, ELLIOTT, ELLIS, EDGE, ESSMAN, ESTILL, FANNIN, FARLEY, FARR, FAVRE, FERRELL, FINNEY, FLOURNOY, FOUST, FRASER, FREEZE, FROST, FULTON, GAILEY, GARRETT, GIBSON, GLIDEWELL, GODDEN, GODWIN, GOODGAME, GOODSON, GREEN, GRIFFIN, GRIFFITH, GRIGGS, GRIMMETT, GULLAHORE, GULLEHORN, HAFNER, HAGIN, HAIL, HALE, HAMILTON, HANNAH, HANEY, HANSARD, HARDIN, HARKINS, HARLESS, HARRIS, HARRISON, HAYES, HAZARD, HEARNE, HESTER, HICKS, HILL, HODGES, HOLBROOK, HOLLINGSWORTH, HORTON, HOWARD, HUDSON, HUTCHINSON, JOHNSON, JONES, KIDD, KIERDON, KNOWLES, LALADY, LANIER, LAVINSKY, LAWLER, LEATHERWOOD, LEE, LEEPER, LEONARD, LINDSAY, LINDSEY, LOFTIN,LOONEY, LOVELADY, MAHAN, MARDIS, MARLOW, MARONEY, MASKE, MASON, MATHEWS, MATTHEWS, MAXWELL, MCCAIN, MCCLINTON, MCCRAFT, MCGOWAN, MCLANAHAN, MCLEOD, MCLEROY, MCMAHON, MCNAIR, MCNEAR, MCNEELY, MCNEER, MCPHERSON, MEREDITH, MERONEY, MERRELL, MILES, MILLER, MILLS, MILSTEAD, MITCHELL, MOORE, MORGAN, MORRIS, MOSTELLER, MOWDEY, MUNDINE, MURPHY, MURRY, MUSE, MYRICK, NABORS, NAISH, NEAL, NELSON, NEWMAN, NIVENS, NORTH, NUNNALLY, OLDHAM, ORR, OZLEY, PARKER, PARKS, PATTON, PAYNE, PEARSON, PERRY, PERSON, PETERS, PITNER, POINTER, POWERS, PRENTICE, QUINN, RANDALL, RASBERRY, REED, REEVES, REID, ROBERTS, ROBERTSON, ROGERS, ROY, SAWYER, SHACKELFORD, SHANK, SHAW, SMITH, STERRETT, STORRS, STREET, STRIPLING, TEAGUE, THOMPSON, TRUELL, TURNER, WALDROP, WALLACE, WARD, WARE, WATKINS, WATROUS, WATSON, WEEKS, WEST, WHARTON, WHITE, WIGGINS, WILLINGHAM, WILLSON, WILSON, WOOLEY, WOOLLEY, WRIGHT
Don't waste time and money completing genealogy research others have done! Take advantage of what other genealogy researchers have discovered. E-books can be easily downloaded directly to your computer with FREE APPS."