Isaac Briggs risked his life to map a road for mail carriers to Alabama.
This is an excerpt from the book ALABAMA FOOTPRINTS – Settlement: Lost & Forgotten Stories (Volume 2)
continued below….
Once the United States acquired New Orleans and the Louisiana Territory through the Louisiana Purchase from France in 1803, President Jefferson and other leaders recognized the need for a survey of the Territory and better communication with the settled area along the Mississippi River. Jefferson's administration developed plans for roads to be cut throughout the Mississippi Territory and the Indian nations.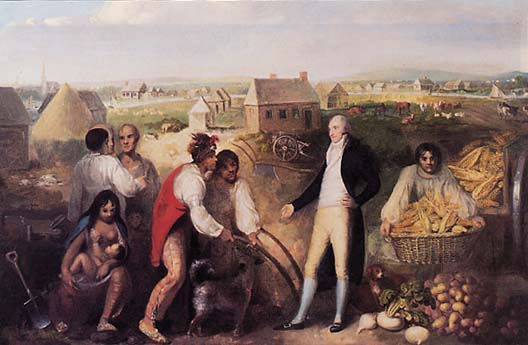 Painting of Benjamin Hawkins on his plantation
Benjamin Hawkins served in the Continental Army on George Washington's staff as his main interpreter of French. He was appointed General Superintendent for Indian Affairs by President George Washington in 1796.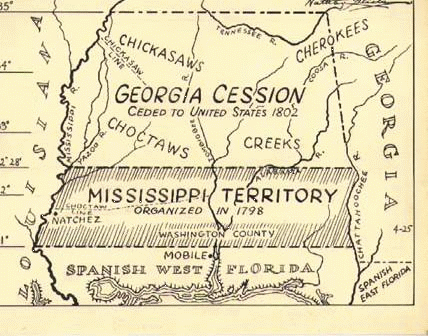 Mississippi Territory 1798
In 1804, at the request of United States Secretary of War Dearborn, Benjamin Hawkins was instructed to talk to the Creeks about establishing a road through the Creek Nation.
While the talks were proceeding, President Thomas Jefferson asked the Surveyor-General of the Mississippi Territory, Isaac Briggs, to travel from Washington, DC back to Natchez in the Mississippi Territory "via the Indian paths Hawkins had traveled a few years earlier." The purpose of this trip was to provide President Jefferson with a true length of a potential mail route based on scientific measurements.
Journey nearly killed him
Briggs's journey across the Creek Nation nearly killed him. He and "his assistant Thomas Robertson entered the Creek Nation from Georgia on October 6, 1804, without a guide and immediately became lost. They wandered many miles astray in the wilderness" until they came upon the store of a Native American trader. Then severe storms delayed them.
They failed to procure a guide to Hawkins post sixty miles away but decided to set out again. For a second time, they became lost. Briggs stated that they probably wandered at least 112 miles, "frequently climbing over precipices, wading through swamps, and crossing deep and difficult watercourses, many miles without a path, our horses greatly incommoded and fatigued by sensitive briers and other vines. Our provisions were soon wet and spoiled and we were in danger of starving, not having seen a human face except each other for more than four days. On the 15th we arrived at Colonel Hawkins's on Flint River."
Stayed with Benjamin Hawkins
They stayed with Hawkins five days to recover and Benjamin Hawkins restocked them with supplies and a guide for their continued trip to Point Comfort which was located south of Tuckaubatchee. Again a heavy rain caused the rivers and streams to be swollen and their horses had to swim the Chattahoochee River from shore to shore.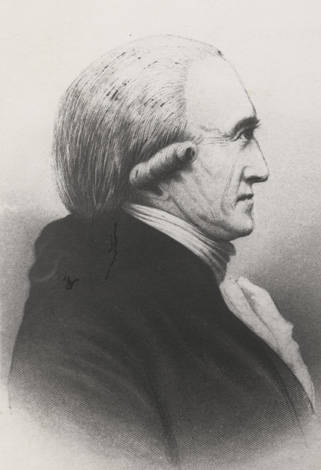 Benjamin Hawkins
They left Point Comfort and finally arrived at the "house of Nathaniel Christmas, on the west side of the Tombigbee River," in early November. Word of a yellow fever outbreak in New Orleans caused the pair to delay the last leg of their trip.
Briggs' difficulties and the calculations he and his partner Robertson made provided some value by mapping a mail route across the Creek Nation that would save about 500 miles compared to the previous Appalachian/Natchez Trace route.
See a list of all books by Donna R Causey at amazon.com/author/donnarcausey
This story and many more can be found in ALABAMA FOOTPRINTS – Settlement:: Lost & Forgotten Stories (Volume 2)

a collection of lost and forgotten stories of the first surveyors, traders, and early settlements of what would become the future state of Alabama.
Read about:
A Russian princess settling in early Alabama
How the early settlers traveled to Alabama and the risks they took
A ruse that saved immigrants lives while traveling through Native American Territory
Alliances formed with the Native Americans
How an independent republic, separate from the United States was almost formed in Alabama