A simple recipe for Old-fashioned applesauce
Pare and chop a dozen medium-sized apples, put them in a deep pudding-dish; sprinkle over them a heaping coffee-cupful of sugar and one of water.
Place them in the oven and bake slowly two hours or more, or until they are a deep red-brown; quite as nice as preserves.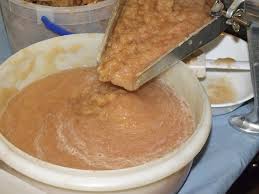 Here's an old recipe for Molasses Pudding
2 tablespoons of sugar 1 egg
1/2 cup of molasses 1 pinch salt
1 1/2 cups of flour 1 teaspoon baking soda dissolved
1/2 cup of boiling water in hot water
2 tablespoons of melted butter
Beat the egg and sugar, add the butter, water, soda, and molasses and then beat in the flour and salt. Put in a double boiler and steam for one hour. Serve with your favorite fruit sauce.
As a family historian, do you have friends and family ask you how to get started in family research? This is a hard question to answer in a few minutes. Refer them to the book below to help them get started in this fun hobby. Purchase several – Books make great gifts!