Happy Birthday!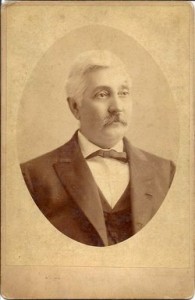 ISAAC NEWTON BRAZEALE
BIOGRAPHY and GENEALOGY
(1831-1913)
Dallas, Jefferson, Shelby, Etowah County, Alabama
Isaac Newton Brazeale was a well and favorably known character over the State of Alabama, He for for nearly thirty years, was the proprietor of hotels at several different points. In 1904, he was living a retired life, having disposed of the Vanderbilt House at Calera in October, 1903, after a continued proprietorship of twenty-two years.
Prior to this he had been in the hotel business at Birmingham, Gadsden and in Florida. He was born April 4, 1831, in Dallas county, Alabama, the son of John Blocker Brazeale and Susan M. (McMillan) Brazeale. His father was a native of Cambridge, S. C, and came to Dallas county soon after his marriage. His maternal grandparents were Abner McMillan and Susan McMillan, both natives of South Carolina.
Mr. Brazeale was the tenth of a family of twelve, of whom two sons and one daughter survived. Abner McMillan was a farmer, a blacksmith, and a Whig. As a mere boy he took a spirited part in the Revolutionary war, having been an accredited scout attached to General Greene's army. He died in 1836 at a ripe age, his wife dying three years later.
Prior to the war of 1861-65 Mr. Brazeale was engaged in the mercantile business. When the struggle came on he at once enlisted, becoming a private in a company of the Louisiana volunteer infantry. In this capacity he served for two years, and was then made quartermaster sergeant. He was present at the surrender of General Lee. While in the military service he received an injury which has followed him through life, and incapacitated him for hard labor. Mr. Brazeale was a stanch Cleveland Democrat. He and his wife were members of the Baptist church. To the marriage, consummated in 1868, in Dallas county, were born four children, as follows:
Jessie E. Brazeale, (1869-1907) wife of Prof. H. E. Graham of Pensacola, Florida
Marion V. Brazeale
Mrs. H. F. Acker, Jr., of Calera,
William E. Brazeale of Cuba, Alabama (1874-1957)
Isaac Newton Brazeale (1880-1940)of Gulf Port, Mississippi
Mr. Brazeale was a respected resident of Calera, where he and his family were held in the highest esteem. He passed away Oct 23, 1913 in Calera, Alabama and is buried at Salem Cemetery, Calera, Shelby County, Alabama. His wife, Emma M. (Weisinger) Brazeale was born in 1841 in Dallas County and died Oct. 4, 1937 in Jacksonville, Duval County, Florida. She is buried at Evergreen Cemetery, in Jacksonville, Florida
SOURCES
Notable Men of Alabama: Personal and Genealogical, Volume 1 edited by Joel Campbell DuBose
Find A Grave.com Memorial # 48706347 & 42897415 # 48708170 # 48708354 # 51585998 # 48707990 # 51585994 # 67563204
Start researching your family genealogy research in minutes! This Ebook has simple instructions on where to start. Download WHERE DO I START? Hints and Tips for Beginning Genealogists with On-line resources to your computer immediately with the FREE APP below and begin your research today!