(Transcribed and unedited story from a WPA (Works Projects Administration) writer, William P. Burke Note: First county court was held in Sauta Cave
JACKSON COUNTY, ALABAMA
written by
William P. Burke
ca. 1938
Andrew Jackson belongs almost as much to Alabama as to Tennessee. Not to have had a county bearing his name would have been comparable to playing "Hamlet" without Hamlet in historical nomenclature. As it happened, Old Hickory was on hand in person when the naming occurred. He was visiting in Huntsville on Dec. 13, 1819, when the first state legislature created a county out of Alabama's northeastern corner and gave it his name.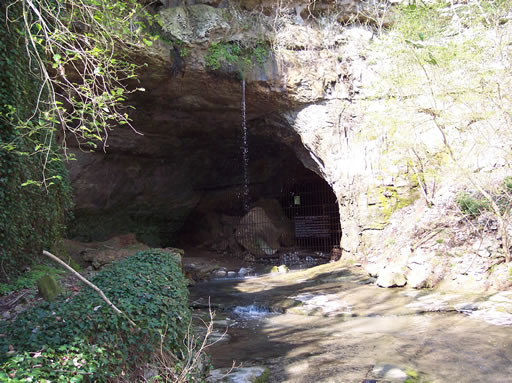 Sauta Cave Entrance (Sauta Cave National Wildlife Refuge, Alabama, United States)
Land fought over by many people
The general could never have complained of the county with which Alabama remembered him. With Georgia and Tennessee for its eastern and northern bounds, with the mighty Tennessee River coursing its heart, with spurs of the Cumberland Mountains and the broad plateau of Sand Mountain making bravely timbered pulpits for the richly fertile valleys of Sequahatchie, Jackson County spreads in productive and scenic splendor today over some 1,136 square miles. For love of this land the Cherokees and Chickasaws fought the Shawnees nearly "five hundred moons" until the latter were driven to exile beyond the Ohio in about 1721.
Besides Sauta Creek in this land, Sequoia, the Cherokee scholar, exhibited and explained the alphabet which he had contrived for the language of his tribe and which was responsible for the comparatively advance civilization achieved by that tribe.
There are elevations in Jackson County which measure more than 1,600 feet above sea level. Below the cliffs, crags, and long escarpments, the lowlands of the many tributaried (sic) Tennessee glitter like a land of dreams.
The Sequahatchie Valley rolls three to five miles wide across the county from northeast to southwest, with picturesque ridges for relieving variety. The broad plateaus of Sand Mountain ridge, 1300 up to 1600 feet high, yield half their height as they reach down to face the Tennessee River Valley in Bold escarpment. Over about half the total acreage extend the agricultural processes which make the county's economic life and its social way of life —- cotton, corn, hay, soy beans, livestock and poultry, with an ever growing emphasis upon dairying.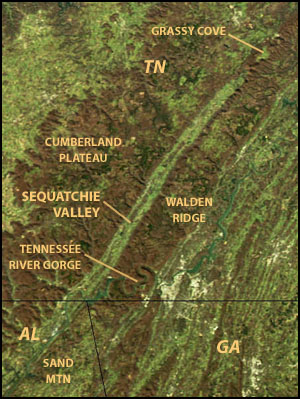 In the west, near Limrock in the plateau coal field, limited mining operations produce a famous coal. Scattered throughout the county, on sites which some instances were villages for Chickasaws, Cherokees and Shawnees, are modern towns all on the Southern Railway with as much of history before them as behind —– Scottsboro, the county seat, with a hosiery mill, box factory, rug factory, underwear mill, bottling plant, bedding factory, and ice plants; Stevenson, with a spinning mill, hosiery factory, and cedar plant; Bridgeport and Paint Rock, with hosiery mills; Hollywood; Fackler; Woodville Limrock; Larkinville; Dutton; Pisgah; and Rosalsi.
In a portion of what is not Jackson was the "lost county" of Decatur.  In 1821 the western half of Jackson was made into a separate county by the legislature and called Decatur. Woodville was designated as the county seat. The new county was abolished in 1824, however, and divided between Jackson and Madison Counties.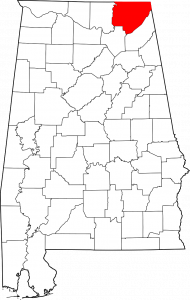 Map of Jackson County, Alabama
Sauta Cane, first county seat
The first county seat of Jackson was at a place called Sauta Cave, established as such two years after the county was created. (Court was held in the Cave)
Subsequently old Bellefonte (Note: now a ghost town) became the seat, and in 1859, Scottsboro was chosen. The world which has come to know Scottsboro as the scene of an internationally debated trial of seven negroes accused of criminal assault upon two white girls in 1931 does not know that the town is in an area where negro population is almost as scarce in proportion to white population as it is in Northern and Western states. About 93 per cent (ca. 1938) of Jackson's County's population is white. It is one of ten counties in Alabama which has a negro population of less than 12 ½ per cent of the total population.
Governors of Tennessee and Alabama
Jackson County has the distinction of having produced both a Tennessee and Alabama governor. Samuel B. Moore, of this county, was governor of Alabama for seven months in 1831; and Henry Horton, a native of this county, is today (1933) serving his fifth consecutive term as governor of Tennessee. Other distinguished men of Jackson County include Justice Virgil Bouldin, of the Alabama Supreme Court; W. R. W. Cobb, who served 12 years in Congress from Alabama and Thomas W. Martin, president of the vast Alabama Power Company.
"High Jackson," they call Alabama's northeasternmost county. "High" for the Appalachian glories it commands, for the lifting splendors of its mountains, for the stance of its long plateaus, from the heights from which it looks down upon a majestic sector of a mighty stream. But it is high to in the name it bears, in the history it is writing, in the economic story it is developing, and in the hearts it enfolds.
Once Alabama was admitted as a state of the United States of America on December 4, 1819, a great wave of immigrants from other states and countries came by flat-boats, pack-horses, covered wagons and ships to become the first citizens of the state. ALABAMA FOOTPRINTS Statehood presents the times and conditions Alabama first citizens faced in lost & forgotten stories which include:
Who Controlled And Organized The New State of Alabama?
Tuscaloosa Had Three Other Names
Chandelier Falls & Capitol Burns
Alabama Throws Parties For General LaFayette
Francis Scott Key Was Sent to Alabama To Solve Problems
General Jackson's Visit to Huntsville For A Horse Race Created Discord At Constitutional Convention
READ EBOOKS FOR FREE ON YOUR COMPUTER!