EXCERPT FROM JOURNAL OF MRS. GOVERNOR JOHN GAYLE 1
(Mrs. Gayle, wife of John Gayle, Alabama's seventh Governor, left a journal which her descendants preserved for more than a century before publishing it. Governor and Mrs. Gayle were the parents of Mrs. Amelia Gayle Gorgas, who was for many years librarian of the University of Alabama and for whom the new University library is named. They were also the grandparents of William Crawford Gorgas, the world's greatest sanitarian, a native Alabamian, who was decorated by King George, while lying on his deathbed in London. )
"It would not answer to whisper to the more refined of this day what composed my pleasures; but to you, dears, it would be amusing to know what made your mother's spring-time happy, while so many aids are called to make your so.
Amelia Gayle Gorgas, librarian of the University of Alabama (Alabama Department of Archives and History)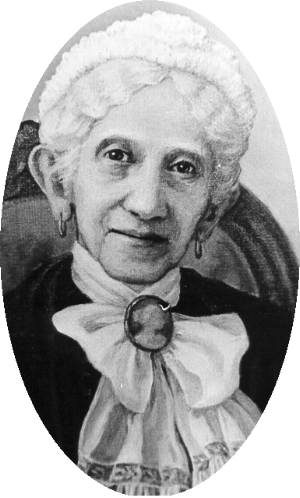 (Here follows extracts from a letter written by Mrs. Elizabeth Miller, and containing some personal recollections of her grandparents who were married in 1774 and included in Mrs. Gayle's Journal.)
"My grandfather was named Henry Haynesworth. My grandmother Sarah Furman. They met for the first time at the Hills Church, as it was called, where her brother came up from Charleston to preach the Gospel. She asked a young lady who sat by her, before service, who the handsome gentleman was who had just arrived and she replied it was her brother. They became acquainted; were married. Her brother Richard Furman was truly eloquent; we have seen it somewhere printed that Cornwallis had said that he did not dread a regiment as much as he did the public addresses of young orator Furman. He was an earnest and zealous minister of the Gospel of Jesus Christ. Grandfather Henry Haynesworth had four sisters. One Elizabeth Haynesworth, the first of the name (and was my name) afterwards married the minister Richard Furman, and was his first wife. Thus his visit to Sumter County, S. C. to preach the unsearchable riches of the Gospel, was the occasion of making new acquaintances, who here united a brother and sister to a brother and a sister in the holy relations of matrimony and who were progenitors of numerous families. What may appear sometimes to our finite minds as the result of chance or accident was the overruling providence of God, for the salvation and good of many.
"Rev. R. Furman returned home and resided in Charleston where he officiated as minister during his lifetime and gained celebrity for having gratuitously attended and cured many cases of yellow fever during its prevalence there; he had the title of doctor. He had two children by his first marriage, Wood and Richard.
"My grandfather was engaged in the war with the mother country. He was in very feeble health when I remember him, and died of palsy; but I am much impressed by my grandmother conducting the family worship during his lifetime and illness. My grandfather was highly esteemed, had slaves and home and lands and lived very independently. His plantation was four miles from the Hills church and seven from Sumter County house. His dwelling is still standing; a good two-story, with venerable trees surrounding it, mostly mulberry. They afforded shade that was truly refreshing in the summer and the early and abundant fruit was luscious and is still remembered. The ground was literally covered with mulberries, and grandmother's chicks out-of-doors also enjoyed them. My visits to them when a little girl were very pleasant but I was too young to remember much of my grandfather. Near by his house there was a sheet of water and a mill that is still in operation; and which he had kept either sawing boards for building or ground corn of different kinds, and industry was seen on every hand."
Governor John Gayle, Alabama's seventh governor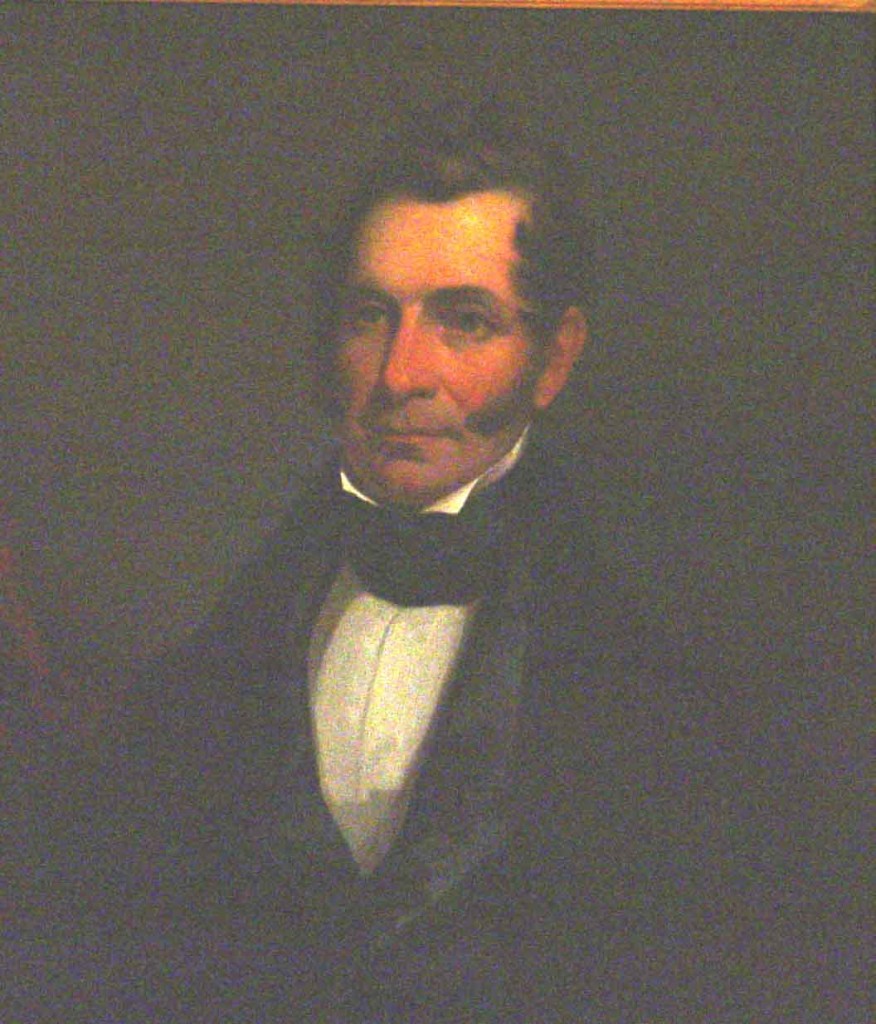 Mrs. Gayle's Story Resumed
The writer when a child enjoyed the shady road under the trees to the mill, the sight of the water, the boat, fishermen in the distance, the roaring and foaming of the flood-gates, the noise of the mill, and she could not keep quiet when such lovely and exciting scenes were near. She remembers even now the nice biscuits that she would have given her by her grandmother on such occasions, which she would enjoy and run back to the mill along the shaded path and see all over again.
"Thus it is in life we live scenes of memory when we can do nothing else. Grandmother acted as clerk of the Hills church, being able to write a better hand and more competent than any of the male members who were attached to the church, and so the honor was conferred on her. Although deeply pious she would assemble her grandchildren around her on a Christmas morning and take her large white china bowl with red figures around it and in her lap beat us up an eggnog.
I can remember but little of our journey from South Carolina, commenced in, I think, March, 1810. It was a wild road, I know, and we were often attended by the Indians, in whom we had no confidence. Pah slept with arms under his head, and any stir among the horses at night, roused all and put them on their guard. Sometimes I rode on a pack horse, but was always in a glee when mounted on one by myself, and allowed to follow my humour in keeping the path (for road there was none in many places) or wandering off at short distances amongst the undisturbed shade of trees which encroached on the track we travelled.
At night I remember being always the busiest in running from the tent to the fires where supper was preparing. The coffee in a tin cup was delicious. We arrived at Fort Stoddert2 then occupied by the military,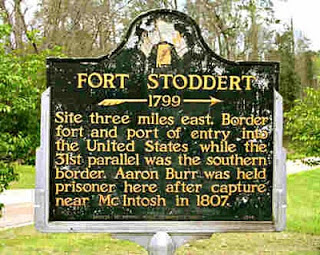 How great was my ecstasy when I saw for the first time the regularity and discipline, or what was more to me, the polished arms and uniform dresses of the soldiers! I flew from place to place, and when Mah became uneasy and sent a servant for me I was found at the guard house, seated on a soldier's knees giving and receiving delight; for all was new and I was the only child but one in the fort. The officers fancied me and took me with them to the parade and all other military exercises. I was frank and lively—fearless they endeavored to make me and partly succeed, for the time. They would place me on the wheel of the cannon, and encourage me to stand the report without shrinking.
At one time I sprung back, and in catching at the one who stood near me, seized something in his bosom, which proved a dirk, handsomely mounted in silver, which he gave me, and tied around me with a profusion of green ribbon. With this little weapon, I used for many years afterwards to mingle with the officers on parade, mounting a gentle pony, a present of my father's, low enough for me to spring from the ground to the saddle.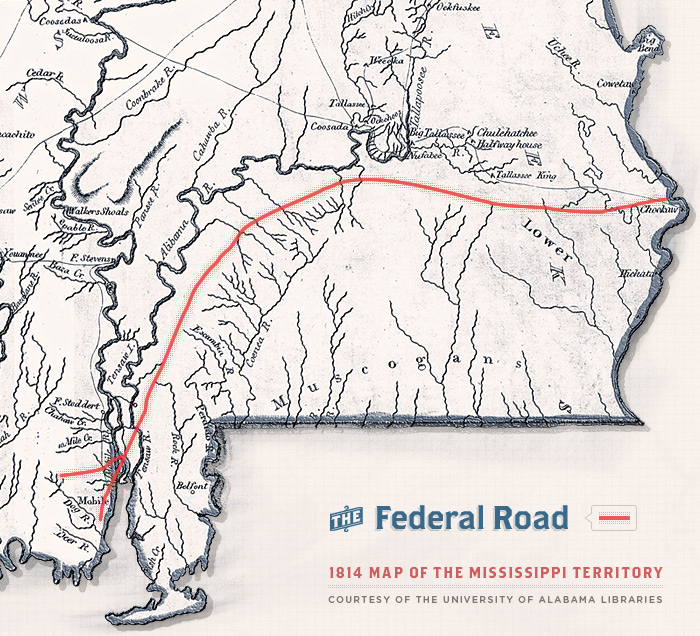 They delighted to humor all of my childish whims, and indulged as I was at home and abroad, no wonder they were not a few. In two or three months after our arrival I was taken with the fever; death was anticipated with certainty for the little stranger. My poor mother went in her despair to look at the lonely spot which was to receive her only child,—the physician with whom I was a favorite, sat at my bedside night and day; but at last gave me up. I have an indistinct recollection of lying on a pallet on the floor and on opening my eyes for the first time for many days to consciousness wondering to see the negroes crying around me. I grew better, and Col. Richard Sparks, he is in Heaven now, came to see me,— went home and told his wife, the sick child must be taken to his house until she got stronger. She came the next day and was interested and affected at Man's absolute devotion to me. She wore a blue ribbon about her neck, which on my noticing, she stooped over me, and let me untie and take it.
A bed was placed in a wagon, and placed in that I was slowly carried out to the Colonel's residence. There his kindly foresight had provided me a playmate in Louisa Hollinger, two or three years my senior, with whom I formed an acquaintance which ripened into sincere friendship. She is now the wife of George Owen. She was the pet of Mrs. I., of Col. Sparks—dear old man; he spoilt his 'little froggy', as he called me. Every morning at reveille, we were taken up, wrapped in gowns and dragged in a wheelbarrow (I think) to the. parade where the music effectually drove away drowsiness and animated our spirits; in a little while the invalid devoures her breakfast voraciously. It was understood, too, that the band, a very fine one, was expected to perform every night for our amusement at the door; and the only time I remember to have seen my dear protector out of temper, was when an officer detained it at his quarters for a company of his friends. I returned to my parents restored to health.
"It was not risked to spend another summer at the same place, but a place was settled five miles off the river, to which we moved. It was named Mount Vernon3and here we spent a happy, happy period of my life.' The regiments followed after a little;—the band was again heard night and day,—I was again domesticated at the tents of the officers and every hour was full of pleasure. Old Mr. Gayle came from Carolina and lived about a mile and a half from us. I asked no more. Mrs. Gayle and my mother, Mr. Gayle and my father, were bosom cronies. The eldest girls noticed me, my future husband carressed me, as a wayward only child, and Maria I indeed loved as -my playfellow and only friend for the neighborhood was thinly peopled and my opportunities for seeing females was very limited. Louisa, Maria, and the family of Judge Toulmin4 were nearly all I cared for in the wide world. With these I walked and rode and danced, bathed, sung and learned, what little I did learn. I was a wild and happy being whose dreams of the world were awakened by the reading of novels and poetry. I was left to select books for myself, and no wonder I lost myself in the delicious images of romance spread around me. My taste has not been reclaimed—it is impossible .to apply myself now to useful reading.
1Transcribed from The Alabama Historical Quarterly Vol. 05, No. 02 Summer Issue
2A fort on the bluff of the Alabama River about fifty miles above Mobile, built in 1799, abandoned after establishment of the cantonement at Mount Vernon.
3Near the juncture of the Alabama and Tombigbee Rivers, headquarters during the Creek Indian War 1813-14 for General F. L. Claiborne, occupied as barracks by U. S. soldiers as late as 1890. Seven hundred Apache Indians with their Chief, Geronimo, were held within the enclosure. Abandoned as a barracks, given to the State and converted into the "Mount Vernon Hospital" really the State insane asylum for Negroes.
4Judge Harry Toulmin, born in England, 1766, died in Washington County 1824; appointed by President Thomas Jefferson, Judge of the Superior Court of the Mississippi Territory of which Alabama was then a part and later became Judge of what was then called the Tombigbee District. He was the author of Toulmin's "Digest of the Laws of the State of Alabama."
The Journal of Sarah Haynsworth Gayle, 1827–1835: A Substitute for Social Intercourse –

Astonishing, tragic, and remarkable, the journal of Sarah Haynsworth Gayle, wife of early Alabama governor John Gayle, is among the most widely studied and seminal accounts of antebellum life in the American South. This is the first complete edition of the journal in print.