The Territory of Alabama was created by a division of Mississippi Territory in 1817, with St. Stephens as its capital city. The first and second Territorial Legislature met there — the first on the 18th of January, 1818, and the second in November of the same year.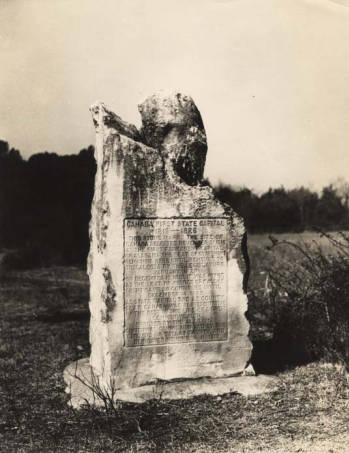 Marker of the first capital of Alabama
Met at the Douglass Hotel
The first legislature of the Alabama Territory convened at the Douglass Hotel on January 19, 1818. Attendance was sparse with twelve members of the House, representing seven counties, and only one member of the Senate conducting the business of the new territory. The second Territorial Legislature met in November of the same year. (Alabama Department of Archives and History)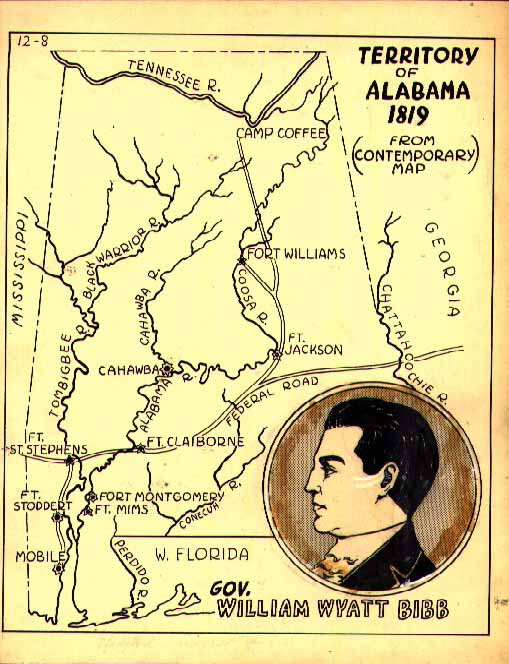 Territory of Alabama in 1819 Nathan H. Glick drawing (Alabama Department of Archives and History)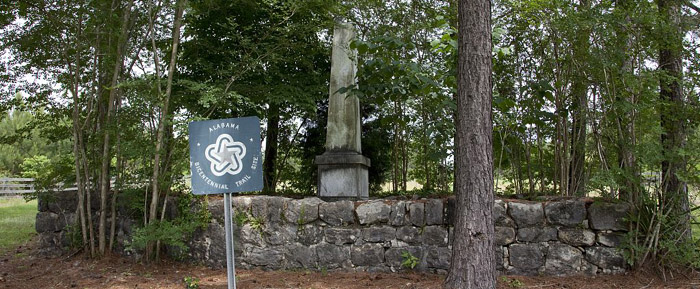 St. Stephens, Alabama 2010, photographer Carol Highsmith (Library of Congress)
This same year, Cahaba was made the seat of government, but as there was no town there, and no public buildings, Huntsville was designated as the temporary capital.
Huntsville temporary capital
In Huntsville, on the 5th of July, 1819, a convention assembled to prepare a State Constitution, in which twenty-two counties were represented, viz. : Autauga, Baldwin, Blount, Cahaba, Clarke, Conecuh, Cataco, Dallas, Franklin, Lauderdale, Lawrence, Limestone, Madison, Marengo, Mobile, Montgomery, Monroe, St. Clair, Shelby, Tuscaloosa and Washington.
Moved to Cahaba
The first General Assembly of the new State met in Huntsville, October 25, 1819, and there, on the 9th of November, Governor Bibb was inaugurated. In 1820, the government offices and archives were removed to Cahaba.
Tuscaloosa became the capital
In 1826, Tuscaloosa became the capital, in the administration of Gov. John Murphy, who had been chosen the year previous.
Picture above is of Old Capitol Building at Tuscaloosa (Erected 1826) – ca. 1840-1849 -This old building now destroyed by fire, was erected as the Capitol when the seat of government was removed from Cahaba, and served as such until 1847 when the state records were removed to Montgomery. On the back is an advertisement for Alabama's Historical Festival and Pageant. Montgomery May 5th and 6th featuring The Spirit of the South/ $10,000 Night Spectacle/ 3,000—Cast—3000. Q67306
Finally moved to Montgomery
In 1846, the capital was removed to Montgomery, where the General Assembly of 1847 was held. "On January 28, 1846, Montgomery was selected as capital of Alabama by the state legislature on the 16th ballot. Montgomery won the final vote largely because of promises of Montgomery city leaders to provide $75,000 for a new capitol and because of the emerging prominence of the Black Belt region of the state." (Alabama Department of Archives and History)
Alabama's State Capital, in fifty years, was moved five times; capitals St. Stephens, Huntsville, Cahaba, Tuscaloosa and Montgomery.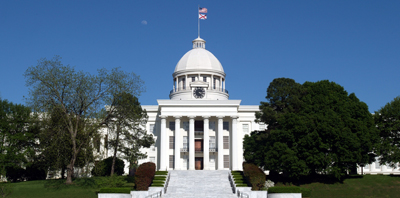 Alabama State capital today in Montgomery, Alabama
SOURCES
Alabama Department of Archives and History
Some stories include:
Who Controlled And Organized The New State of Alabama?
Tuscaloosa Had Three Other Names
Chandelier Falls & Capitol Burns
Alabama Throws Parties For General LaFayette
Francis Scott Key Was Sent to Alabama To Solve Problems