Click http://www.alabamapioneers.com/honor-your-ancestor-on-alabama-pioneers-for-the-bicentennial/ to see how to honor your ancestor as a Notable Alabama Pioneer
Maggie Adams Hatton
Biography and Genealogy
(1879 – 1939)
Elmore  and Coosa County, Alabama
(submitted by an AP reader)
This is a biography of Maggie Adams Hatton of Elmore County. I thought it was interesting because of her connection to the Creek Indian town Kailaidshi mentioned in The Alabama Historical Quarterly, Vol. 12, Nos. 01, 02, 03, & 04, 1950.
Maggie Adams Hatton was born May 7, 1879, in Elmore County Alabama. Her parents were Asberry A. Adams of Chambers County Alabama and Mary Jane Robinson Adams of Russell County Alabama.
Hiliard was born January 18, 1874, in Coosa County. His parents were John Samuel Hatton of South Carolina and Nancy Amanda Adams Hatton of Georgia. Hilliard was a farmer. Hiliard and his wife Maggie lived on Prospect Road in Elmore County. Lake Martin and a large lake house occupy the home site.
Maggie's house on the Creek town site of Kailaidshi.
Pictured in the photo left to right: Clarence Hatton, Mary Jane Robinson Adams, Asberry Adams (Maggie's parents) , Leonard Hatton, Maggie Adams Hatton,  Same Hatton (baby) John Adams,  Asberry Adams Jr, Sally Adams, Jane Adams, Clara Hatton (Girl standing in front) Photo taken 1907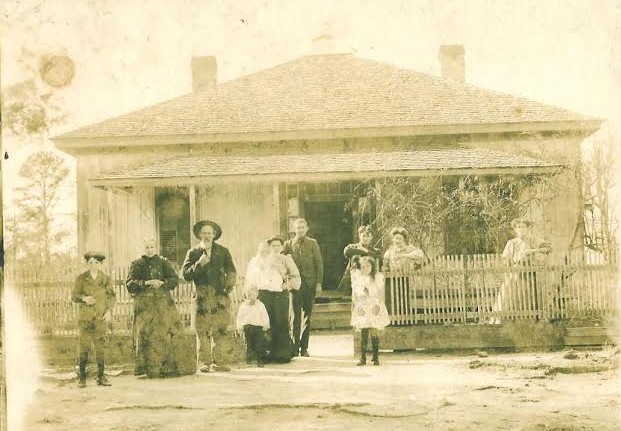 The 1950 edition of the Alabama Historical Quarterly mentioned the Hatton home in a story on Indian towns located in that area. The Hatton home on Prospect road was built on the site of the Creek Indian town Kailaidshi. Kailaidshi was a neighbor to the Indian town Kowaliga…made famous by Hank Williams.
The story in the history magazine said local tradition has the town Kailaidshi as the site where Tecumseh gave a speech to the Creek Indians of that area to recruit allies in his fight with the British against the Americans in the War of 1812. Tecumseh gave his speech from a rock that sticks out of the lake somewhere in that area according to the story. A mound was also located on the property.
My Grandmother who lived in the house when she was a girl said there was a rock in the lake near the house called Indian Rock. She was told as a kid that a famous Creek Indian stood on the rock while making a speech. My Grandmother's story and the story in the history magazine matched up. My Grandmother said she would find arrowheads and pottery on the property. Her Grandmother had some of the pottery displayed in the house.
Around 1930, Maggie sold the house moved with some of her family to Polk County Florida in Lake Alfred. She opened a family business operating a Citrus farm. She also owned a sugar cane plantation in Cuba.
Maggie died January 21, 1939, in Florida. She was buried next to her husband in the Harmony Baptist Church Cemetery in Coosa County Alabama.
The Alabama Historical Quarterly, Vol. 12, Nos. 01, 02, 03, & 04, 1950 states the following
Kailaidshi– an upper creek town in Elmore county situated on the right bank of little kowaliga, and immediately about its junction with kowaliga creek about 2 1/2 miles below the junction of hurricane creek with big kowaliga and about three miles about the influx of this latter creek with the Tallapooa river. Its in secs 5 and 5..r 21…t 20…this point is on the plantation of Mrs Maggie Hatton, widow of S. H. Hatton.
It is 15 miles by trail above Tuckabachi. The modern village of Kowaliga is one mile east of the old Indian town site. The towns of Atchinahatchi and Hatchitachapa were peopled from Kailaidshi. The name is variously written at Kailige, Kiliga, Killeglo and Kiolege. Accroding to Gatschet, the word probably has reference to a warriors headdress, that is Ika, his head, Iliadshas, Ikill.
The town was destroyed in the creek war of 1813-14 by a party of hostile creeks. It was doubtless rebuilt as a census reference of early 30's refers to the town. It has considerable local tradition attached to it, from the fact that the rock on which Tecumseh is reported to have stood when he addressed the Creeks in 1811, in his effort to arouse them against the white settlers, still stands immediately beside the road, 200 yards north of Prospect M.E. Church, south cemetery. This stone which projects more than 7 feet above the surface is in sec 5 while the mound of the old town is in sec 6. The location is now within the waters of Lake Martin.
Start researching your family genealogy research in minutes.

 

This inexpensive Ebook has simple instructions on

 

how to get started with FREE sources. Download 

WHERE DO I START? Hints and Tips for Beginning Genealogists with On-line resources 

to your computer immediately with the FREE APP below and begin your research today!
Reviews
"This book was very informative and at a very modest price. Thank you for your great newsletter and this book."
"The book was clear & concise, with excellent information for beginners. As an experienced genealogist, I enjoyed the chapter with lists of interview questions. I'd recommend this book to those who are just beginning to work on their genealogies. For more experienced genealogists, it provides a nice refresher."
 Download unlimited Ebooks for FREE to your computer or other electronic devices! Click below to see how.