When we were kids growing up in Munford, AL, there was a group of us neighborhood boys that rode bikes everywhere. Mine had a 26" wheel on the front and a 24" on the back and only 1 pedal and a big freezer basket wired to the handlebars.
Munford, Talladega County, Alabama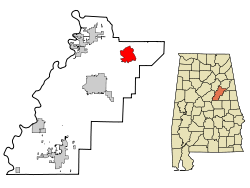 One boy rode a big ole mule
All of us had bikes except one boy and he rode this big ole mule. This ole mule had a softball size growth on his side that looked like a huge wart. I remember that boy riding that mule with his foot resting on that growth.
We built a mega tree house in Alan Conerly's backyard
We were either fishing in the local creeks, exploring caves in local hill sides, hunting arrowheads in the fields, hunting with our BB guns, building bows and arrows or making something to play with. We built a mega tree house in Alan Conerly's backyard that had about 6 levels. It was where Dabbs Auto Service is now located. It had about 20 rooms and little decks here and there. It's a wonder we didn't get killed working on that thing.
Fred Layton told us all about the Indians of this area
We would go over to Fred Layton's house and he would tell us all about the Indians of this area. He was such a great local historian. Ole "Walking Kelly" was also a source of our entertainment and he could really tell some good ones. Blake Harris's Mother had a big minor bird that the old man Harris had taught it how to cuss and we would go over there and provoke the bird into saying his 4 letter words. Mrs. Harris would get so mad at us. They lived where Lewis White lives now. We thought that was so funny.
The old foundry was closed and we explored all the old buildings
The old foundry was closed and we had great times over there exploring all the old buildings, there was a security guard there but he never caught us. There was a building there that had old lead headed nails all over the floor and in old wooded barrels and we would get the lead off the nails and make fishing weights out of them. We would dig worms, cut weed worms, hunt jim-stretchers, sain minnows and hellgrammites and sell them for fish bait. We walked around picking up coke bottles and selling them a Haynes store. It was just a great time growing up here and I wouldn't take anything for it.