Life on Shades Mountain in 1940 was very different from today. Shades Mountain is part of Hoover, Alabama. 
My Grandparents on Shades Mountain
by
Allen Langston, Jr.
Chilton County, Alabama
Trying to remember 50-60 years ago stretches the memory but here goes. My grandparents (Jesse and Ola Mae "Madie" Chandler) moved to Shades Mountain (Jefferson County) from Chilton County, Alabama sometime in the early 1940's.
Jefferson County, Alabama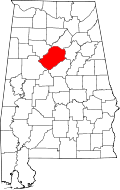 They were farmers/ tenant farmers as they never owned any land. I lived, stayed and visited with them during those days until they could no longer farm and they eventually moved to the city of Birmingham.
Postcard of The Narrows, Across Shades Mountain ca. 1900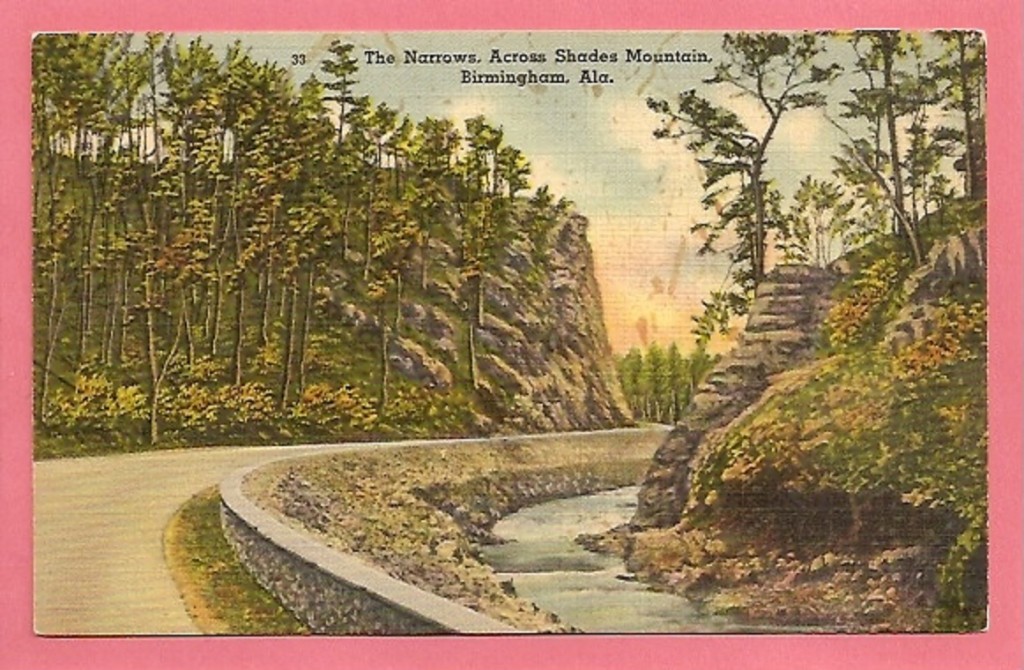 They grew tomatoes, corn, turnip greens, collard greens, okra, and beans of all kinds and many other vegetables. I can remember many days of picking tomatoes when the green chlorophyll, I guess would stain your hands and clothes and be very difficult to clean in a wash pan. They did not have running water and all water had to carried from a well. They had only outdoor toilets.
Heating was from wood burning stove
Heating in the winter was a fireplace in the main room, wood burning cook stove in the kitchen and wood or coal burning pot bellied stoves in the bedrooms. A neighbor or perhaps the landowner (I don't remember) would load up their truck with vegetables and take them to the market in Birmingham; hopefully they would all sell. My grandparents did not own a car and moved about the farm on foot or with a mule pulled wagon. Both grandparents would plow the fields with this mule.
Shades Mountain ca. 1900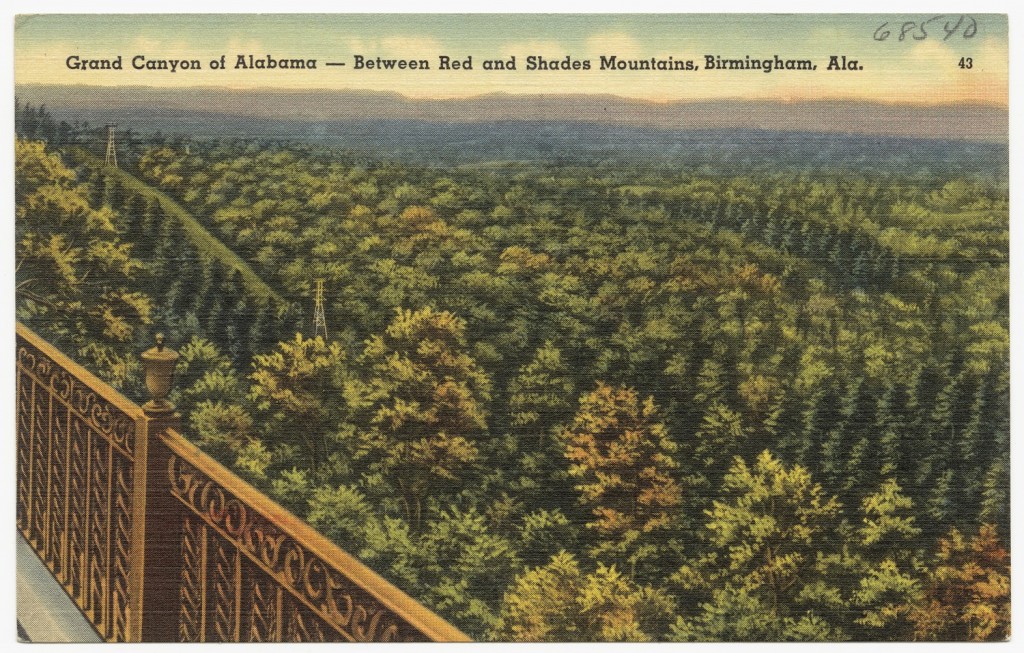 Hog was place in a 55 gallon drum with boiling water
They were pretty self- sufficient. Their meat came from chickens and hogs they raised. My grandfather had a form of palsy and could not hold a rifle steady but my grandmother who would rather plow than cook was an excellent marksman. When hog butchering time came around she would take her single shot 22 caliber rifle and select the hog to be killed. She would wait for the right moment, shoot the hog behind the ear and bring it down with a single shot. The hog would be placed in a 55 gallon drum with boiling water and pine rosin from pine trees in the yard. Pine rosin was supposed to loosen the hair and make it easier to skin.
I don't remember much about butchering but my grandmother and my father (Russell Allen Langston, Sr.) would immediately remove the intestines, clean them out with a broom handle, wash them out and cook up the "chitterlings". As for me, that was their delicacy, not mine. The fat was then rendered in a heavy iron wash/cook pot for lard. A fire was built around this pot to do all the cooking. The skin from the fat portion of the hog became cracklings, used on the farm in crackling cornbread.
Shades Mountain ca. 2010
She would sit on porch with her shotgun on her lap
My grandfather was gathering wood, wood chips and twigs or brush to start a fire under one of the steel wash pots at another time. He started the fire and shortly there afterwards came a minor explosion. It seems in gathering the brush for the fire someone picked up a dynamite cap left on the ground after using dynamite to drill a well. No one was seriously injured but my grandfather carried a piece of this steel pot in his leg the rest of his life.
As I mentioned my grandmother, Madie would rather plow a field than cook or keep house. However she loved to eat and one of her favorite birds was the dove. It seems that doves like turnip green seeds. She once planted a turnip green patch close to her house and closer proximity to her porch. She would sit on her porch during planting time with her shotgun on her lap. When enough doves bunched together digging up turnip green seeds she would open fire with her single shot shotgun, usually killing 3 or 4 at a time. This would drive them away for a time and then she would clean and cook these unlucky doves.
Fishing worms were never in short supply
My grandparents also loved to fish and as I previously stated they did not have running water. When one washed their hands or face it was done in a pan on the back porch. When finished with the pan of water it was thrown out close to the house. A small amount of cornmeal would be thrown on top of this muddy area ever so often. It seems that earthworms liked this condition and thus reproduced rapidly. Fishing worms were never in short supply.
Shades Mountain postmarked December 1912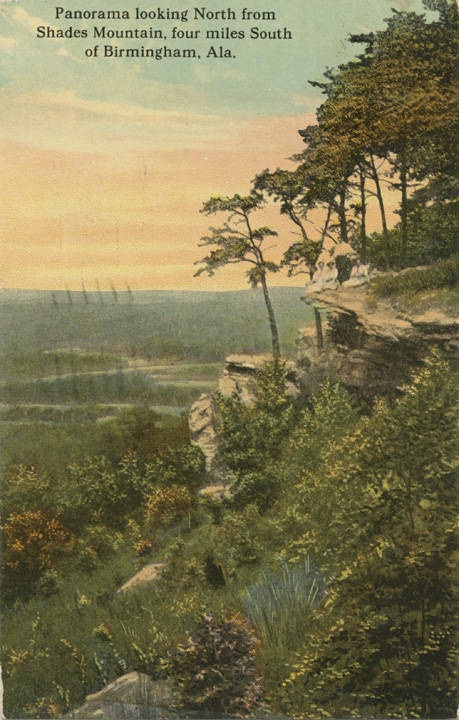 I was a part of all of the above happenings but don't have clear memories of what I did as a young boy but I did have a "billy" goat and a "nanny" goat. My grandfather would hook up my "grey hound" wagon to the billy goat and I would ride around the yard with him pulling me in my wagon. I also remember going to a 3 or 4 room school somewhere on Shades Mountain. I did have to walk most of the time, as my grandparents didn't own a car, my mother, (Lucille Chandler Langston) didn't know how to drive and my father, and (Allen Russell Langston, Sr.) was usually away at work.
I look back on this part of my life and wouldn't give up a moment of this memory, but I wouldn't want to live that way. My sadness of this time is my children and grandchildren couldn't experience the simplicity of this life.
Allen Langston, Jr.
May 12, 2004
Spring, Texas
Start researching your family genealogy research in minutes for FREE! This Ebook has simple instructions on where to start. Download WHERE DO I START? Hints and Tips for Beginning Genealogists with On-line resources to your computer immediately with the a FREE APP below and begin your research today!
Check out genealogy and novel Ebooks by Donna R. Causey