CEMETERY DOCUMENTATION
by
SHERRY S. JOHNSTON
Years ago, when I first started this journey of researching, documenting and writing about cemeteries, I started off with some that were the 'hard to find' ones.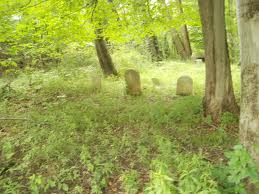 These are the cemeteries that have been so well-hidden in the forests of our communities, they'd disappeared from our view; or they were cemeteries that had been inadvertently destroyed by either agricultural or timber practices.
I remember wanting to locate a certain cemetery that had bearing on some of my own family tree, and enlisted the help of some of my 'cemetery junking' friends and family members.
Searched many miles for cemeteries
I can't tell you how often we've traveled a certain dirt road in this county in search of this cemetery; or how many miles certain individuals have actually walked in their search; or the many times we've looked in historical land records to see if we can find a clue to the actual spot that a certain lady surveyed in 1981.
We've asked ourselves many times over, how could the landscape have changed so drastically in such a short time period? Yes, the kudzu grows fast around here, as does the underbrush; the trees grow taller and hide certain features from view; the trees get harvested and no one knows about the cemetery lying hidden underneath and it gets destroyed very quickly.
Every so often, I bring this cemetery back to the forefront of the minds of our readers, hoping against hope that someone will read it and recognize, and remember something to help us in our search.
Families of Old Town and Mt. Union tied together
The families of Old Town and Mt. Union communities were tied together all the way back to their point of origin. Families of Barlow, Congleton, Tolbert, Perdue, Johns, Hyde, Rountree, Adams, Sheffield, Wilson, Jones and others are tied into the cemeteries known as Old Town Cemetery, Mt. Union Cemetery, Rountree Cemetery, Pleasant Grove (aka Shady Grove) Cemetery and the Barlow Cemetery.
Mt. Union Cemetery, Conecuh County, Alabama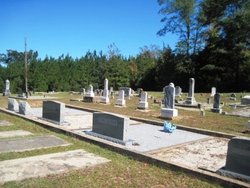 Of the above named cemeteries, only two have not been located: Rountree and Barlow—and they may be one and the same; known by different names by different generations or separate burial grounds.
We have a sketchy legal description of the Old Barlow Cemetery—in Township 5 North, Range 12 East—possibly section 13, 24 or 25 somewhere along Lizard Lope or J.P. Howard Road.
In the Death Records on microfilm, I've discovered that there could be possibly as many as 10 or more graves—many of these that can't be found elsewhere could have been laid to rest here.
The only known grave in 1981 was identified as John Barlow, with no dates of birth or death. We know who he was, who his family was— but we'd like to know more—we'd like to know what happened to his burial ground. If we could just get an idea of the exact location, it would help other researchers in their ancestral quest as to family farms, connecting lines, etc
If the cemetery has been destroyed, we need to know that too—there might not be anything we can do about that, but at least, we'd finally know. If you have information, please call us at 251.578.2670 or email me at [email protected]
Note by Donna R. Causey: Please do not email the Alabama Pioneers website concerning old cemeteries. AP cannot be of help, but there is a statewide alliance dedicated to finding and preserving old cemeteries within the State of Alabama. They have a website with contact information: Alabama Cemetery Preservation Alliance.
"

Do you need some help in your genealogy search? Save time and avoid pitfalls in your research with this inexpensive book.

"