SCROLL DOWN TO READ MORE
(Excerpts transcribed from The Democrat-Reporter, Linden, Alabama, Dec. 8, 1892)
NOTICE
LAND OFFICE IN MONTGOMERY
Dec. 3rd 1892
I, John W. Dove of Putman, who made Homestead Application No. 20,785 for the n. E ¼ of N. W. ¼ of Sec. 11, T. 12 R. 1 E do hereby give notice of my intention to make final proof to establish my claim to the land above described and that I expect to prove my residence and cultivation, before W. H. Grayson, clerk at Linden, Alabama on 28th of January, 1893,by two of the falling witnesses: William A. McClinton, of Morvin, Ala.,
E. Medicus McClinton, of Morvin, Ala.
Andra J. Beck, of Morvin, Ala.
James W. Luder, of Nicholsville, Ala.
JNO W. DOVE, Claimant
Mr. Ellis Small, the young Nimrod of this beat, knowing that if any one could appreciate a good thing it was the editor of a county paper, sent us a fine turkey which he had just bagged. We had it for dinner today served in Gus McNeil's best style. Ellis may be small by name and we have met bigger men in statue but there is nothing else small about him and his heart is big enough for two.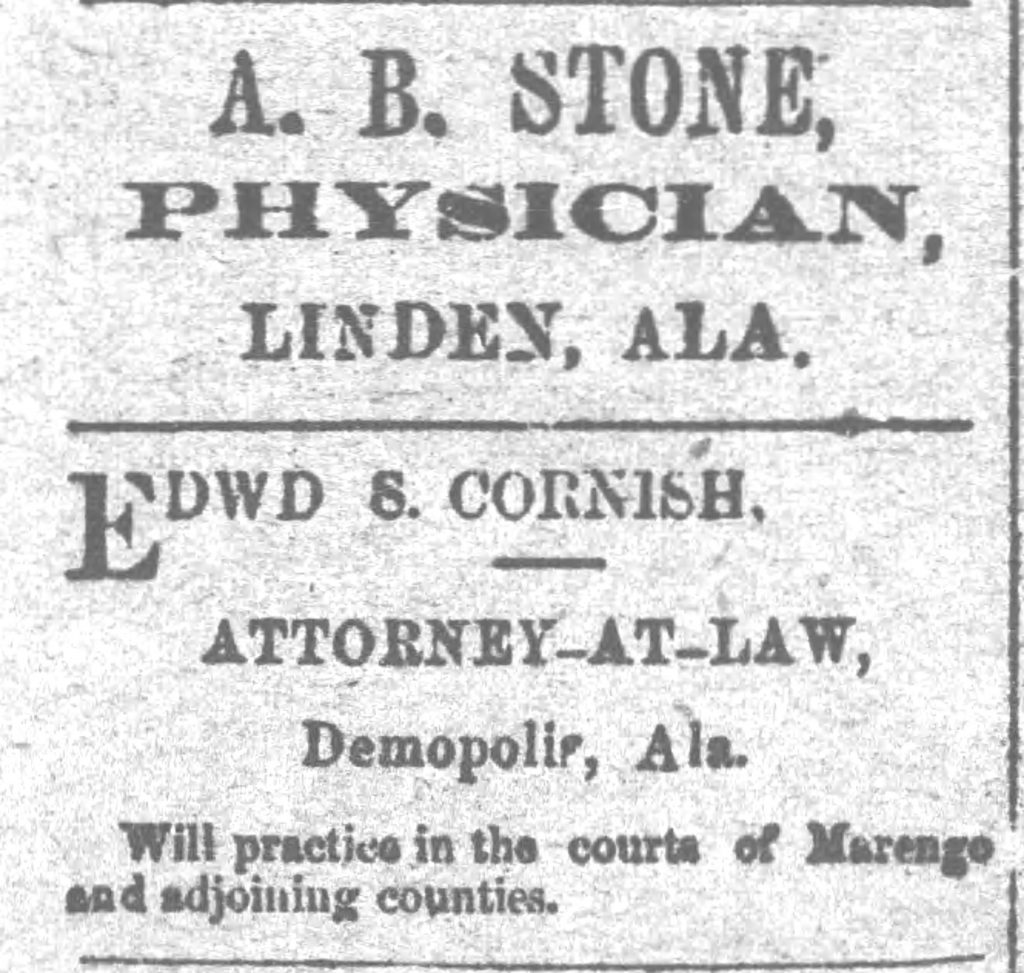 MARRIED
At. Livingston, Sumpter Co., on the 7th inst, at the residence of the bride's mother, Mrs. Rodgers, I. I. Canterbury, of this town, and Miss Margie Rodgers.
The bride who has many friends in this county is one of Sumpters fairest daughters and the groom one of our rising and popular lawyers. We understand that they will take up their quarters for the present at the residence of Dr. A. B. Stone, of this town.
We sincerely hope that—
"No jealousy their dawn of lover o'er cast.
Nor blasted be their wedded days with strife;
May each season look delightful
When it's past;
To this fond husband and his faithful wife."
ALABAMA GENEALOGY NOTES: Volume VIII
Table of Contents
Introduction
BIRMINGHAM IRON AGE May 28, 1875
Personals, marriages, deaths
EDMONDSON FAMILY BIBLE RECORDS, Baldwin, Alabama
MARRIAGES From Dallas County, Alabama
MUMFORD DEJARNETTE prayer book
MARRIAGE NOTICES Marion County, Alabama from 1851 newspaper
ALABAMA BIBLE RECORD Charles Pickney Jones family
From FAMILY BIBLE of Thomas and Nancy Dunn of Autauga County, Alabama
THE TIMES DAILY, August 4, 1894, Florence, Lauderdale County, Alabama.
WIGGINS/SPARKS & WIGGINS/ SKELLEY family Bible