Potential schools and militia drills were in the news in Jacksonville, Alabama Nov. 1, 1855
SCROLL DOWN TO CONTINUE . . .
(Excerpts transcribed from THE AMERICAN EAGLE, Jacksonville, Alabama, Nov. 1, 1855)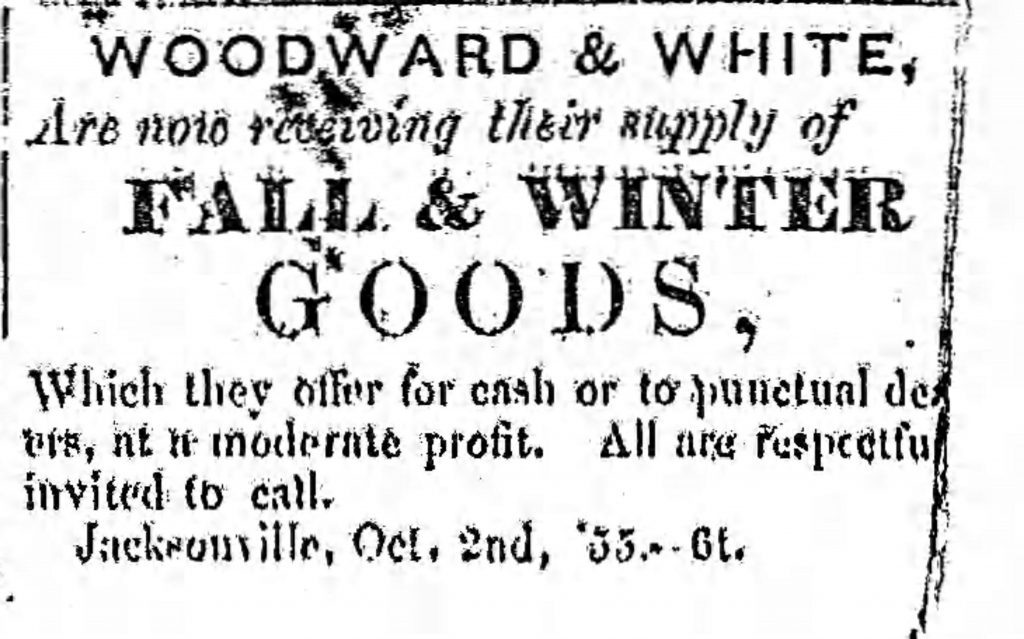 NOTICE TRUSTEES
Gentlemen, the time to take the number of children of the educational age has arrived, and instructions have been received for the returns to be made by the 15th November to the officer of Superintendent. I have forwarded those instructions, to your respective Post Offices, but fearing you have not received them, I take this method also to inform you. Be prompt, gentlemen that your respective Townships may have a fair showing in the next distribution.
WM. D. SPRUCE
Commissioner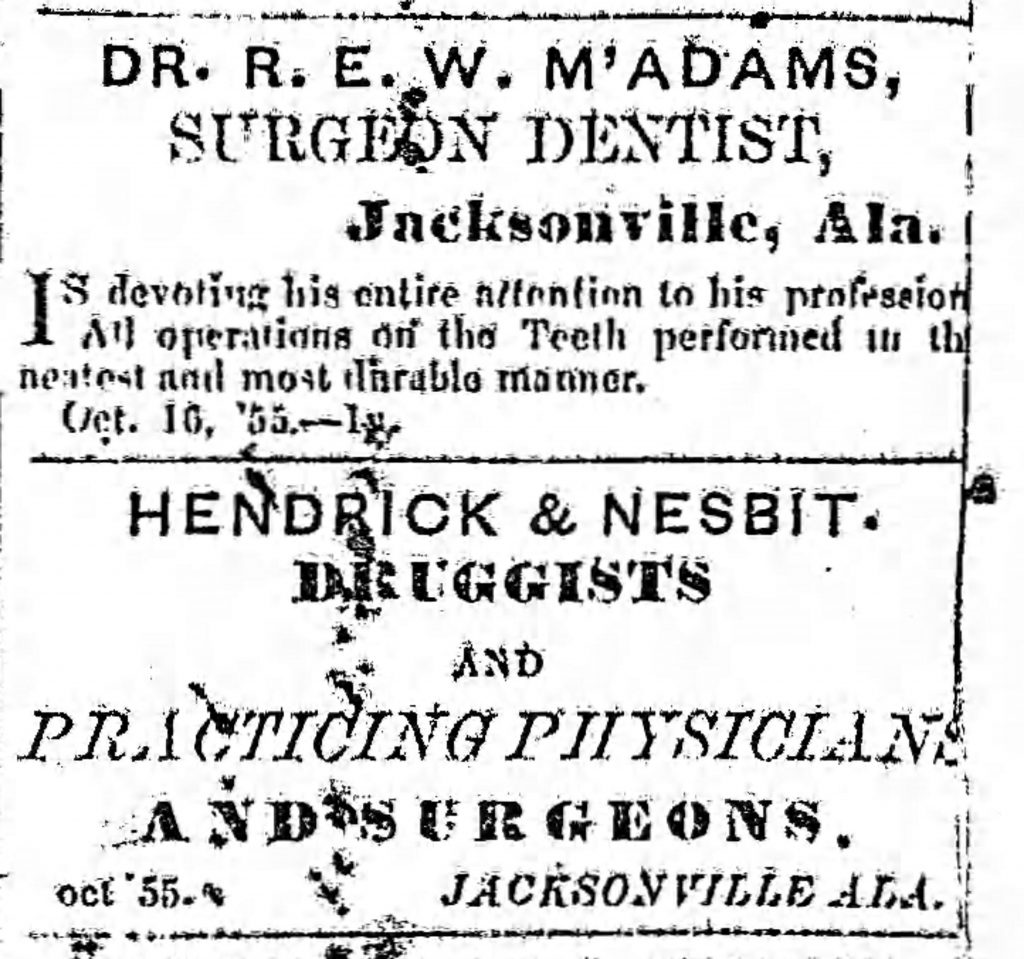 HEAD QUARTERS
72D REGIMENT
ALABAMA MILITIA
It is ordered by the Colonel of the 72d Reg. A. M., that the Officers, privates and volunteers of the 2d Battalion be and appear in the Town of Jacksonville, Ala., at 10 o'clock, on the 22d day of November next, armed and equipped as the law directs for drill and review.
It is further ordered that the commissioned and non-commissioned Officers, (also the officers of the Volunteers) be and appear on the day previous (21st November) at said place for drill. The Captains of the Companies of said Battalion are requested to extend the above orders. By order of
COL. J. F. STOKES
R. H. WYNNE, Adj't 72d Reg.

TO THE PUBLIC
After this issue in the Atlanta Republican and the American Discipline, will be united into one paper, under the name of The Republican & Discipline, and be conducted under the firm of A. M. Elleman & Co. The subscribers to each paper will be supplied with the Republican & Discipline, at the same price, two dollars a year in advance. This union of the two papers will give to the subscribers an enlarged, and as we trust, a much more interesting paper than either would be seperate, (sic) It will also secure to patrons the best and most extensively circulated advertising sheet in Northern Georgia.
On or about the 20th Instant, a daily issue will also be commenced at six dollars per annum.
We take this opportunity to express our thanks for past patronage and solicit the aid of friends in building up a paper worthy the occasion.
J. NORCROSS
A. M. EDDLEMAN
The Grand Masters of Free & Accepted Masons of the State of Alabama 1811-2011
Many early photographs of the Grand Masters are included in this work.Biographies of the following men are included listed in order of their service: THOMAS WADSWORTH FARRAR, WILLIAM B. PATTON, NIMROD EARLE BENSON, THOMAS BIVIN CREAGH, WILLIAM JORDAN MASON, WILLIAM LEIGH, JOHN C. HICKS, EDWARD HERNDON, NATHANIEL WYCHE FLETCHER, JAMES PENN, FELIX GRUNDY NORMAN, RUFUS GREENE, WILLIAM HENDRIX, DAVID CLOPTON, STERLING ALEXANDER MARTIN WOOD, JAMES MCCALEB WILEY, ROBERT HUGH ERVIN, STEPHEN FOWLER HALE, WILLIAM HUTCHINSON NORRIS, JOHN ADAMS LODER, WILLIAM C. PENICK, WILSON WILLIAMS, GEORGE DASHELL NORRIS, WILLIAM PARISH CHILTON, JOSEPH HENRY JOHNSON, ISAIAH ATWATER WILSON, JOB PALMER PILLANS, HENRY CLAY ARMSTRONG, HENRY CLAY TOMPKINS, RUFUS WILLIS COBB, JOHN HOLLIS BANKHEAD, JOHN GIDEON HARRIS, MYLES JEFFERSON GREENE, HENRY HART BROWN, GEORGE MILBURN MORROW, FRANCES LEIGH PETTUS, GEORGE PAUL HARRISON, JAMES ANDREW BILBRO, BENJAMIN DUDLEY WILLIAMS, RUSSELL McWHORTER CUNNINGHAM, ROBERT JAMES REDDEN, HENRY HUDSON MATTHEWS, BENJAMIN MOSES JACOBS, HUGH SHEPPERD DARBY MALLORY, LAWRENCE HAYWOOD LEE, DANIEL ARTHUR GREENE, HENRY CLANTON MILLER, WALTER SMITH, ROBERT STERLING TEAGUE, PERCY BLACKETT DIXON, JULIAN FLETCHER SPEARMAN, DUNCAN CHALMERS CARMICHAEL, OLIVER DAY STREET, JAMES MADISON PEARSON, ROBERT FRANKLIN LOVELADY, WILLIAM LOVARD LEE, SAMUEL A. MOORE, COKE SMITH WRIGHT, SAMUEL BOYD ADAMS, ENCY FENDLEY YEILDING, GEORGE UNDERWOOD POTTER, WILLIAM EARL JAMES, JAMES MATHEW JONES, CLARENCE EDWARD MICHAELS, JOSEPH CLIFTON ROE, WILLIAM JOSEPH NASH, FRANKLIN WARREN PARKS, WILLIAM LIPSEY LEGG, JOSEPH SPANGLER SOUTHALL, LEONARD STACY TERRY, JOHN W. PREDDY, TROY LEANDER NUNN, CARL CHARLES COOPER, EELY ELBERT JACKSON, ROBERT RUFUS BERRYMAN, JAMES LEW LAWSON, GORDON LEE EVATT, ARLIS RICHARD FANT, PENSON RABON GRAHAM, WILLIAM WALLACE, JR, TOLBERT DAVID SHARP, FRED W. VAUGHAN, JAMES W. COOPER, WILBUR HALE ARMISTEAD, HOWARD E. BLACKWELL, WILLIAM JOHN BRANNON, MARVIN P. LYNN, PAUL E. BRADFORD, CHARLES CECIL ROBINSON, JOSEPH DANIEL BRACKIN, JAMES M. EIDSON, SR., THOMAS B. WHALEY, WILBUR O. HARDEN, ROBERT CHARLES COLEY, GERALD S. BORDEN, JAMES G. MACON, JAMES FRANKLIN GLASGOW, HERMON WEBB TAYLOR, CHARTER LEE NICHOLSON, JACK SMITH, J. B. ROBINSON, JR, RALPH HARRIS HENDERSON, SR., MARVIN EUGENE LEACHMAN, FLOYD HAMBRICK, JR., DAVID L. SHIREY, J. C. BRADY, E. WAYNE LUCAS, WARREN MALCOLM KILLINGSWORTH, ROBERT L. JONES, WILLARD RAY FULLER, LUTHER EUGENE GROOMS, LARRY W. WORTHAM, DELTON EARL HAVARD, STEVE BROWNFIELD, JERRY UNDERWOOD, ROBERT THOMAS CRAWFORD, V. WAYNE CAUSEY, RODGER SIMMONS, BILLY C. FORD, DARRELL NEILL, GENE ANDERTON, FRANK W. LITTLE, JAMIE A. SMITH, LARRY W. STINSON, TEDDY R. GROGAN, LARRY A. HANCOCK, RONALD ANDRESS, C. STERLING HUGHES