PERSONALS
(Excerpt from The Tallapoosa New Era, Dadeville, Alabama, January 6, 1887)
Judge J. M. Chilton, of Opelika, was in Dadeville Monday.
Messrs. William and Chess Brown left on Wednesday for Texas
Mr. J. M. Wilson has been quite ill for the past few days.
Mr. Johnny Alworth is again in our little town. All the boys like him.
Dr. J. C. Aiken, of Thornton, was in Dadeville today and gave the New Era a call.
Miss Emma, daughter of Mr. Z. Jones Wright, Sr., is boarding in the city, attending Prof. Oliver's school.
Mr. H. Sternberg, who has been in Dadeville a few days this week, left for his home in Columbus, Ga., this morning. Come again.
Mr. Thomas Black, who has been in this vicinity for several days on a visit to his parents, returns to his home in Arkansas next Saturday.
Dr. A. T. Rowe is quite sick. He has been confined to his bed since Monday. We hope soon to see him up and at his post again.
A SAD AFFAIR
Last Sunday evening about sundown Mrs. Martha Wesson, wife of Mr. John Wesson, who has been in bad health for some time, suddenly became insane and at once escaped from her husband while he was attending to his stock. He gave the alarm, but by the time any assistance could be obtained it was dark and Mrs. Wesson was gone, and no one knew in what direction. Search for her was at once instituted and continued throughout the night, and not until nine o'clock the next morning did they succeed in finding the unfortunate woman. When found by Sammy Heard, to the surprise of all, she was alive. She could not tell why she left home, where she had been, but had an indistinct recollection of intending to visit a neighbor's house close by. Several of our public spirited citizens were out searching for her the whole night through, notwithstanding the bitter cold weather. While it is true that Mr. Wesson is too proud to ask for assistance, yet it appears to us that this is an opportune occasion for some true Christian hearted woman to come nobly to the assistance of her suffering sister. It is but a short distance to Mr. Wesson's home – just across the creek, west of town. Let us not sing: "Alas! for the rarity of Christian charity."
HYMENEAL
LOVEJOY- TAYLOR – On Tuesday, the 4th instant, at 12 o'clock, M., in Talbotten, Ga., DR. A. B. LOVEJOY, of Dadeville, and MRS. OLA TAYLOR, of Macon, Ga., were united in marriage. After the ceremony they boarded the train for Columbus, Ga., where they spent the night and passed up the C. & W. Railroad on Wednesday evening to visit his daughter, Mrs. E. B. RAINEY, of Alexander City.
Dr. A. B. LOVEJOY is a gentleman of the highest standing having been in Tallapoosa county from childhood, and during the greater portion of that time in public business. He is well known by nearly everyone in the county, and we think we voice the people of Tallapoosa when we say that Dr. LOVEJOY is a perfect gentleman, and one of the first citizens of the county.
His Bride is a sister of Col. THOMAS HARDEMAN, of Georgia, and a lady of high intellectual attainments; and to the happy pair we extend our heartiest congratulations and wish them a life continually illuminated by the blazing rays of the sun of prosperity and happiness.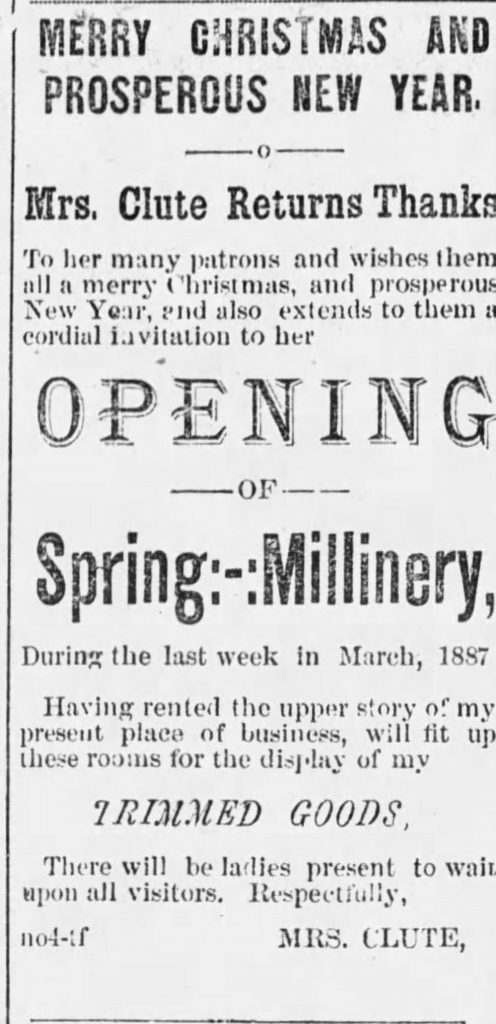 ATTENTION!
Having bought out the interest of P. G. Trent in the drug business, I will continued the business on my own responsibility at the old stand of Day & Trent. Thanking you very kindly for your patronage in the past, I respectfully solicit it in the future and promise you fair and squared dealing in every particular.
Respectfully
J. L. DAY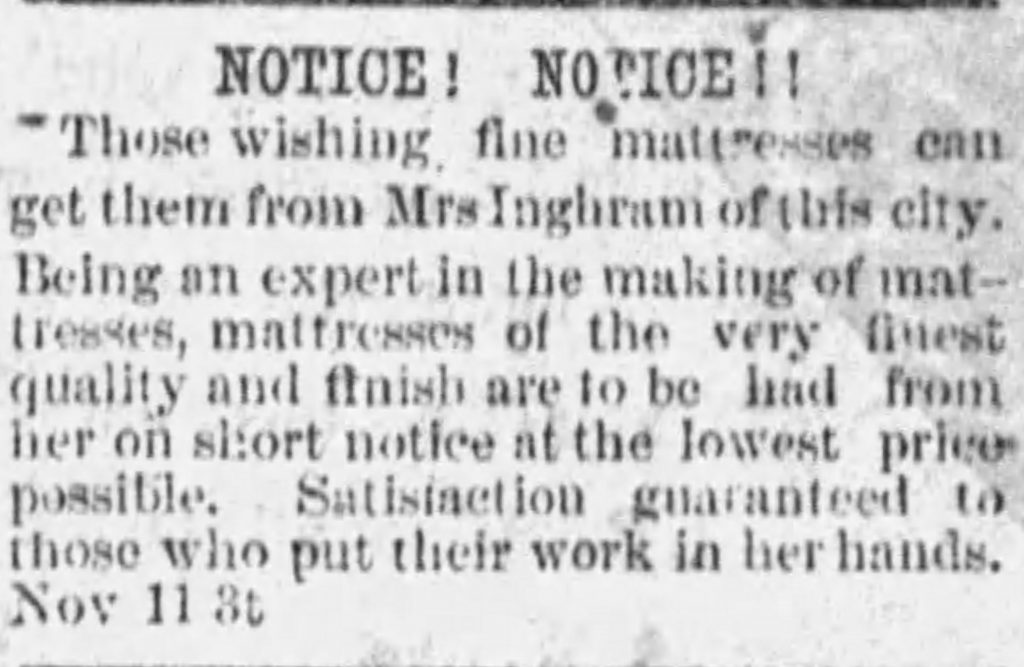 The little folks had a nice party at Mr. A. H. McIntosh's residence Wednesday, Dec. 28th. They seemed to have enjoyed it highly.
Miss Jimmie Carleton, from near Berlin in Chambers Co., is visiting her brother Dr. W. G. Carleton, at this place. We welcome you on our list of visitors.
Miss Anna Baird, from near West Point, Ga., is visiting her brother Mr. Curtis Baird, near this little village.
Mr. Poney Henderson was married to Miss Sissie Henderson, on the 30th alt. at this place. Squire Shpp of this beat officiating.
Mr. Geo. L. Bell, our mail carrier, has moved his family to this place, where Mrs. Bell will take charge of the musical department of the Dudleyville Academy. We are glad to greet Mrs. Bell and family.
We believe the fellows – "They" about the North Pole moving down South – is growing more popular since the cold snap in last Saturday.
Our merchants report a good trade this winter. With as good stock of goods as they have on hand we think they will do a good business the year round.
Mr. M. T. Bozeman sold off his property the 3rd. inst., for the purpose of moving to the Lone Star State. Mr. Bozeman will be greatly missed in this community. We wish him much success in the far west.
Two of our young men made a flying visit to Atlanta last week. They report that city very lively – although a prohibition town. Atlanta has a drink called Garret or Graret. What is it Mr. Ed. they give to wine bibbers and the bibber will not get over the drink within two months? – so it is said.
Let the Tallapoosa New Era come. Long live the editors and the New Era.
This book is a compilation of some of the funny and helpful tips from our past history. Some recipes and tips date back to 1770s. One or two sound a little dangerous and I would never try them myself, but I've included then in this book for their humorous and historical value. A few are useful, especially for our 'green' society today